£10 off with this Backyard Cinema referral code to book your first booking. Backyard Cinema has now grown to be known as one of the leading alternative cinema experiences in London. Get your Backyard Cinema promo code and book now!
Article last updated: August 12, 2021

Update: Increase from 5 GBP to 10 GBP discount!
How to get 10 GBP at Backyard Cinema off with a discount code?
Open this Backyard Cinema referral invite to claim your 10 GBP discount code.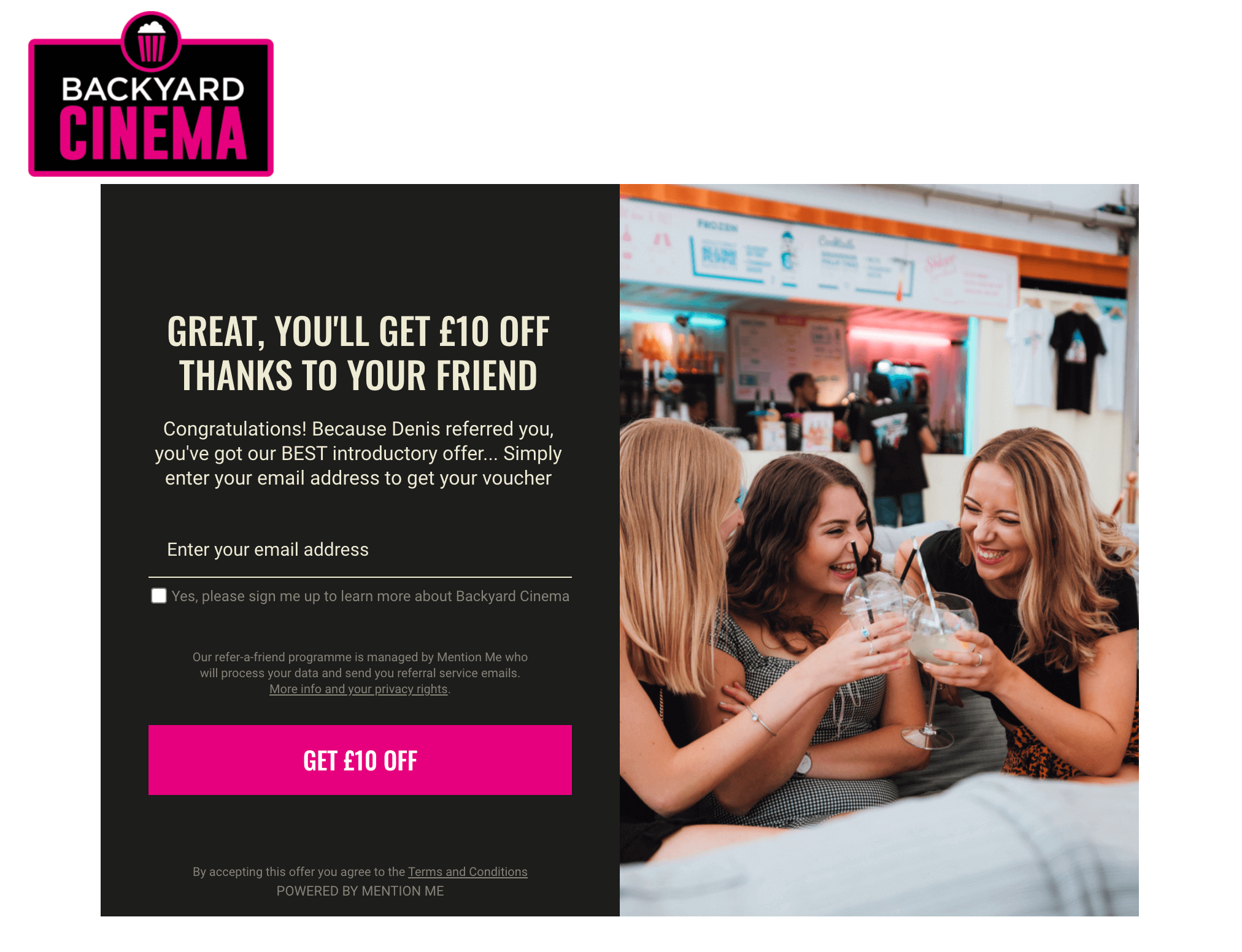 Backyard Cinema refer a friend terms and conditions, London UK
The Referred friend is offered £10 off when they place their first order.
The reward is valid for 14 days from the point of issue to the referred friend.
In order to qualify for the reward the referred friend must be a new customer to Backyard Cinema and over the age of 18.
I recently bought tickets to Backyard Cinema and they gave me a special offer to share with my friends. I'm treating you to a promo code for £10 off your first order. I'll also get a reward, so it's a win-win!

Get a discount code for £10 off at Backyard Cinema
Other backyard cinema discount code and coupons
Backyard cinema discount code for the NHS
Backyard cinema has an offer for NHS staff, get 25% discount with the promo code THANKYOUNHS
Make you sure to do this before selecting your tickets otherwise the discount will not appear. You must only apply the discount to the relevant tickets.
You will then just need to show your NHS ID card along with your ticket when you get to the Box Office.
Backyard cinema discount code for child
No Backyard Cinema promo code needed: "We offer kid's tickets for under 12s, and babies younger than 18 months don't require a ticket."
---
3 main backyard cinema locations
Backyard cinema Romeo and Juliet Union Chapel
Union Chapel Offices, 19b Compton Terrace, London, N1 2UN
Dates: this August 2021.

Important for this Backyard cinema Romeo and Juliet show: Seating is not allocated or reserved in advance, it is given out on a first-come, first-served basis.
"We recommend you arrive as early as possible for the best choice of seats. Please leave plenty of time so that you can enter the Union Chapel, have your e-ticket checked and scanned, enjoy the venue's facilities and find your seats."

Backyard cinema Romeo and Juliet's scheduled show run time is 2 hours and 20 minutes (finish time around 10:30 pm). Enjoy your show and this little backyard cinema Romeo and Juliet discount code above for 5 GBP off.
Backyard cinema LA nights
Catch your first flight of the summer with Backyard Airlines. This Backyard cinema LA nights gives you boarding tickets and a little flight experience before arriving to the sun-kissed beaches of Los Angeles.
"Sip a cocktail in the Palm Lounge, stick your feet in the sand and experience movie magic in this beautiful Californian beach escape."
Backyard cinema Miami beach
30 tonnes of sand, guaranteed sunshine and our signature palm tree cocktails. Feel the sand between your toes as you watch your favourite films with a boozy Slush Puppie.
Backyard cinema LA nights & Miami beach food
Artisan pizza, captivating theatrics, a street food yard, craft beer bar, and more.
In Capital Studios, you will find a food court with perfect patties and rosemary chips from Honest Burgers, Latino fried chicken from El Pollote, plus our very own Backyard Pizza. We don't take table bookings for food/drink but there's plenty of space to enjoy your pre or post-film feast.
---
Backyard cinema review 2021
On the paper it looks like a little classic cinema but be ready for some little extra. I don't want to tell you too much because that could ruin the surprise. But be there 60 minutes before the movie time.
There is a price difference between the best sits and the cheapest ones, so that's up to your budget, but you have a similar experience. It feels like a good idea to escape from our London city life for a few hours. It's also very Instagrammable.
They have lots of great movies the classic backyard cinema the greatest showman, Home alone, Mamma Mia!, Grease, etc. But also some new movies such as Cruella, In The Heights, and more.
You can't bring your own food and drinks to any of the venues, but there is a bar (obviously) and nice cocktails, etc.
The Capital Studios venue is a former TV studio host to shows like Ready Steady Cook, built in the 60's, this backyard cinema is near clapham common, Wandsworth area.
I don't have a backyard cinema Romeo and Juliet review, but the show is back after many years of being sold out so I imagine it's great. Please share in the comments if you have been.
---
Have a great time at Backyard Cinema!