Free Postcode Lottery – UK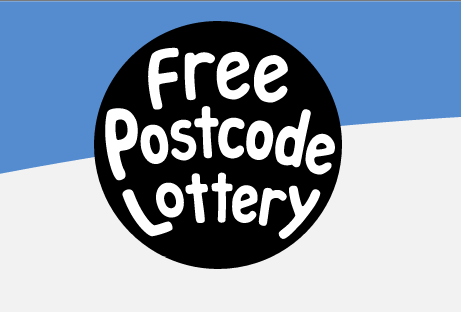 Free lottery tickets – pick my postcode
It's easy, you don't buy a ticket. Instead, you sign up for free with your postcode and your email address. At noon there's a main prize draw, and the site publishes the winning postcode. You get an email reminding you to visit the site and check whether you have won. If it's your postcode up there, you have 24 hours to claim your prize.
10 seconds a day is enough to check if you won or not.
You can receive a reminder by email for your free lottery tickets (you can turn them off)
Play free lottery every day (UK only)
First of all, every days, you can enter to different draws to win
The Jackpot – refreshes at midday every day
The Survey Draw – refreshes at midday every day
The Stackpot – refreshes at 9am and 9pm every day
Bonus – refreshes at midday every day
TheVideo Draw – refreshes at midday every day
The Mini Draw – drawn at 6pm, you have until midnight to claim
The postcode chosen is selected randomly by the computer from the list of all postcodes entered.
Only postcodes entered into the draw (and verified) can win.  Each postcode entry has the exact same chance of being selected in a draw. If one postcode is entered more than once it is more likely to be selected (like names in a hat).  When a certain postcode area (for instance BA1) appears to not win often that is because there aren't many entries for that area. If a postcode area seems to win more often it must mean that there are more entries from that postcode area.
Payments are via PayPal's Send Money service to your email address. If you really don't want to sign up to PayPal please get in touch and ask for the winnings in the form of an Amazon E-Voucher.
When no one claim the prize, the pot of the draw is reported to the next draw.
Moreover, if you enter the free postcode lottery and check it every day, even if you don't win, you lose nothing as it's free.
Is pick my Postcode Lottery real?
---