e-table referral code discount, join and get 500 points (worth 5 euros) with this invite – restaurants in Greece and Cyprus
Planning a trip to Greece or Cyprus? Download the e-table free app. E-table is the best food app with more than 1500 restaurants across the biggest cities in Greece and Cyprus. Get 500 points bonus that corresponds to 5 euros discount after your first reservation with this e-table refer a friend invite.
---
e-table Greece discount code invite – refer a friend invitation for 5 euros (500 points), Greece or Cyprus
How can I get my e-table points?
Request an invitation email now using the same email address you will use in the app
Do your first restaurant reservation
Get 500 points worth 5 euros
How it works:
To invite a friend to join e-table with the e-table refer a friend programme offer, an existing user need to fill a form with your friend's email.

Simply leave your email (important: request with the same email you will use for the e-table app) and Denis will send you an e-table invite through the e-table website. You will receive an e-table.gr email invitation with your unique link to register in less than 24h.
This is a manual process. Please allow some time for us to get back to you (from a few minutes to 24 hours). Thanks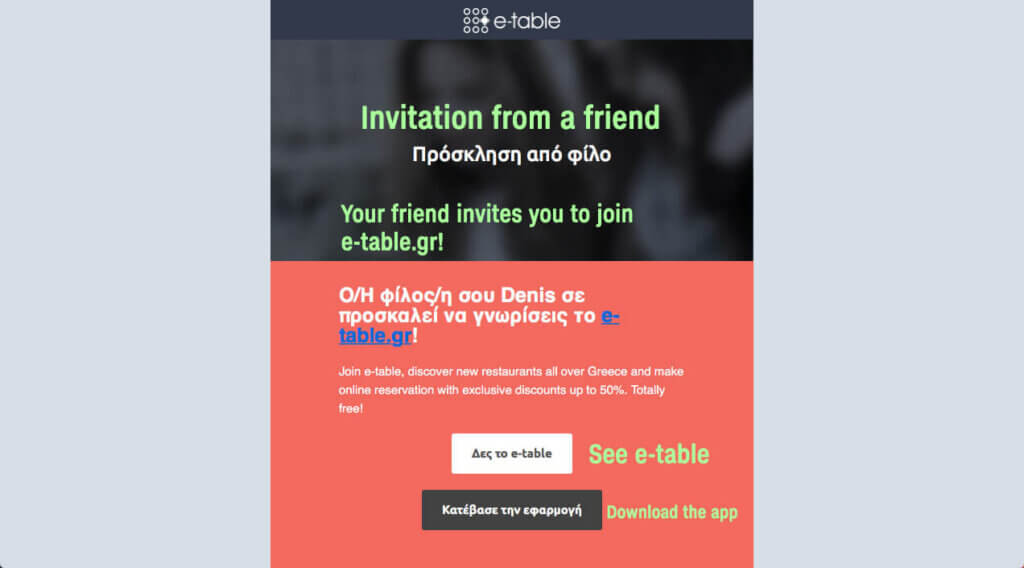 E-table refer a friend terms and conditions
To earn points your friend's first booking must be made within 90 days of the invitation and completed with a visit to the restaurant
Points are credited after 48 hours from the time of booking and if the booking is not cancelled or no-show
Your friends' emails will not be communicated to third parties and will not be used for other advertising purposes
To get the points, your friend's reservation must be made from the email with which you invited him
Source: https://www.e-table.gr/en/pep
---
How do we say e-table referral code in Greek? => kodikós parapompís or κωδικός παραπομπής e-table
With e-table Loyalty reward program, you can earn loyalty points towards extra discounts in numerous lovable restaurants
Set e-table in English
If you don't understand Greek the first thing will be to turn English on.
Open the menu and click the "Switch to english" toggle button at the top.
---
e-table rewards
You receive bonus points for both for your reservations and your evaluation for each restaurant that you visit.
Then you can exchange those points for a 10 euros discount (1000 points) or a 25 euros discount (2000 points).
With a refer a friend invite you get 500 points. Then 200 points for your first reservation, then 100 for each other.

Please note your points will be credited 48 hours after the reservation time, assuming that the reservation is not cancelled or a no-show.
Then you get 25 points for each reservation review.

As this article says, you get 500 points for referring a friend too!
These loyalty points are for people going a lot to restaurants and staying for a while. If you are 4 days in the city for a long weekend, definitely download the e-table mobile app, but ignore the points system. Or maybe for the next time you go to Greece or Cyprus.
Imagine you go to Athens with a friend, you get the e-table referral invite above and book dinner in a first restaurant. Then, refer your friend and he/she books your lunch the next day (you both get points). So you should have already more than 1000 loyalty points you can exchange in the app for a 10 euros voucher to use in your next reservation (= 3rd restaurants with your friend with a 10 euros discount).
It's an extra discount on the top of the restaurant discount, you can make a reservation with a 15% discount and redeem at the same time 1000 (10 euros) or 2000 points (25 euros).
Loyalty points are deleted after 6 months of the user's last reservation.
---
Why e-table is so great and won awards?
First of all, what is e-table app?
e-table helps you spend less time searching and finding new restaurants. Discover the best venues easily. You can search with multiple criteria (. It's a great app. I use it all the time when searching for restaurants.
e-table for tourist in Greece or Cyprus, why is it so useful?
It's perfect because you can do a free reservation on-the-go.
Find available tables and make free reservations instantly, 24/7. E-table reservations are instantly confirmed and there is no need to call the restaurant or wait for a confirmation. They are constantly increasing the list of restaurants.
Where can I use the app?
The most popular locations are Athens central, Glifada and Chalandri. Here is the list in the app:
Athens, Chalkidiki, Chania, Chios, Corfu, Evoia, Heraklion, Igoumenitsa, Ioannina, Kalamata, Kavala, Kefalonia, Lasithi, Lefkada, Lemnos, Lesvos, Mykonos, Nafplio, Naxos & Lesser Cyclades, Paros, Patras – Rio, Preveza, Pyrgos, Rethymno, Rhodes, Salonika, Santorini, Skiathos, Skopelos, Syros, Thassos, Tinos, Zante.
e-table app reviews
It's a great app to discover new restaurants. They have a 4.2 score with over 1100 user reviews.
"It's my top app the have for Athens, Greece."
"Has a great variety of options and makes it so easy (and more affordable) to book one."
"The best food app for a long stay in Athens, very handy"
Join e-table, discover new restaurants all over Greece and make online reservation with exclusive discounts up to 50%. Totally free!
e-table Greece awards
E-table mobile app has been awarded the Gold Award for "Best Location Based App", the Silver Award for "Best Startup App" and the Bronze Award for being the "Best Tourism and Travel App" at the Greek Apps Awards 2015, as well as the Bronze Award for Mobile Apps at Lighthouse e-volution Awards 2016.
Make free reservations on-the-go and enjoy exclusive privileges and discounts with the new e-table app for Android
They have the mobile app for Android (Google Play) and iOS (App Store for iPhone and iPad) but also the website.
Pay abroad without fee with Monzo, Monese or Revolut. Add security to all your bank card with Curve. Carry one card for all, if you lose it you still have your main card, no stress, keep only one card with you and control it with the app. And new users get £5 free credits with this invite code!
Enjoy nice food and this kodikós parapompís / κωδικός παραπομπής e-table :)