Free flowers: Freddie's flower offer referral code, first box absolutely FREE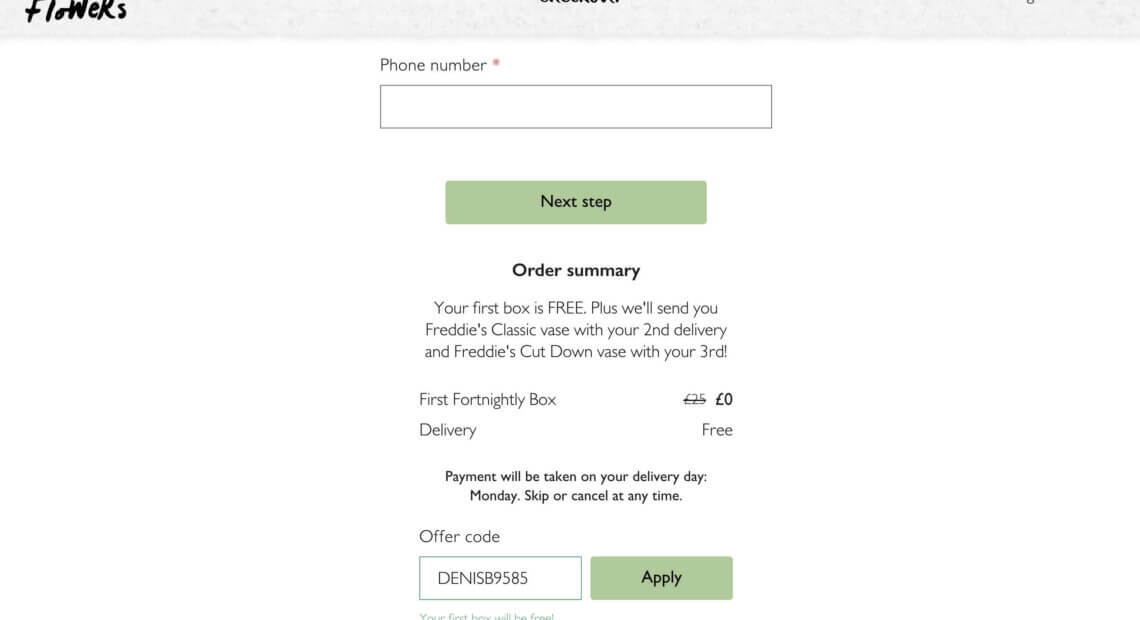 Freddie's flowers offer code: your first box is FREE. Plus we'll send you Freddie's Classic vase with your 2nd delivery and Freddie's Cut Down vase with your 3rd! Enter the offer code DENISB9585
Freddie's flowers offer code: free box with this referral code – UK May 2022
How to get myFreddie's flowers for free as a gift?
Head to https://www.freddiesflowers.com/register/ enter your name & email. Then on the second screen for delivery address
Enter this special Freddie's flowers offer code: DENISB9585

Freddie's flowers free vase
Get a classic vase with your 2nd delivery and Freddie's Cut Down vase with your 3rd!
Other Freddies flowers offers and voucher code
Every now and then there are good offers, right now if you click on ad advert you could get your first box for £12.5 (offer code 50FLOWERY). It's less interesting than the Freddie's Flower refer a friend a friend invite for £25 discount on your first box + free vases.
Every year, don't miss out on Freddies flowers on Black Friday. Mother's Day is also a good period.
---
How does the membership works?
You can skip deliveries on the calendar or use the one-off delivery (perfect to treat a friend or a family member).
Freddie's flowers one-off regular delivery
From £25 a box. Send a set number of regular deliveries along with a personalised card in the first box and a free vase!
Choose how frequently you want to send them flowers and for how many months
We'll include a free personalised card in their first box
We'll set them up with an account so they can book holidays and skip deliveries without having to bother you
We'll also send them a free vase (worth £25) to make sure they've got everything they need to get arranging!
Freddie's flowers one-off
A one-off box from £28 a box. Send one of our beautiful boxes complete with arranging notes and a personalised card.
Choose which day you'd like the flowers delivered (sorry, we can't deliver on weekends yet)
We'll include a free personalised card
Your delivery will be tracked by DPD
For a one-off offer, you can also look at Bloom and wild and save £10 on your first order.
---
Freddie's flower review 2022 UK
Excellent score on TrustPilot – https://uk.trustpilot.com/review/www.freddiesflowers.com
People say it's a nice treat, the deliveries are great, there is often offers and free gift (vases).
"These aren't just ordinary flowers being delivered – these are flowers delivered with LOVE. The beautiful explanation booklet on the flowers to how to prepare them are so informative – my daughter absolutely loved them and a great way for her and of course myself to learn about flower arrangement and care."
"Gorgeous flowers on my 3rd box now and on average they last 2 weeks some bits last a bit longer"
People FAQ
How to close my Freddie's Flower account?
To close your account, please call on 0208 396 6696 and they will help you right away!
They are a bit slow by email, so you can feel free to call. Don't forget, you can skip delivery in your account. Enjoy those beautiful flowers brought to you with love!
Feel free to share your own invite a friend code in the comments :)