Chase UK referral code, enter the 8 characters code for £20 free money – Chase UK
Chase UK: get £20 when they open an account, enter the Chase UK referral code FHtxpo5V (case is sensitive), and pay £20 to your Chase account within 30 days. Get 1% cashback on all card payments, 1.5% on your savings, and Zero fees or charges including when you use the Mastercard abroad. Open your account today.
Article last updated: June 6, 2022 – 18h32
Refer a friend is ending
Chase refer a friend offer is coming to an end at 11:59pm on Tuesday 7 June 2022

Link you Chase and pay with Zilch and cumulate Zilch 2% back + Chase 1.5%. + Get £15 just to sign-up to Zilch. Use it anywhere. Zilch is like Klarna or Clearpay. Always pay in 1 time and get rewarded.

Add your Chase UK Virtual card to curve.com and cumulate both benefits, the Chase 1.5% cashback + Curve 1% cashback on each card use! (+get 5.00 GBP bonus after 5 transactions if you join Curve with this referral link).
Chase UK refer a friend invitation for £20 – UK 2022
How do I get an 8-character Chase UK referral code?
Download the Chase UK mobile app to start. Go to the app and register. Once your profile is approved, look at the offer about being referred by a friend in the app.
Enter the Chase referral FHtxpo5V (case is sensitive)
pay in at least £20 to your Chase account within 30 days
A few minutes after meeting all the conditions, you will receive £20. "Thanks for joining Chase! Because you've been referred by a friend, we've sent you £20 – you'll find it in your rewards balance."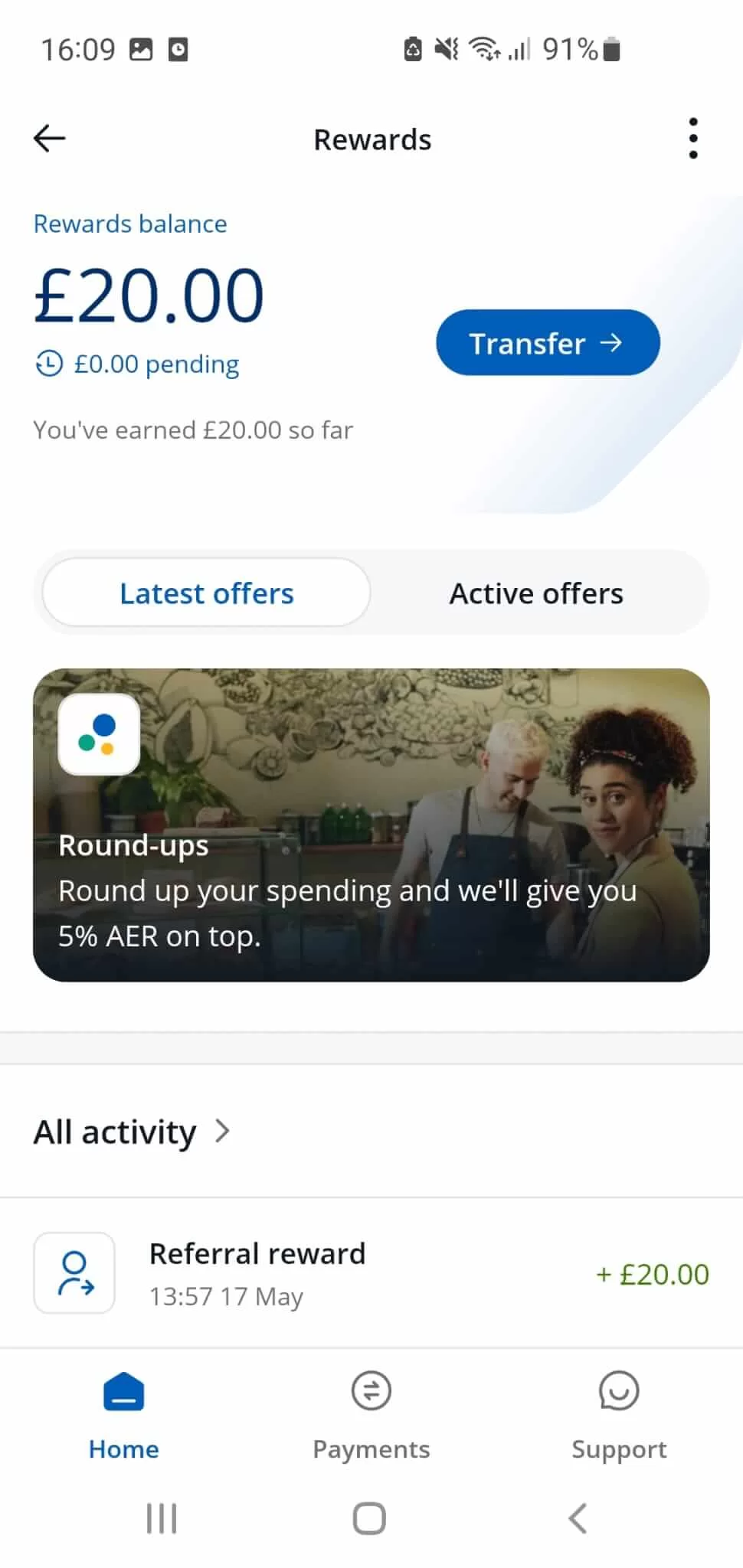 Hey, want to join me at Chase UK? We'll both get £20 when you join and pay in £20. Start now: https://link.go.chase/emNK/refer?code=KFHtxpo5V. T&Cs apply.
If you've been invited to join Chase
Both you and the existing Chase customer will get £20 paid into your accounts when you comply with these terms.

Chase UK referral terms and conditions
Be eligible to join Chase
Use your friend's referral code when you sign up to become a Chase customer ©
not have opened or tried to open a current account with Chase before activating rewards in the Chase app
pay in at least £20 to your Chase account within 30 days
Not use a Staff Member's referral code when you sign up to become a Chase customer if you are a Staff Member or a Client who is known to the Staff Member in the context of a business relationship due to that Staff Member's role with
JPMorgan. Neither the referrer nor the referee will be eligible to receive any reward in the event that a Staff Member makes a referral to a Staff Member or
Client of JPMorgan.
---
Why using chase UK
Chase account perks:
– Zero fees or charges, including when you use the Mastercard abroad.
– 1% cashback on everyday spending.
– 1.5% on your savings.
– Option to round up your spending to the nearest £1, and to autosave the difference with a round-up of the balance at 5% AER (4.89% gross).
---
My Chase UK review
Opening an account is easy, grab your passport, download the app and fill up the info. I did my application on a Friday evening, so nothing happened during the weekend, and it only got approved on Tuesday morning.
They have much better saving accounts than HSBC Flex Saver (0.1 AER) so 15 times more! Or even the Barclays Everyday saver (0.01% AER)… Monzo offers a 0.90% ARE Gross interest. And my Chip account only has a 1% on saving at the moment. So Chase UK win!
As with every card (except AMEX), you can add your Chase UK to your Curve card (with a 5 GBP code bonus) and carry only one card for all your bank cards.