Giffgaff referral code discount invite, your free SIM + £5 extra credit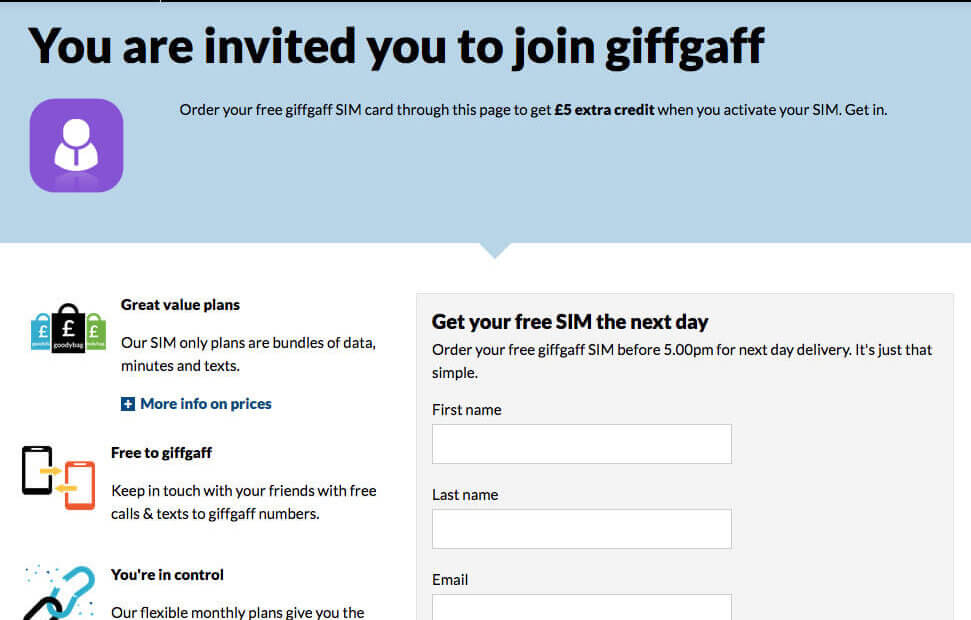 Giffgaff referral: free SIM card + £5 extra credit when you receive and activate your SIM. Giffgaff is the easiest way to get a SIM when you get in the UK. No contract, cheap price, you can order from anywhere in the world, so perfect for travels.
Giffgaff invite – refer a friend offer July 2022, 5 GBP bonus
Order your free Giffgaff SIM card through this refer a friend invite page to get £5 extra credit when you activate your SIM.
The qualifying free order must be made immediately after clicking on the invite link
How do I get my refer a friend giffgaff bonus?
After requesting your SIM with the link above you need to activate add credits on your SIM to receive your bonus credits.
Order your free giffgaff SIM card through this page to get £5 extra credit when you activate your SIM. Get in.
Giffgaff where to buy my sim? Everyone loves a discount, you don't buy the SIM, it comes from free. Use the link above to order your SIM for free with the promotion of an extra 5 GBP.
Giffgaff SIM card delivery
| | | |
| --- | --- | --- |
| 1 SIM | First class | 3-5 business days in Europe or from 5 business days for the rest of the world |
Giffgaff review
Firstly, "Giffgaff's coverage relies on O2's. This means around 99% population coverage indoors" for the UK. In other words, it is the exact same coverage as if you own an O2 sim card.

Moreover, they have an excellent score on Truspilot with 4.3 and over 8000 reviews.

Tones of good reviews "straightforward, simple pricing", "you don't get the annoying calls from the providers trying to get you to up your subscription", "Love that I can change monthly bundles according to my finances", "No contracts, no commitment and great service".
As a bonus for joining through this link, you will receive £5 credit which will appear on your account within 24 hours of you activating.
What is the Giffgaff coverage like? Giffgaff runs under the O2 network, the second biggest network in the UK. In short, very good coverage. The signal will be very good where O2 coverage is good – over 99% of the UK is covered.
Why Giffgaff is so cheap? Giffgaff is all internet-based, there is no shop or face to face customer service saving lots of money compared to the bigger and older names such as Vodafone, Three, O2, etc.
---
Giffgaff tariffs 2021
You can do a pay as you go, adding the wished amount you like or you have what they call "goodybags".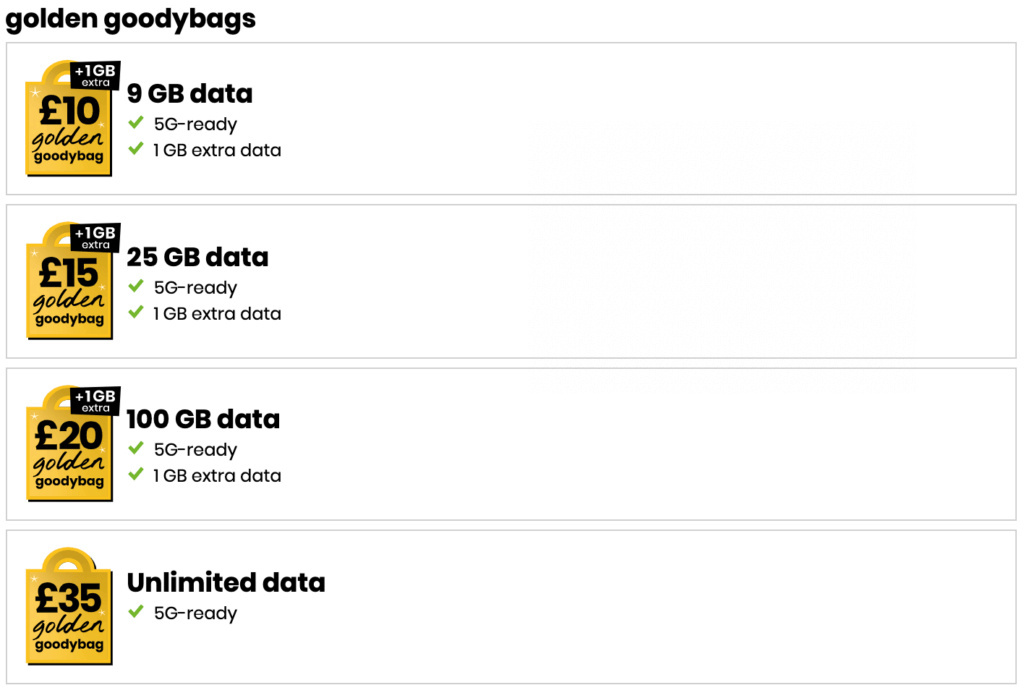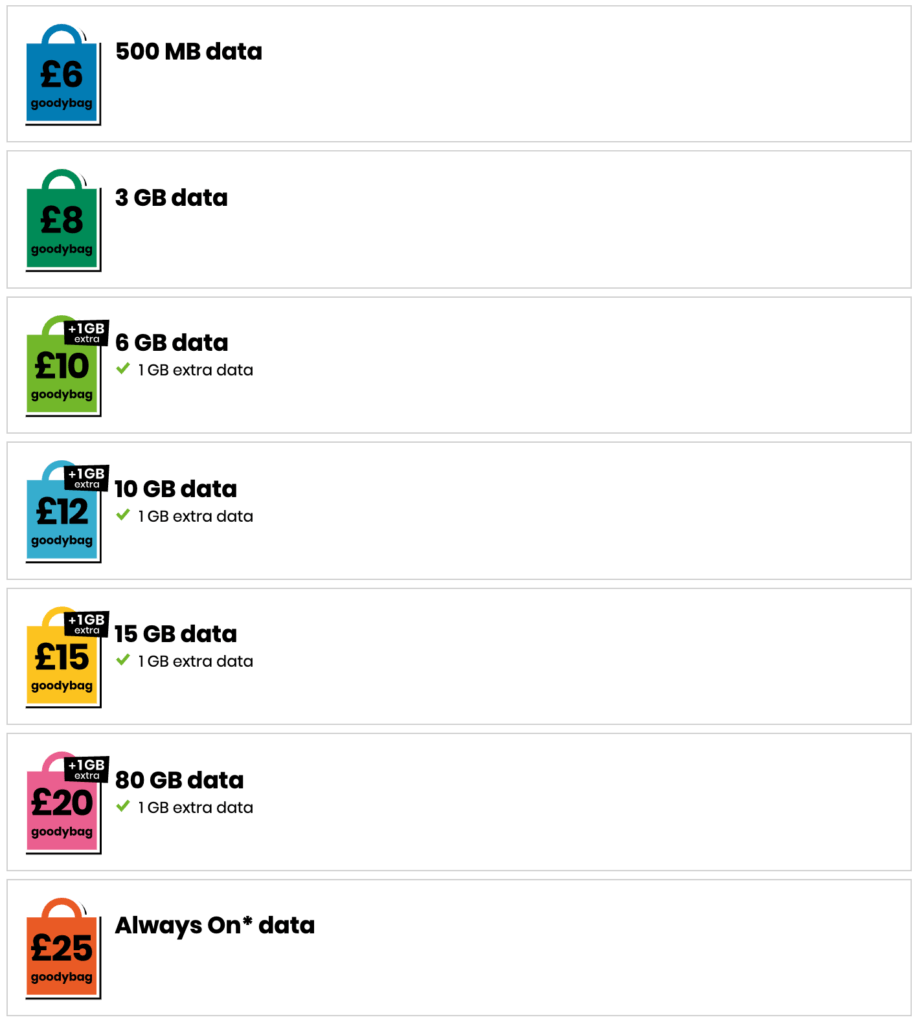 Choose your monthly deal
Our plans are super flexible and come packed with allowance.
Packed full of data, minutes and texts
Get 1 GB extra data on us
Change or cancel your plan anytime
Our £20 goodybag comes with 80 GB of data, of which 20 GB can be used in the EU and selected destinations
How much data do I need?
https://www.giffgaff.com/how-much-data-do-i-need
Free to giffgaff
Keep in touch with your friends with free calls & texts to giffgaff numbers.
Why choose giffgaff?
Change or cancel your plan anytime.
You buy goodybag from £5 to £25 for unlimited data, minutes and texts
Top up when needed if you run out
You're in control
Our flexible monthly plans give you the freedom to change your plan from month to month.
Giffgaff prices
These are our standard prices:
| | |
| --- | --- |
| Mobile data | 5p/MB* |
| Calls to UK mobiles, landlines and calls forwarding | 25p per minute |
| Calls to personal numbers starting 070 | 25p per minute |
| Texts to UK mobiles and landlines (160 characters) | 10p per text |
| Voicemail (443) | 8p per call |
| Calls to freephone numbers starting 0800, 0808 | Free |
| Calls, texts and call forwarding to giffgaff numbers | Free** |
2021 Prices
Free giffgaff to giffgaff
You need to top up by top-up voucher, top up by credit/debit card or buy a goodybag with your credit/debit card at least every 3 months to receive free giffgaff to giffgaff calls. If you don't, other UK rates will apply as above. Moreover, please note the free giffgaff to giffgaff calls last for 60 minutes per call, so you need to hang up and re-dial if you want to keep talking for free.
Bonus after 3 goodybags bought:
1GB extra data on us
It's never fun running out of data, especially when you really need some, which is why we're giving members a little extra.
Once you've bought your third goodybag, we'll boost your data by 1 GB whenever you purchase a £10, £12, £15 or £20 goodybag
Giffgaff gives you roaming in Europe (unlike O2 and Three now charge you about £2 per day)
"Our plans can be used in the EU and selected destinations just like you use them at home and at no extra cost.*
If you opt to pay as you go and use credit instead, data, calls, and texts will be charged at our pay-as-you-go UK rates while you roam in the EU. Bring on the sunshine.
If you're travelling outside the EU and selected destinations, check out our roaming costs below. You'll have to add credit to your account to use your phone as normal. Happy travels.
*Our goodybags have a roaming cap, but only after you've used 20 GB. See our fair usage guidelines here."
---

Do you want to compare with Vodafone? Vodafone gives you a £25 Amazon voucher when you join them.
Eligible purchases are defined as new Pay monthly phone plans and SIM only plans (over £10 a month including VAT) purchased on vodafone.co.uk using the referral link (excludes Live Chat orders). Vouchers sent after two bills are paid within 90 days of the purchase.
Excludes Vodafone Basics, upgrades, VOXI, Mobile Broadband, indirect purchases, and affiliate offers (comparison sites for example). Terms apply.