Bolt referral code for up to £12 free on your first ride with this invitation code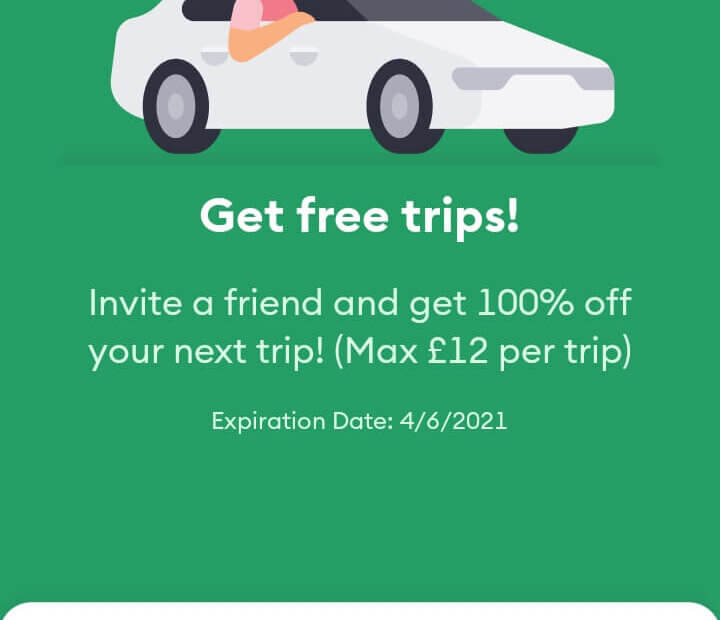 Bolt referral code: this Bolt taxi (formerly taxify) referral code gives you up to a £12 discount for your first ride. (100% off your first trip on Bolt app for a trip costing less than 12 GBP). Enjoy your first bold ride in London. Bolt taxi service is also present in more than 100 cities in the world. Download the Bolt app today and enter the promo code S2C4RP or PIOTRB7G to try them.
Article last updated: May 10th, 2021
Bolt referral code up to £12 bonus – refer a friend – 2021, UK
Download the app and enter the code S2C4RP or PIOTRB7G to enjoy up to £12 free on your first ride. (up to £12 when promotion run)
I'm giving you 100% off your first trip on Bolt app. (Max £12 per trip)
To accept, use code S2C4RP or PIOTRB7G to sign up!
Details: https://invite.bolt.eu/S2C4RP
Discount varies by city
Available from Google Play or App Store.
Bolt London promo code
For a long time, the Bolt referral bonus was only £7 but it's now increased to up to £12 GBP until June 2021. If your ride is more than £12 you will pay only the difference, if your first ride is less than 12 GBP then it will be free of charge. Easy. This is valid for the UK. This referral invitation bonus can vary by city.
Other bolt promo code 2021 uk
The maximum during promo is £12. You can't get more that this even is some user will claim you can get up to £14 or £15, etc.
Bolt promo code valid until June 2021 in the UK, London. After that I assume it might drop again to 10 GBP
Bolt London app
The taxi Bolt is perfect to move in London. It's cheaper than black cabs, quicker than the bus, treat yourself to a cab ride from time to time.
Think about taking a Bolt taxi: with the tube ticket costing £3 per person one way in central London, you might as well enjoy the comfort of a cab when you are sharing with friends
Source: https://blog.bolt.eu/en-za/this-is-how-you-earn-free-rides-with-bolt/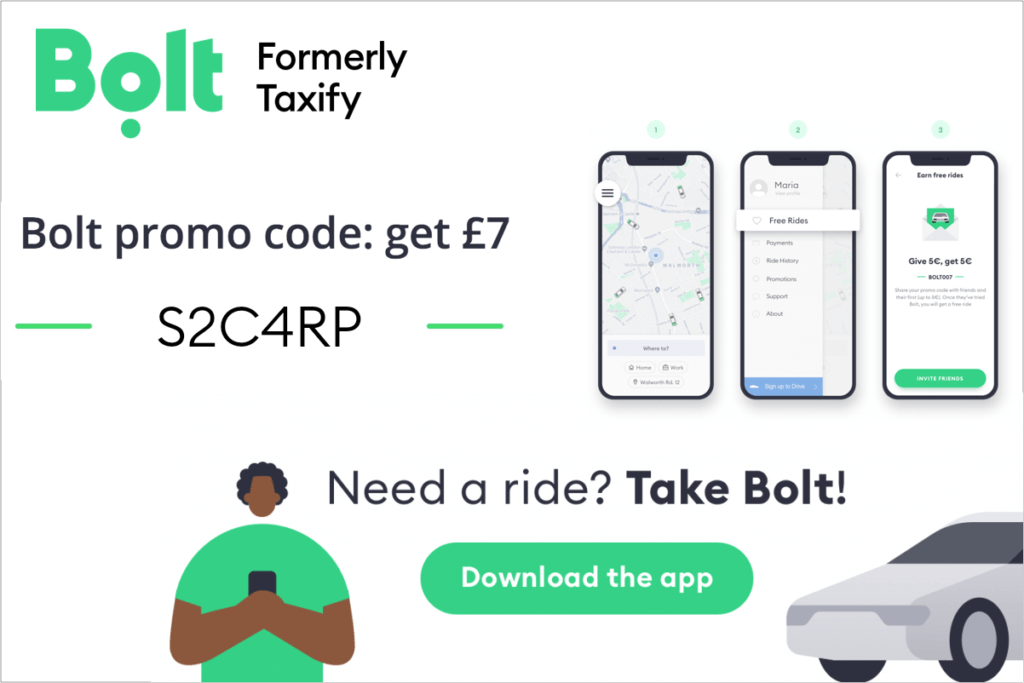 Bolt uk review
To be honest it's the same drivers than Uber or Free now. It's just an other app on the market for London. I used it on a few occasions. And I also used it abroad (in Malta) and that was very convenient. The first ride bonus is much more than Free Now giving only £6 or Zareou which kinda died during the pandemic.
I saw the advert for Bolt in the tube again recently, the try to grow the network. Give it a go, see how you like it..
Bolt service – 2 options
BOLT
£2.50 BASE – £1.25 MILE + £0.15 MIN
---
BOLT EXECUTIVE
£4 BASE – £2.40 MILE + £0.30 MIN
£10 MINIMUM
DRIVER & CUSTOMER SUPPORT
PHONE SUPPORT
---
Is bolt available in the UK?
Bolt is available in London since 2019
Feel free to share your own Bolt referral discount code in the comments for other to use!