Save up to 70% on ink and never run out, when you register with Instant Ink with 3 Months Trial + get 1 month extra with this HP Instant Ink referral code. At the enrol step, enter the promo code P1NRJ3 to enjoy an extra trial month for free. Ie: 3 months + 1 extra.
---
HP Instant Ink Refer-a-friend Program 1 month free
When you enrol look for the promotion code at the final step after you filled your payment details.
Enter the HP Instant Ink promo code "p1nrj3" to enjoy a free extra trial month.

For instance, if you have a few months of free service when you buy your printer and also used the code "p1nrj3" you get an extra month on the top of your original trial.
You should see
3 months FREE trial (up to 300 pages)
1 Refer-a-Friend promotional month
You can also use this Instant Ink refer a friend link try.hpinstantink.com/p1nrj3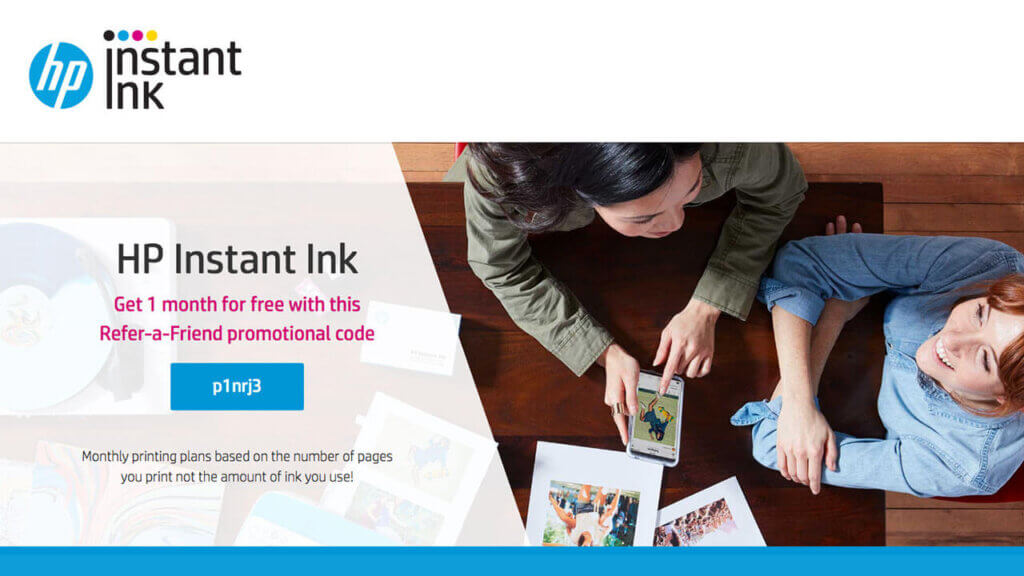 With HP Instant Ink, ink is automatically ordered and delivered to your door, and you pay a lot less.
---
What is Instant Ink 3-month trial offer?
When you buy a printer, you might be offered a trial offer 3 months that you can extend to 4 months with the referral code.
The offer allows you the savings and convenience of getting HP original ink delivered to your door before you need it. When your levels are low, they send you a new cartridge.
They will deliver your ink for instance in my case HP 305 Setup Black Cartridge and HP 305 Setup Tri-Colour Cartridge.
Why it's a good idea to sign up to the Instant Ink trial?
No charges for up to 300 pages per month during Free Trial months.
Moreover, you can cancel before the end of the trial. The lowest plan cost £0.99 for 15 pages a month.
How does the HP Instant Ink Refer-a-Friend promotion work?
1. Send your code to friends
2. Your friend gets one FREE month for enrolling.
3. You get one FREE month for each friend who enrolls through your invite.
---
Do you need to print flyer or business cards? There is also a refer a friend invite code discount for this, check this MOO referral code for 25% off your first order.
---
Here are the full terms of the HP Instant Ink (December 2020)
Your exclusive perks with HP Instant Ink:
Save up to 50% on ink.1
Your printer orders ink so you'll always have it.2
Cartridges have more ink than standard ones, so you spend less time replacing them.
Monthly plans and savings are based on pages printed, not cartridges used.
Ink, shipping, and cartridge recycling included.
No annual fee–Change or cancel plans online anytime.3