Wearth London referral link: join the zero-waste movement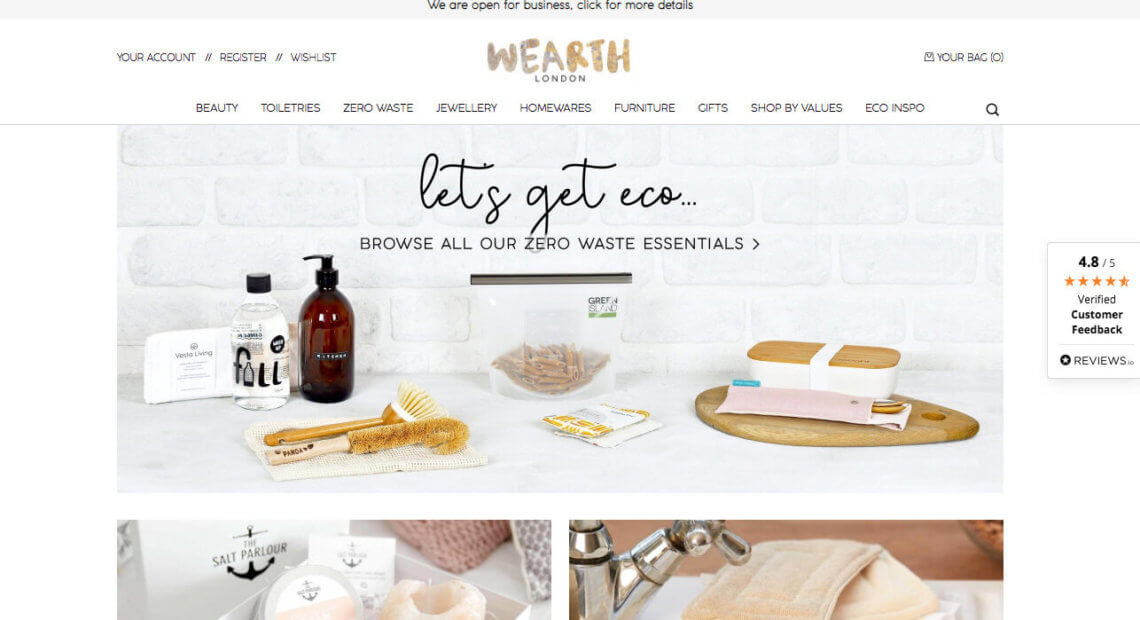 Wearth is an eco-friendly and ethical department store who stock independent UK brands that take the environment seriously. Use this Wearth London referral invite for your first order to cumulate points.
---
Wearth London referral code invite
Simply use this Wearth London referral code to join and do your first eco purchase and get loyalty points.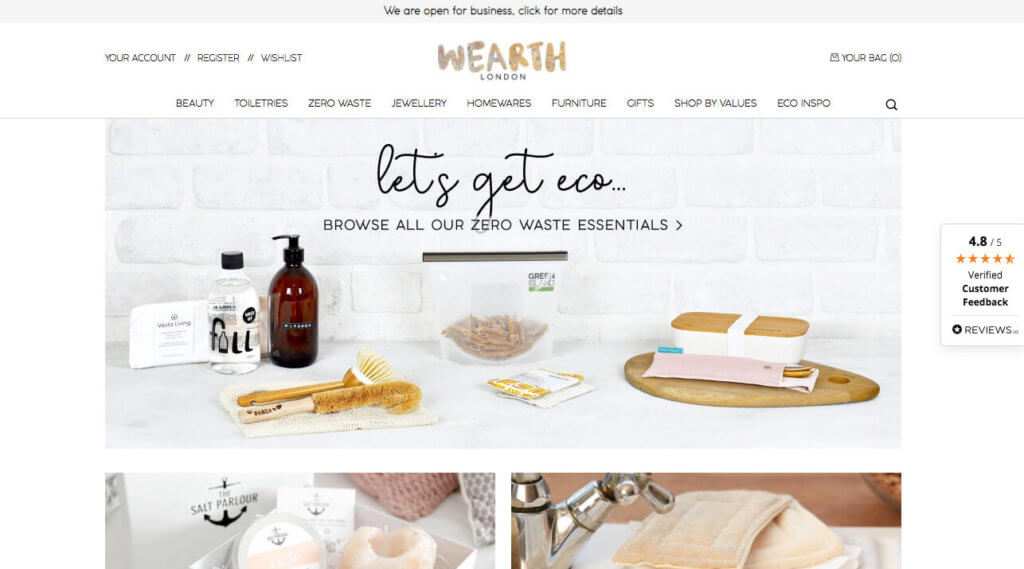 Wearth refer a friend terms and conditions: new users only.
Loyalty points, Wearth London discount code
For each order you are doing, you will collect 2 points for every pound you spend. Once you have accumulated enough points you can use these as credits to save money on your next order.
With the Wearth loyalty programme, once you have collected over 500 points (worth £5) you can spend them on your next order
---
Other Wearth London voucher code
You can also receive a 5% off discount code for your first order at Wearth by signing up to their newsletter.
---
From plastic-free & cruelty-free skincare to reclaimed, handmade furniture, Wearth makes it easier to shop consciously online.
#CrueltyFree #EcoFriendly #PlasticFree #Vegan
Join the eco-conscious department stores Wearth London
---
Wearth London review 2020
"Packaging is great, 100% eco friendly", be aware shipping can be a bit longer than expected. They are a partner of eco-friendly brands so Wearth so delivery delays can come from the brands. Some items are labelled free delivery which is nice.
You will find reviews on Trustpilot 3.8 score and reviews.co.uk with 4.8 score. I imagine Wearth encourage users to post a review at this last one. However, it still seems very positive. Share your experience in the comments.
The sustainable products at Wearth London
Shop by values: plastic-free, made in the UK, vegan-friendly, refillable, handmade, natural ingredients, organic, recycled materials, social contribution.
All of Wearth products are vegan-friendly. They want to ensure that everything sold on the site is cruelty free and ethically made.
Moreover, it is easy to shop by values you may have, e.g. supporting products with recycled materials or to shop zero waste those which are completely plastic-free, etc.
Wearth is for people who want to buy in a more eco-friendly and ethical way in London or anywhere really.
Other discount code for eco-friendly products
Discover Smol products, the detergent for your laundry