Pasta Evangelists referral code £15 voucher on your first pasta box order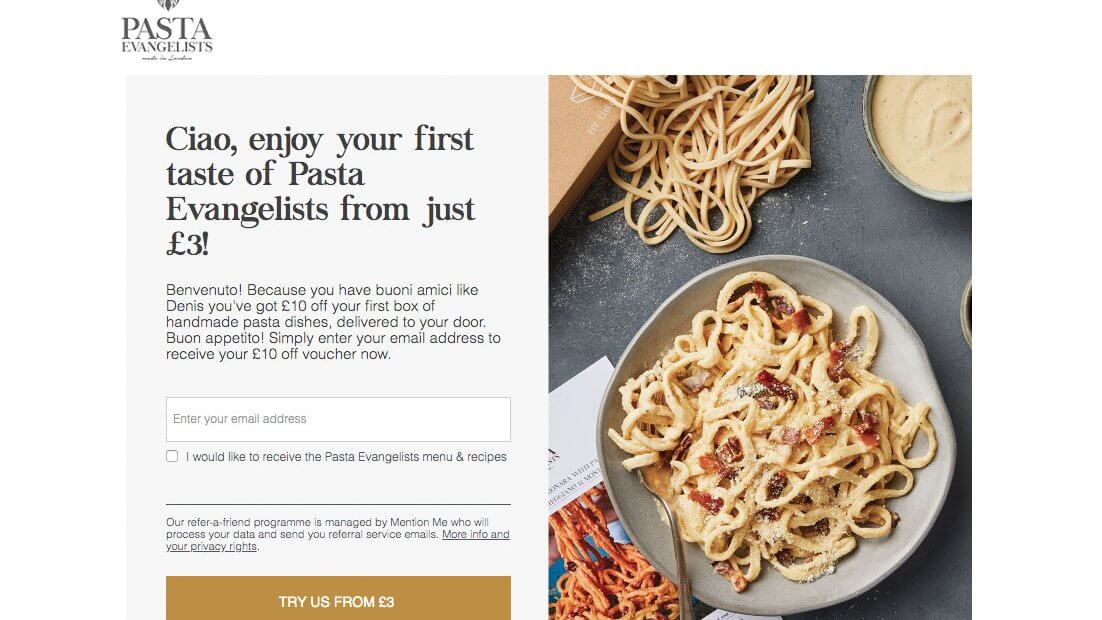 Pasta Evangelists referral code £15 off when they place their first order subject to a minimum spent. Get your 15 GBP discount on your first pasta box in July 2022. Enjoy handmade pasta dishes delivered to your door.
New offer April 2022: Try Pasta Evangelists with 50% off + luxury cocktails for 2 now!
---
Pasta Evangelists refer a friend offer £15 off bonus – 2022
At the moment, get £15 off your first order. On the checkout step, there is a "Being referred by a friend? Click here?". This invite below will give you your Pasta Evangelists referral discount code.
Click this Pasta Evangelists invite link to claim your £15 discount on your first box.
The referral change from time to time. It's a discount or a gift or both!
Pasta Evangelists Refer a friend 2021 terms and conditions:
– The Referred friend is offered £15 off when they place their first order.
– The reward is valid for 7 days from the point of issue to the referred friend.

Full terms available at https://pastaevangelists.mention-me.com/me/terms/86219/rnyttrkr
For every person joining through a refer a friend link Past Evangelist will donate a day's worth of life-saving therapeutic food to treat a severely malnourished child with our partner Action Against Hunger
Pasta Evangelists, the pasta box review
It is simple, and they deliver the next day by the letterbox.
Choose from our weekly menu of 8 "mind-blowingly delicious" dishes. Subscribe for regular deliveries or order once.
What they offer
Our pasta is crafted every day by Italian hands and our sauces prepared with the best produce from across Italy. Whether seabass from the waters off the volcanic island of Ischia, truffles foraged in the Sibillini Mountains of Umbria or blushing Datterini tomatoes from Sicily, our faith in fresh takes us far and wide in pursuit of the beautiful ingredients used in our dishes.
My review of pasta evangelists
This pasta subscription is quite cool, you are sure to get your box as it fits in the letter-box, I live in London and the next day here they are. The pasta packaging it good, you have all the ingredients in it and simple instructions for how to prepare what you selected. So I order a pasta box from time to time, not every week but more like a little treat, or it can be good if you have dinner with friends for instance. There are many boxes to try ad they seem to change every week, they also get sold out quickly, so don't hesitate much. They are also selling them in Harrods in London if you live near there or have the occasion to stop by. Happy pasta cooking everyone!
Top tip
You can create a subscription (recurring order) to get free delivery and then cancel your subscription anytime.
It's worth trying Pasta Evangelists, you will get first box for free* (worth up to £15)
Check more food products with a discount Riverford discount (15 GBP off), Food Spring (15 GBP off), Piper Farm (10 GBP off)