Smarty is the only UK phone network giving you roaming data in Europe at no extra cost, no yearly price increase, and no fixed plan (change when you wish). Switch now with this Smarty referral offer to get a £10 gift card from Amazon.co.uk, John Lewis Partnership, or Uber – the choice is yours.
Smarty referral code 2022, use this invitation to join and get a £10 gift card
To register to Smarty with this refer a friend invitation to get your reward
New bonus in August 2022: new users invited by a friend get a £10 gift card.
You can keep your number using your PAC code, it's all explained on the website.
For the current Reward, no later than 30 days after the Qualifying Acceptance, both the Existing
Customer and the Friend will receive an email from Buyapowa offering them a choice of one of the
following rewards: a £10 John Lewis & Partners voucher; a £10 Uber voucher; OR a £10
Amazon.co.uk Gift Card (each a "Gift Card"). Each of the Existing Customer and the Friend must
click the link within the email and make his/her choice of Gift Card within 90 days of receiving the
email. Once the choice of Gift Card is selected, this is unable to be changed or exchanged.
Buyapowa is just the third-party that allow the rewards to be allocated to new users.
The full Smarty refer a friend terms and conditions are available at https://cdn.smarty.co.uk/files/SMARTY-Refer-a-Friend.pdf
How fast will I receive my Sim card? SIMs are posted first class, this can take 1-3 working days. However, it may take more if weekends are taken into consideration.
Smarty discounts and past referral offer August 2022
The new Smarty referral offer is a gift card. Until August 2022 it used to be a month free. So you could cumulate free months by inviting friends. Now you can give and get gift cards of a value of £10.
---
Smarty FAQ
How to manage my Smarty account? You can use the Smarty login page online to access your Smarty dashboard with all the data used, buy an add-on if needed or change your plan when needed.
Why is smarty so cheap? My Three mobile contract was at the same price with a contract length and direct debit discount. They promote themselves as a better Network.
SMARTY is a new SIM-only mobile network that's built to be fair, transparent and smart.
Why smarty is the best?
All plans include WiFi Calling to supercharge your signal
1 month plan, cancel anytime
Unlimited calls & texts(Excluding Data Only Plans)
Fast 5G, 4G & 3G data5G available with enabled devices
No credit check
Unrestricted tethering in the UK
No speed caps
EU Roaming – Use your plan in Europe (12GB fair use limit) Learn more
SIM, Micro-SIM, & Nano-SIM sizes
Smarty iPhone or Android, get a SIM card for all sizes and unlocked mobile phone. Order your Smarty SIM card in minutes.
What is the Smarty phone number? We do have customer service available via web chat from 8am-8pm Mon-Sun.
Holidays abroad / Roaming
If you're planning to travel to the EU, you can use your data as you normally would. Data comes out of your monthly allowance with a limit of 12GB a month and there are no hidden charges or extra costs.
If you are planning to travel outside the EU, you will need to purchase an out-of-plan add-on.
Parental restrictions
At SMARTY, we automatically apply filters to web content to protect younger mobile users. But if you wish to change your settings, you can do so by selecting 'Menu' then 'Account Settings' on your dashboard.
---
Smarty review 2022
From Three mobile to Smarty – my personal Smarty review
I wish I knew about the Smarty offer earlier, I heard about them but I was happy with my rolling contract price, it had a few cents price rise but it was still very decent for my phone usage. But then I was 'forced' on to a new contract.
Three mobile is forced me to take a new contract. "From time to time, we have to update our plans. As the minimum term of your contract has now ended, we can no longer offer you this plan on your current terms. Please treat this letter as our notice to you of our intention to vary your contract with us in accordance with clause 4.2 of our Terms & Conditions. You can find the terms at three.co.uk/terms."
My revised SIM-only Plan was more expensive (more data I don't need) but I would lose roaming data.
I was planning on keeping this plan forever as I know all new contracts won't have the "feel at home" destination roaming in Europe any more.
"All you need to do is choose your exclusive new SIM only plan in the next 30 days."
The 3 options offered
Choose to re-contract on to a 12-month or 24-month plan or any other plan Three offers.
Do nothing and be auto-migrated on to a one-month rolling Sim plan.
Or, choose to leave (requires 30 days notice).
So I called the customer service to leave, they were nice but understandable, impossible to offer a better offer because of the roaming I want when I go to Europe. The prices are set as £2 a day charge for roaming in Europe, or a £5 a day fee in certain destinations outside of Europe from 21 May 2022.
No, thanks, Smarty will offer free roaming in Europe.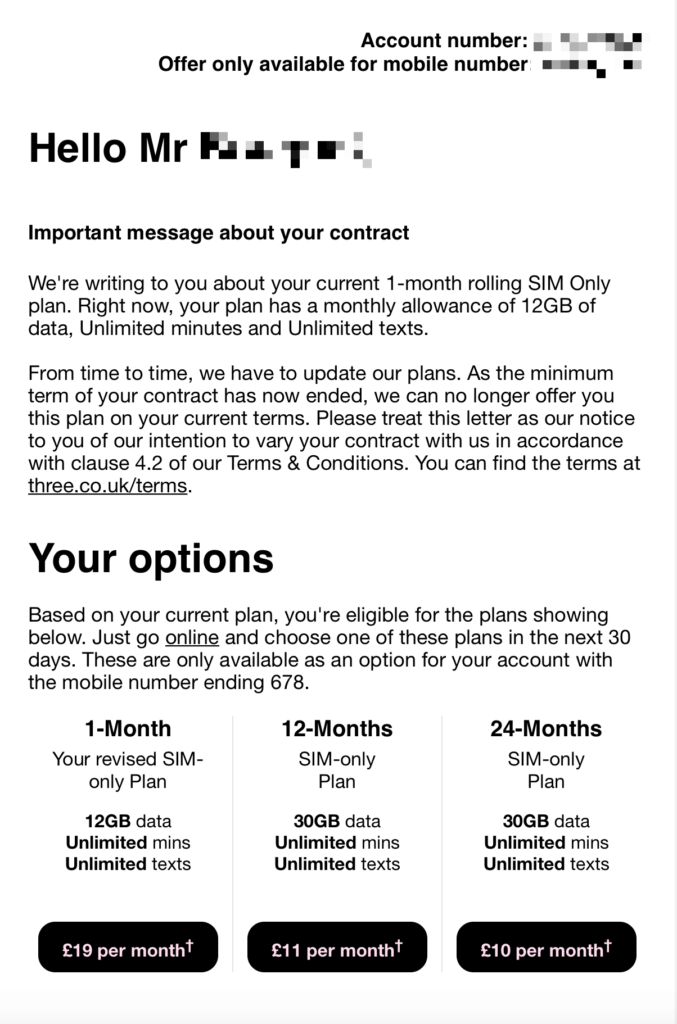 Smarty mobile reviews
"Fair prices and no problems with the service. I left 3 for Smarty, less money for the same network."
"Best part is ability to change plans when I need more data for a month, then go back to my normal plan"
Source: https://uk.trustpilot.com/review/smarty.co.uk
---
Data Only plans
Introduced recently, you can get data-only plans. No calls or texts, just great value data. Perfect for your tablet or mobile broadband.
2GB – £5
15GB – £9
40GB – £13
100GB – £17
Unlimited – £20
See it all at https://smarty.co.uk/data-sim
---
Smarty Money Back plans if you don't need much data
Get money back for unused data at the end of every month.
Perfect for people who don't use all their data and want to save money.
Get money back for unused data at the end of every month.
Perfect for people who don't use all their data and want to save money.
The way it works is simple. The base cost of our data discount plans is £5, which covers unlimited standard calls, texts and running the network. The rest is simply for data. So we think it's only fair to take the data you haven't used and give you money back for it – at the same rate you bought it, £1 per GB. We even calculate using remaining MBs, not GBs.
Any unused data credit gets used towards the amount you need to pay for your next month when you renew your plan.
---
Smarty group
Save 10% on every SIM with a Group plan.
Manage multiple SIMs for your tablet, work phone, or anything else you need. You can add up to 8 SIMS, including the group owner.
A Group can be just 2 plans up to a total of 8, and as soon as there are 2 plans in the Group you start saving.
Read more at https://smarty.co.uk/group-plans
---
How to keep free roaming in Europe?
Get Smarty or get a mobile phone contract in a European country.
Is SMARTY better than giffgaff?
They both are sim-only plans with competitive prices range.
Giffgaff gives you £5 extra credit to join with a referral, Smarty refer a friend gives you a £10 gift card if invited as well.
Smarty VS Giffgaff
Smarty VS GiffGaff comparison
*30GB Voice and Data plan + 20GB of Data for £10 offer (28 July – 7th November 2022) (Read more at https://cdn.smarty.co.uk/files/smarty-promo-12Mth30GBPLUS20GB10July22.pdf)
Smarty is a bit cheaper and gets you more roaming data. However, it runs under Three, so check what coverage is better for you.
---
Hope this article was useful. Join the conversation and share what you think about them.