You can get everything you buy at a better price online. The golden rule is never buy full price.
Small savings + small savings + small savings […] = BIG SAVINGS
Simple rules to follow when you buy online
Rule 1: first purchases order often come the best welcome deal if you look for it (£10 off on bloomandwild, £15 on booking.com, £10 off at mybag, £20 at urban massage, 30% off at myprotein, etc…)
Before to register to any website, check first referral invite or first order offers in google "brand name + referral code".
If there is referral offers ask your friends or ask google.
If not check for "website name + code discount"
Rule 2: combine with gift card and cashback offers. Cashback is based on sponsored links to give you a part of the money back after your purchases.
Rule 3: enjoy and apply as often as you can
The best place to do saving is travel products, hotels, etc. but this can be applied to nearly everything.
Example 1: I want to buy tickets for a gig.
I want 2 tickets for Black Eyes Peas in London in October.
I can find tickets on Ticketmaster or See tickets. Ticket are £100 + £21 for fees and shipping on the first website, and £118.20 + £3 on the second.
How can I get a cheaper price?
Basic always check referral coupon code in google, both platform don't have referral invite and code coupons are a not fitting my purchase this time. What else?
1) Firstly, let's see if I can get some discounted gift card to pay on those website with Zeek.me
See tickets is not successful, all cards are gone for now. However, at the moment there is plenty for Ticketmaster with a 3% discount, (a few months ago it was 8% to 10%) not crazy but 3% is still better than nothing. I see on £100 at £97. + £5 Zeek bonus if you are a new users. That's £8 saved.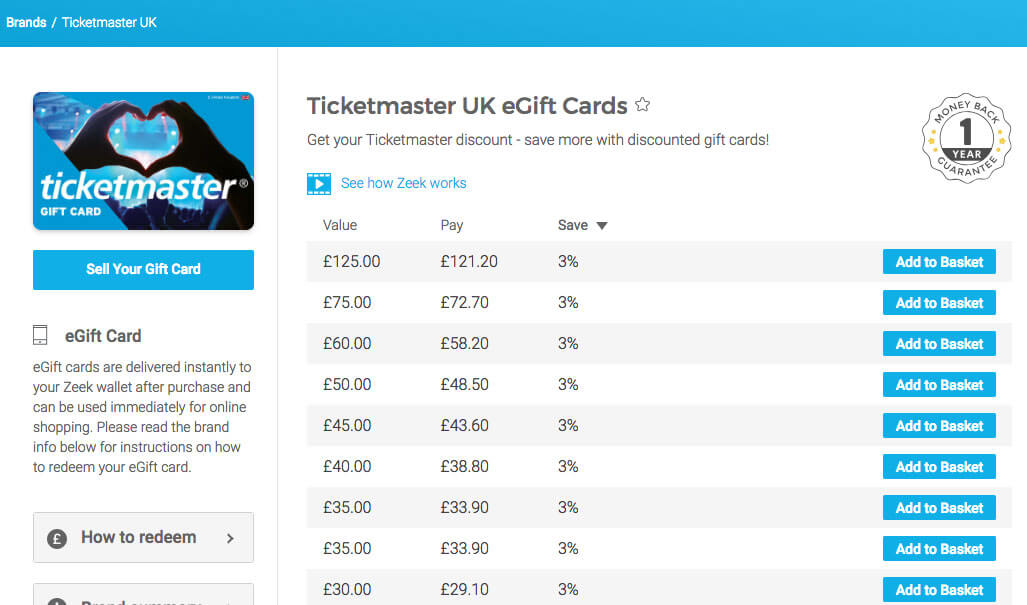 It's an instant process so I receive the e-gift card directly in my account ready to use.
2) Cashback
I used chrome to do my initial ticket research so I will an other browser, for instance Firefox to got to topcashback to use their link to go order and get an extra few £. For new topcashback users get £7.5 bonus. It's at 1.5% today.

Through the link I booked my tickets using the egift card.
Tickets booked, that's £3+£1.5 = £4.5 saved for existing users, that's the price of a booze in London. However, if you are new user on both Zeek and Topcashback that's £8 + £1.5 + £7.5 so a total saved of £17, not bad right?
Example 2: I want to buy a cosmetic product
I am looking to buy a product named Dermalogica Active Moist. I already ordered before on Zest beauty. So I can look for an other offer on lookfantastic.
£5 off on a first order + 5% cashback or 12% for new users* (date of today numbers)
What's next >> Check the best referral code 2018