Vodafone broadband referral code, get a £25 Amazon.co.uk Gift Card when you get connected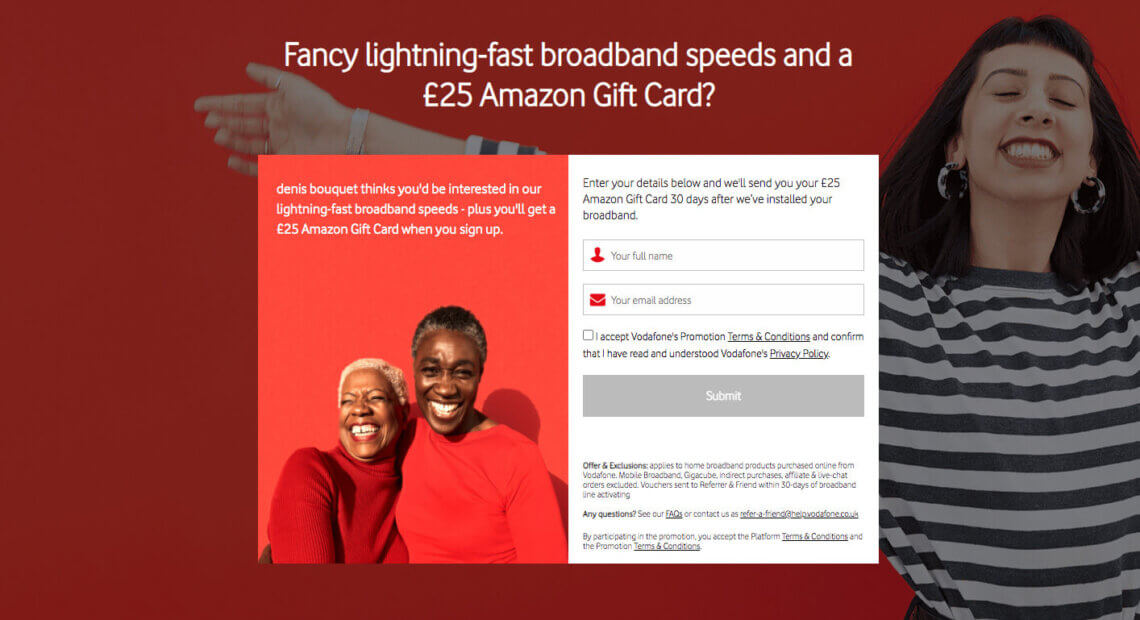 With this Vodafone broadband referral code, get a promo when you get internet with Vodafone. Enjoy fast internet speeds with Vodafone Gigafast Broadband and get a £25 Amazon.co.uk Gift Card when you join!
---
How can I get a Vodafone broadband referral invite?
Get your refer a friend deal with this invitation to receive your reward. Follow the link below to check whether Vodafone Gigafast Broadband is available in your area.
How the Vodafone broadband refer a friend works?
Enter your details below and we'll send you your £25 Amazon Gift Card 30 days after they install your broadband.
How can I make sure my referral is tracked properly?
Referred friends must purchase the product directly after following the "start shopping" link revealed on the referral platform which is accessed by following the unique link that the referrer shares with them. If they click on any other websites or advertising in between, we will not be able to track the sale or pay either referral rewards.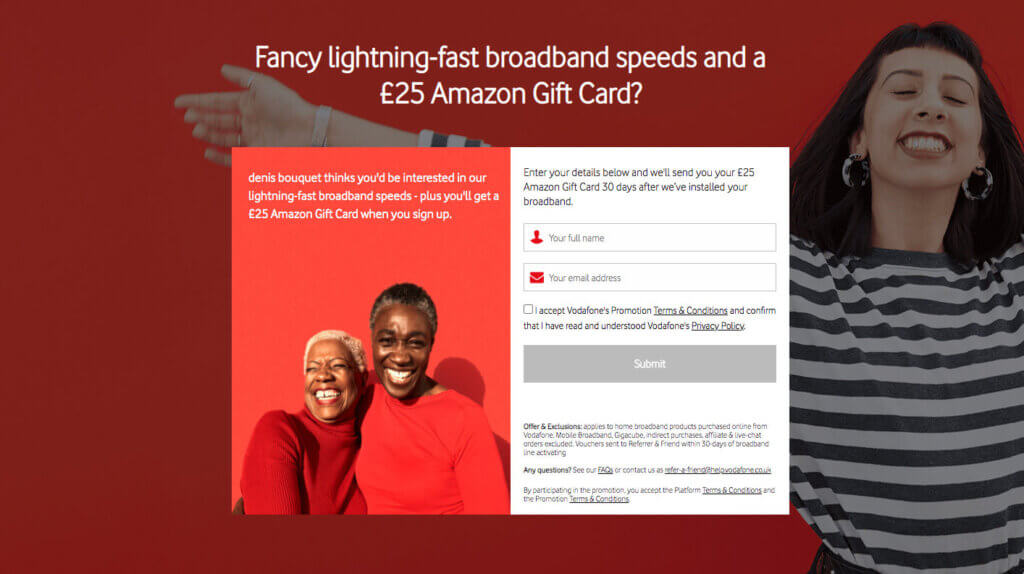 Offer & Exclusions: applies to home broadband products purchased online from Vodafone. Mobile Broadband, Gigacube, indirect purchases, affiliate & live-chat orders excluded. Vouchers sent to Referrer & Friend within 30-days of broadband line activating.
This Vodafone broadband offer is not available for existing customers.
What do you I need to buy to get my Amazon gift card?
Buy a new Vodafone Home Broadband 18 or 24 month plan online, from vodafone.co.uk.
You can read the full Vodafone refer a friend promotion at https://www.vodafone.co.uk/refer-a-friend/gigafast/
---
Vodafone what broadband can I get?
Get unlimited broadband usage for streaming, gaming and downloading.
The intelligent WiFi automatically optimises to give you a fast and consistent connection.
You can use the Award-winning Vodafone Broadband app to control and customise your WiFi at home.
---
Are you looking for a Vodafone mobile phone referral code instead? We also have an article for this here.