Curve referral code NRYWGKAE get £5 – one card for all your bank and credit cards!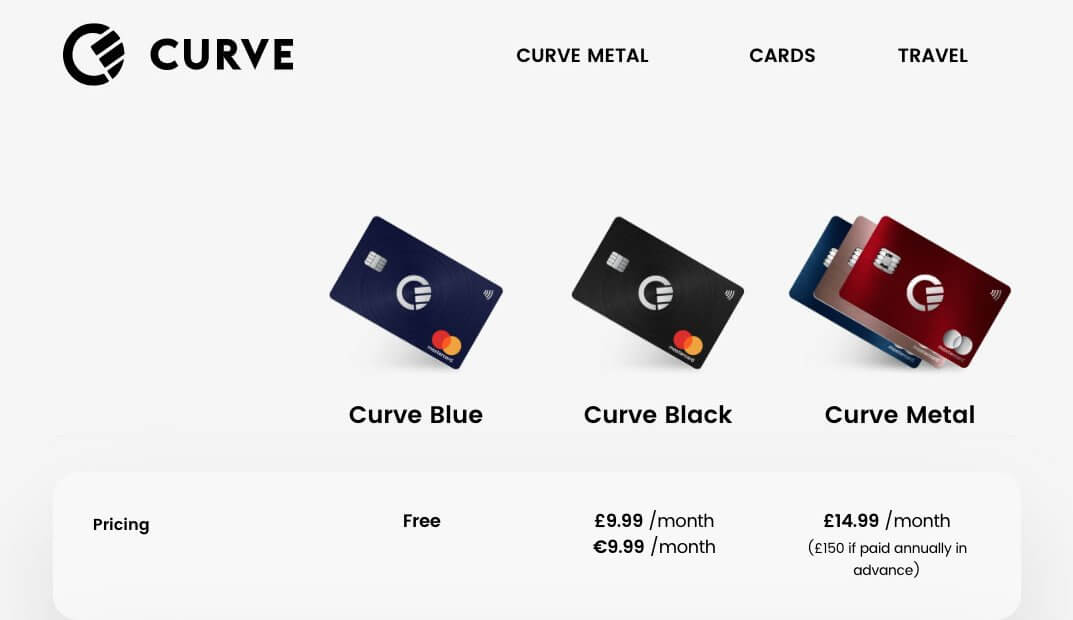 Curve, carry one card for all your cards. Connect your cards to Curve and enjoy a whole new banking experience. One Interface. One Curve card. Real-time notifications, Zero Fx, 1% Cashback, and even time travel to change card charged.
Get 1% cashback at 3 select retailers of your choice on the top of your card bonus. Add this code when you join for £5 bonus. Available in 27 countries of by residency of cardholder.
Curve app referral code – £5
Simply use this Curve refer a friend invite link or enter the code NRYWGKAE manually when you register on the app.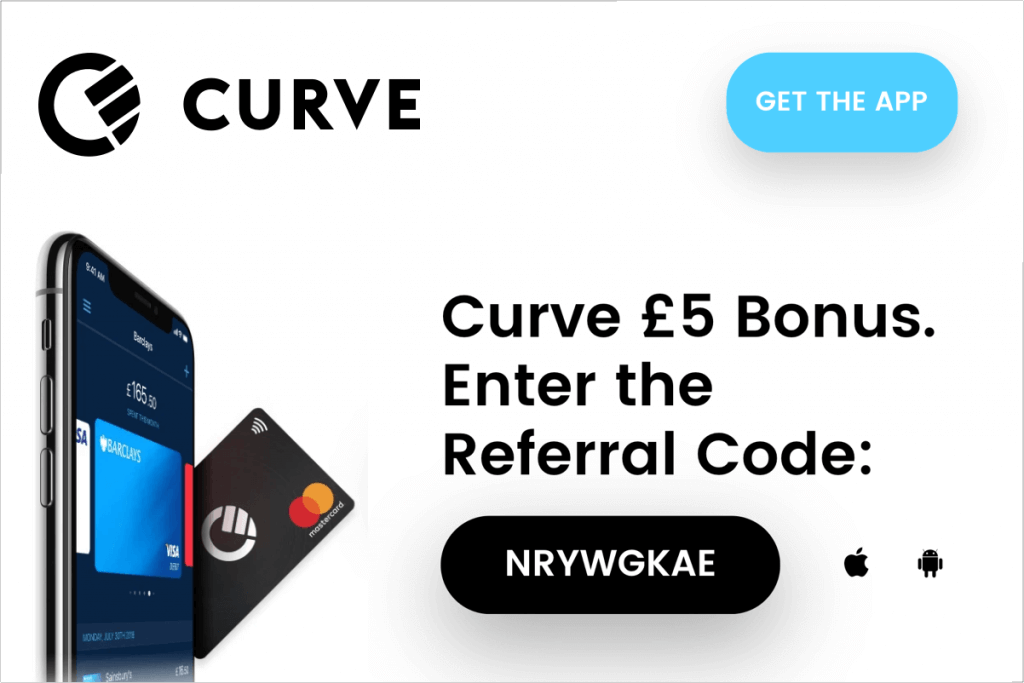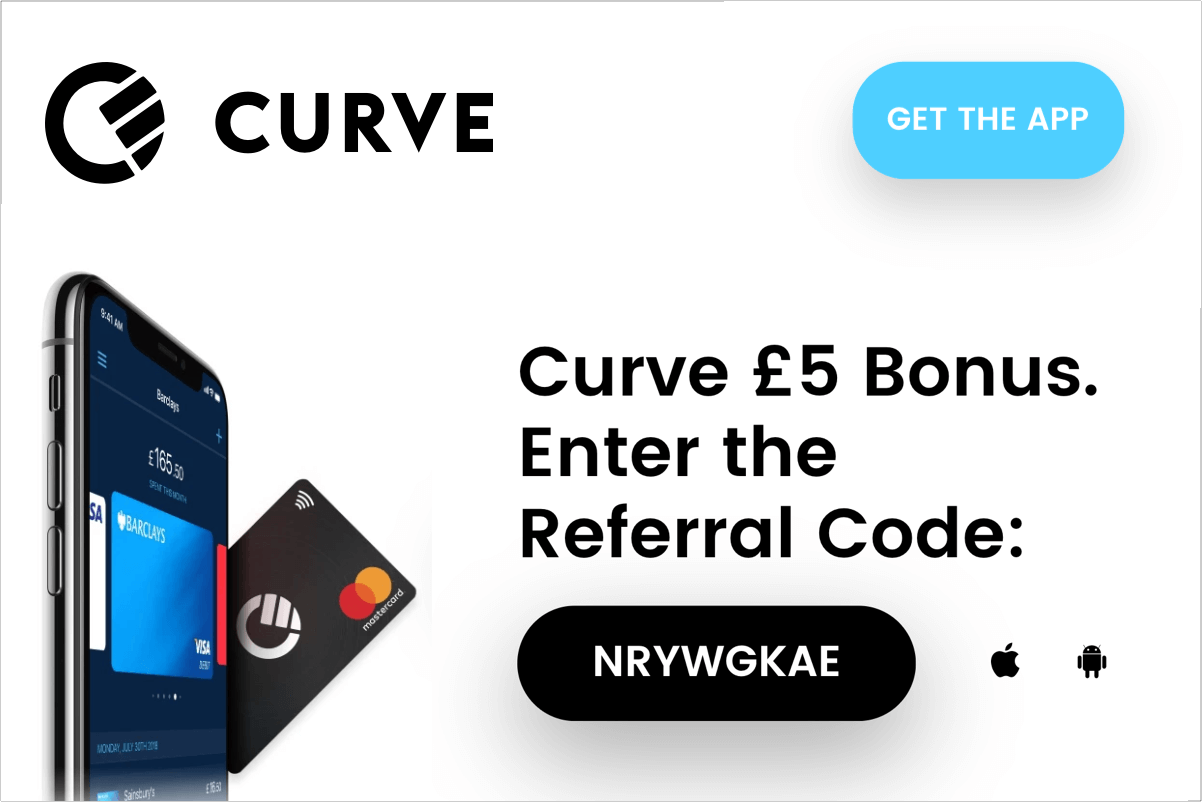 The Curve Card is FREE so there is no harm in trying it out.
It's like a duplicate of all my card. Super reassuring when I travel, the Curve card in my pocket, the others stay safe at home.
To use your "free" Curve Rewards cash, just switch from your linked card and tap the Curve Rewards card in the app and make your transaction.
If you pay any bills which take a debit card but not a credit card, you would be crazy not to pay them with a Curve Card linked to a rewards Visa or MasterCard. Similarly, if you withdraw cash from ATMs it is a no-brainer to use a Curve Card for the first £200 per month as it will be treated as a points-earning purchase on your linked credit card.
All my cards in one + a great way to save & manage money. Sign up with code NRYWGKAE & get £5
Curve adds security to your credit card – Putting You First with Our Amazing New Curve Customer Protection
Curve offers 3 cards, blue (free), Curve Black (£/€9.99 per months) and Curve Metal (£14.99 per months or £150 if paid annually in advance)
You can read more about them here https://www.curve.app/en-gb/comparison
Why is Curve so great?
It gives you cashback on 3 to 6 of your favourite retailer (you choose).
You carry only one card for all.
It allows Visa & Mastercard, you can charge any of your cards
Perfect for travelling with fee-free spending in 200+ currencies, with access to the interbank rate.
Go back in time to change the card charged "Switch the card you used after your purchase. Up to £1,000, within 14 days"
NOTE: they stopped AMEX for now but they are trying to get it back.
Rewards
This is a one-time selection, so choose wisely!
1% cashback for the first 90 days at up 3 retailers for the free regular (Blue) card, and 6 for the Curve Black card. Using the Curve app, you get to choose the retailers that suit you from a list.
There are a few travel-related retailers in there, such as Booking, TfL and EasyJet, along with more mundane places such as Sainsbury, Tesco and IKEA…
Overseas usage
Another of the card's superpowers is the ability to spend overseas with 0% FX fee with any of your cards on 150 supported currencies, compared with around 3% on most credit cards. Since the closure of the Lloyds Avios Rewards cards, I'm not aware of any rewards earning card with zero FX fees. With Curve, now all of your cards are 0% FX.
At weekends, when currency markets are closed, a 0.5% markup is added to Euro and US Dollar transactions, and 1% for other supported currencies. From November, this will be 0.5% EUR/USD and 1.5% for others.
Limits
The maximum spending limit is £2000 per day, £5000 per month and £10000 per year. As a new cardholder, you are likely to be capped at £2000 per day and £20000 per year. However, these limits will increase as the company grows to trust you. "Based on your account activity and identity verification documentation you have provided us with, your 365 days rolling spend limits can be increased up to £1,400,000"
Curve paid version offers insurance
Worldwide Travel Insurance and Electronic Gadget Insurance
**Coverage provided by AXA Travel Insurance Ltd.
With our all-new Curve Customer Protection, we didn't just double the amount you're covered for compared with our previous policy. We made it a hundred times better – upping the value of goods or services you're covered for from up to £1,000… to up to £100,000.