Free Moonpig card (pay postage only), send someone you love a personalized card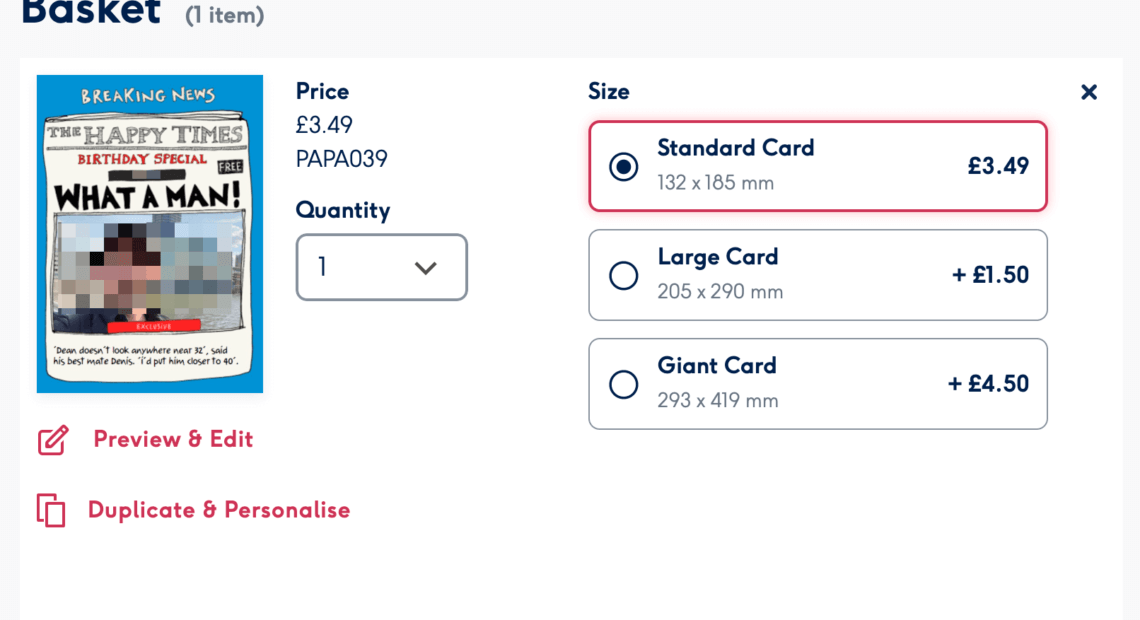 Get a free Moonpig card or personalised card for your first order at Moonpig UK. Futhermore, set reminders and get 20% off discount each time, enter the Moonpig voucher at checkout to apply it on your total.
---
How to get one Free Moonpig card? (postage fee only)
To start, simply go create your Moonpig UK card enter the coupon code MPFREELKJDGLKSJGFTU at checkout.
This Moonpig promo code is valid for new users only and on standard card size. However, there is a limit of one promo code per order.
I love those personalized card, much better than any card you can buy, upload a photo or just add yours words into the design to make it the best card ever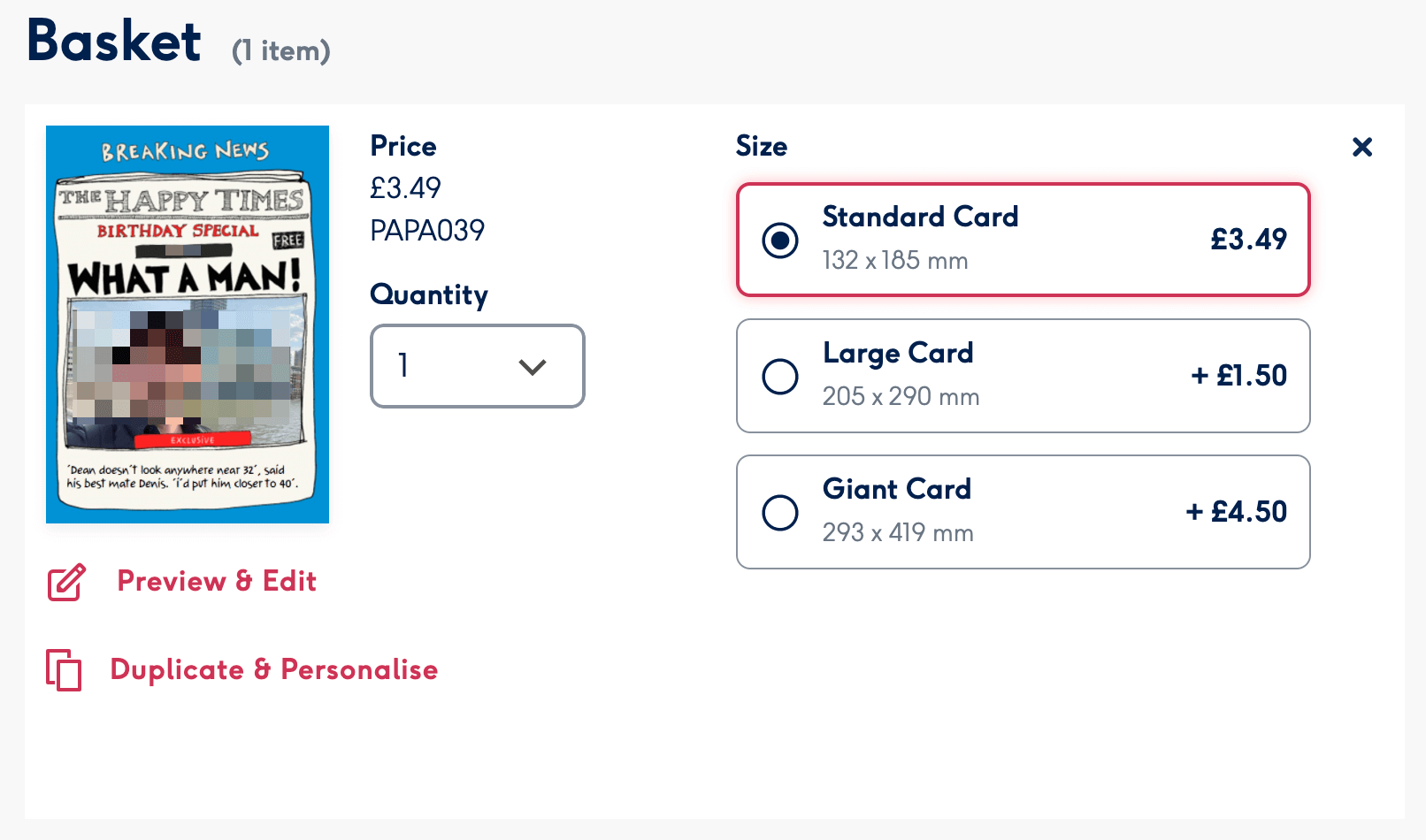 Moonpig delivery
You can send it to you first, with a spare envelope for each card.

Or send it straight to their door.
Other Moonpig promo code and discount coupon
Set a reminder to receive a nudge in advance and 20% off your card.
If you set three reminders, you'll receive a free card, plus an additional 20% off when each occasion approaches. 
Source: https://support-uk.moonpig.com/hc/en-gb/articles/360020630438-Reminders-How-do-I-get-my-free-card-and-discounts-
You can also add a gift with you card. There a bit selection of gift for every occasions it's a bit like the IWOOT
Moonpig gifts ideas:

Letterbox Friendly Gifts
Special Gifts
Alcohol
Balloons
Beauty
Chocolates
Experience Gifts
Gadgets & Novelty
Gift Sets
Hampers
Home & Garden
LEGO
Nivea
Personalised Mugs
Personalised T-Shirts
Soft Toys
Toys & Games
Drinks
Personalised Alcohol
Beer
Champagne
Gin
Letterbox Friendly
Prosecco
Spirits & Liqueurs
Tea & Coffee
Whisky
Wine
Moonpig gifts, what do they sell?
Moonpig Review (website) – Funky pigeon or Moonpig
Moonpig have a good selections of cards, flowers and gadgets.
They are a competitro of Funky pigeon, the benefit of FP is they allow you to send your cards in europe for an extra cost. You can get 15% off your first card order. They have similar products, I think the moonpig website is a bit nicer. They both offer some discount code regularly.
The reminders are free on both platforms but Funky Pigeon don't offer any discount.
funky pigeon flowers
---
FAQ
Moonpig where to enter my voucher code?
At the payment step you can enter your Moonpig voucher code and click the "Apply Voucher" button.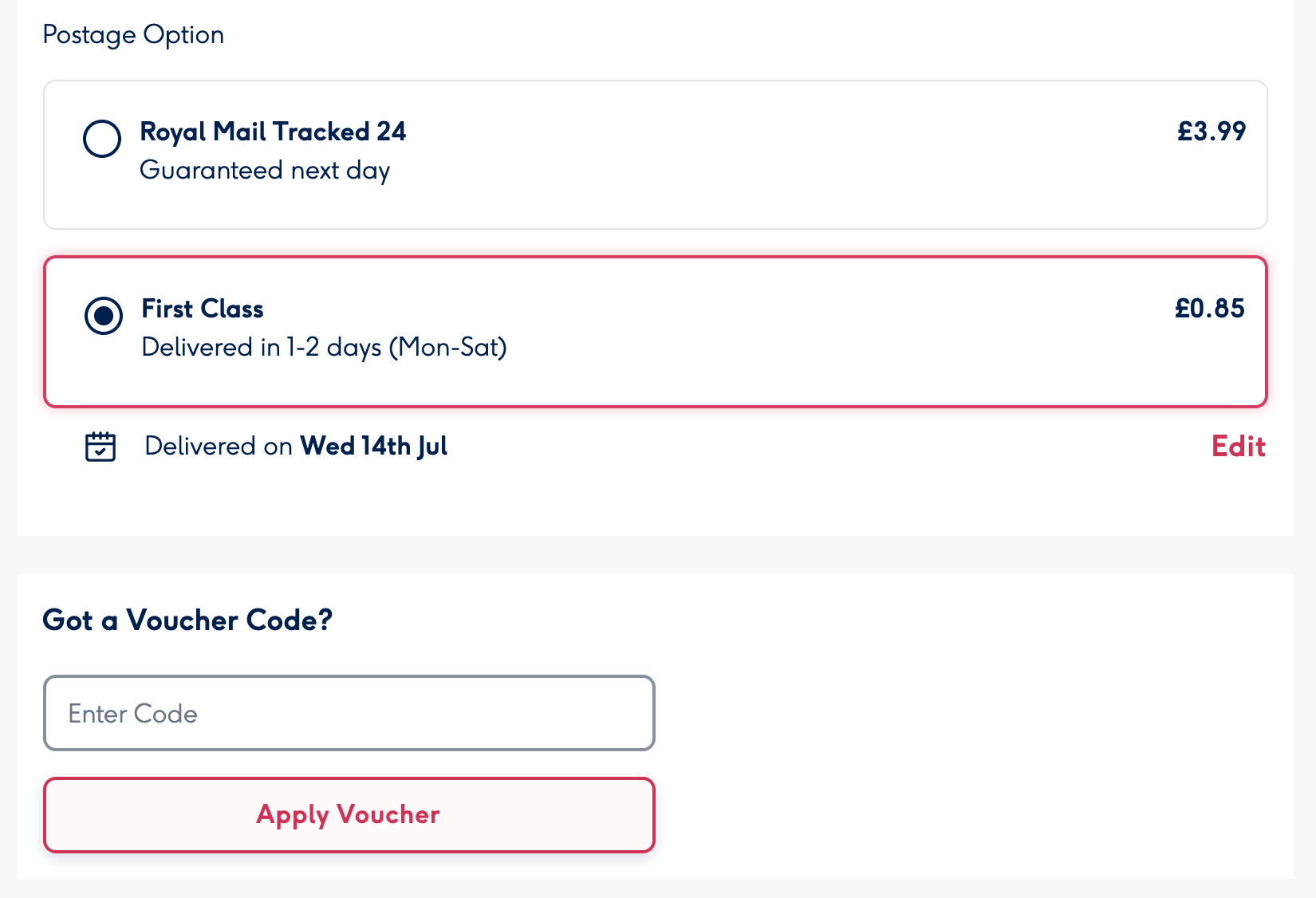 Moonpig, how to send ecard? Are moonpig ecards free?
If you are more of a digital person you can choose to send an ecard with Moonpig, customise it, fill it your little message and send it into an email address. No paper involved, it's a great backup if you are too late and you can't make it even with a next day delivery. (Or if you want a delivery on a Sunday for instance). Moreover it costs only £0.99 and it will still make a good impact on your friend, lover or familiy member :)
Cards at Moonpig, what size is a large card?
Standard Card size is 132 x 185 mm
Large Card size is 205 x 290 mm
Giant Card size is 293 x 419 mm
Postcard
145 x 103mm
Postcards are about A6 size
Small
142 x 101mm
When folded, small cards are about A6 size
Standard
132 x 185mm
When folded, standard cards are slightly smaller than A5 size
Standard Square
150 x 150mm
When folded
Large Square
210 x 210mm
When folded
Large
205 x 290mm
When folded
Giant
293 x 419mm
When folded, concertina cards have 4 panels
(size is listed per panel)
https://support-uk.moonpig.com/hc/en-gb/articles/360007754197-What-size-are-your-cards-
Moonpig prices for personalised card – UK
Standard Card £3.49 – Large Card £4.99 – Giant Card £7.99
Where is Moonpig available? Where can you send Moonpig gifts?
Happy gifting with those Moonpig offer code :)