ArtFinder referral code discount for 15% off – the invite friends offer
Artfinder get 15% off discount with the referral code ART-MQWZ7 or click this invite link to register and shop at Artfinder.com
How to get 15% discount at Artfinder with a referral code?
Artfinder get your discount with the referral code ART-MQWZ7 or click this invite link to register and shop at Artfinder.com
Click "Sign up to show voucher code"
15% off their first purchase when they use it at checkout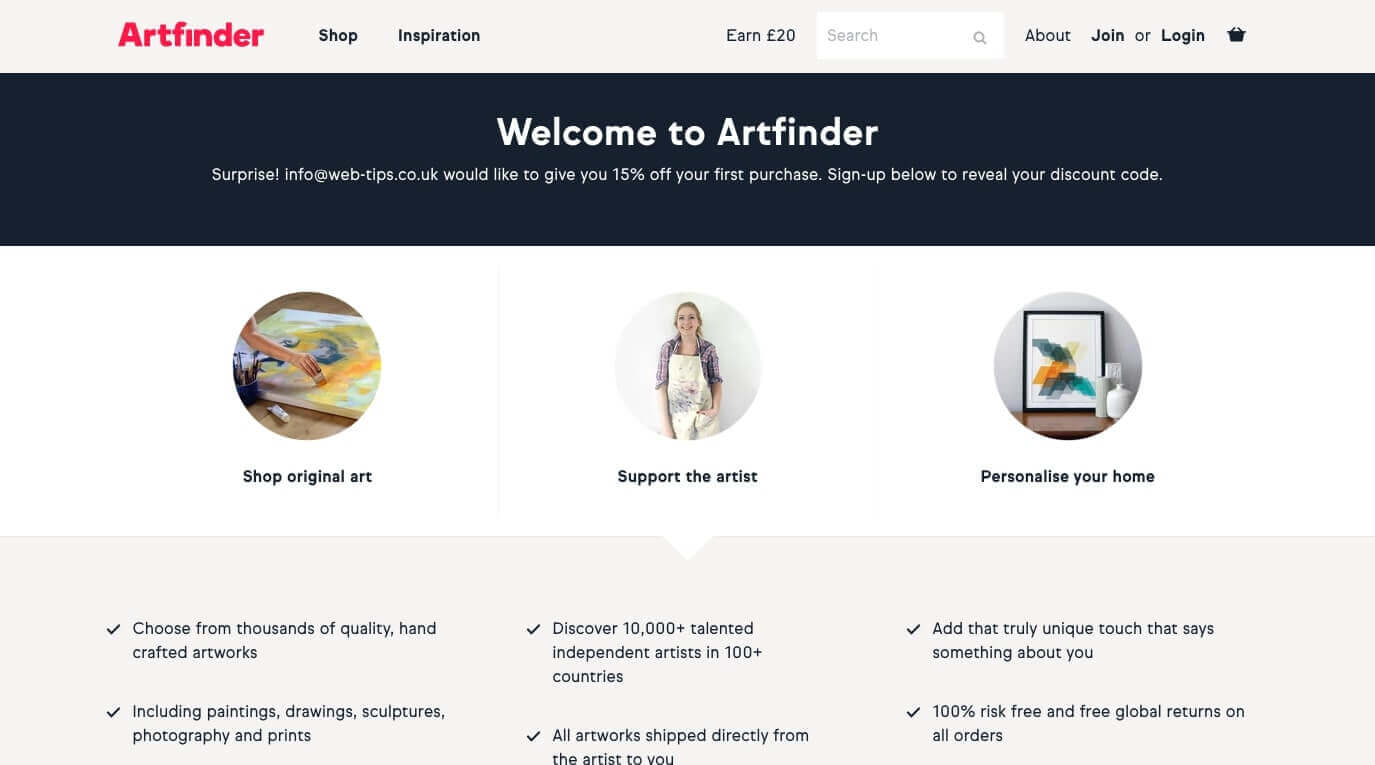 Artfinder refer a friend terms and conditions
In order for the referral to qualify for the credit reward, the referred friend must be a new customer to Artfinder, over the age of 18 and must meet the conditions of their reward.
Moreover, for for the referral credit to apply, the referred friend will need to add the referral code to their basket when placing the order. (Kindly note that we will not be able to apply the referral credit retrospectively if the code was not added by the referred friend at basket page).
*Please kindly note that the Terms and Conditions of our promotional codes apply and it is only possible to apply discount codes to artwork which is at full price. Items on sale, commission deposits or final payments, as well as artworks under make an offer cannot be discounted.
Find the full terms at https://help.artfinder.com/article/562-invite-a-friend-scheme
Other Artfinder discount and promo code
Subscribe to the newsletter and get 10% off your first purchase.
Plus – you will also receive £1 / €1.20 / $1.50 / C$1.75 / A$2.00 when you verify your email address on Artfinder.
Love your home this January
· 10% off £150+ code: LOVEJAN10
· 15% off £700+ code: LOVEJAN15
· Ends midnight 31st January
---
Artfinder vs Etsy
Etsy is a website like Art finder, but more global with various product such as handmade gift, vintage & on-trend clothes, unique jewelry, etc.
One other great website to buy handmade objects, and being eco-responsible is Wearth London.