Zilch referral code: £15 reward bonus free gift card + 2% cashback – UK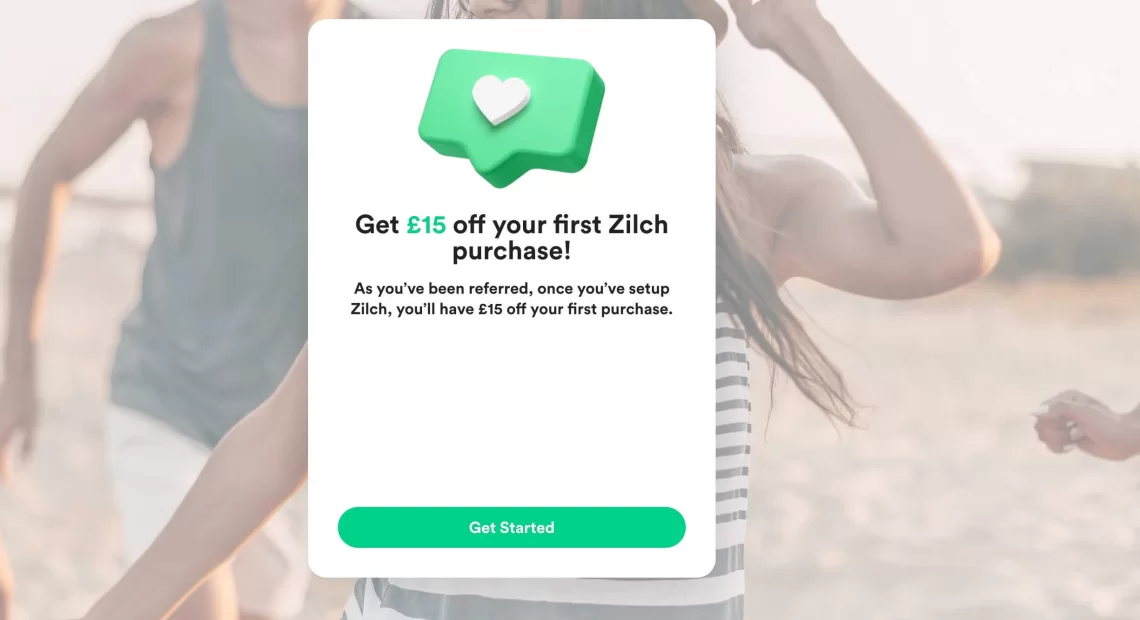 Use this Zilch referral code to get started at Zilch with 1500 points = £15. For instance, get a 2% Amazon cashback on everything + a £15 bonus discount (valid one time only) if you pay with Zilch. Create your account now with this Zilch referral code to get your bonus added. Don't wait, get your bonus while it lasts!
Zilch referral code for £15 bonus + 2% back every time
Get 15 GBP (1500 points) to use anywhere with this Zilch referral invitation
You can access Zilch via an online browser or the Zilch app.
---
Other ways to get an Amazon cashback – UK
2% for Echo device purchases, for Fire TV device purchases, for Kindle E-reader device purchases or for Kindle Tablet device purchases with Quidco
Or 2.5% with TopCashback for the same categories only.
---
Where to use your £15 Zilch bonus
Trainline
Hotels.com
Ticketmaster
Cineworld
Treatwell
EasyJet Holidays
British Airways
Trivago
Asda
Deliveroo
ALDI
Sainsbury's Groceries
Just Eat
Uber Eats
Tesco Groceries
Morrisons
How Zilch works
Choose where you want to shop
Zilch works everywhere.
Choose how you want to pay
Pay in 4 or Pay in 1, online or in-store.
Use the Zilch card at checkout
Enable the Zilch card and use those details at checkout.
Zilch FAQ
Zilch is FCA regulated
We're not a bank, but we're regulated by the Financial Conduct Authority to provide you the protection you need around our regulated products.
Shop anywhere using your virtual Zilch mastercard
Use this at checkout to shop at all of your favourite stores.
Zilch is highly rated on Trustpilot. Check for yourself.
---
How the Zilch Pay in 4 times timing works
Split payments in 4 over 6 weeks for free at 1000s of participating stores. Zilch Anywhere for a small fee of £2.50 (rep. ex. 11.5% APR).
25% 1st payment at checkout + Zilch Anywhere fee if applicable
50% 2nd payment after 2 weeks
75% 3rd payment after 4 weeks
Final payment after 6 weeks
---
Get 2% back when you Pay in 1
Eligible customers can Pay in 1 and get the best cashback in the world. We call cashback Zilch Rewards.
Shop anywhere
Select Pay in 1
Earn rewards instantly
Spend Rewards anywhere
---