Xoom referral code – invite a friend – Xoom by PayPal bonus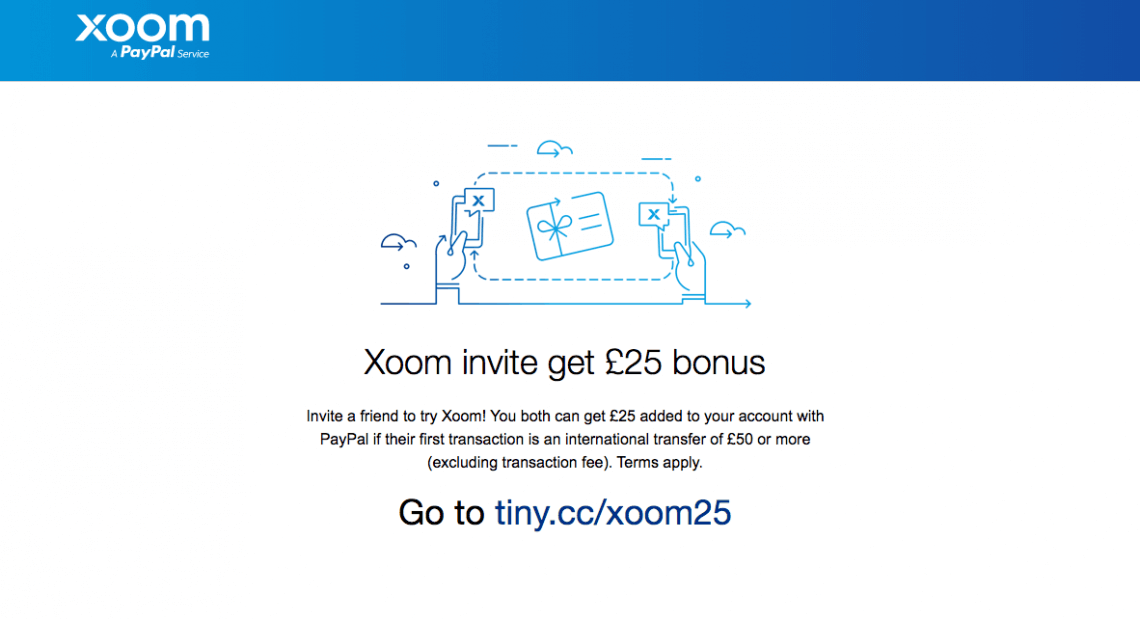 Xoom referral code, get £25 added to your account with PayPal if your first transaction is an international transfer of £50 or more (excluding transaction fee). Get 25 units of the applicable currency. For example, $25 USD if you reside in the United States or $25 CAD if you live in Canada.
Xoom referral code: Invite a friend – £25 bonus added on your Paypal account
Register on Xoom.com by clicking this link: Xoom invite link for £25/$25/€25 bonus paid on your PayPal account.
Make your first money transfer of 50€/$/£/etc or more and you will receive your reward.
Important: stay in the same browser window. You can also transfer money to yourself.
You will receive a 25£/€/$ reward added to your PayPal account on the same day.
The minimum transfer amount and reward currency may vary based on the country of residence. You need a PayPal account to receive the reward.
https://www.xoom.com/legal/invite-friends-terms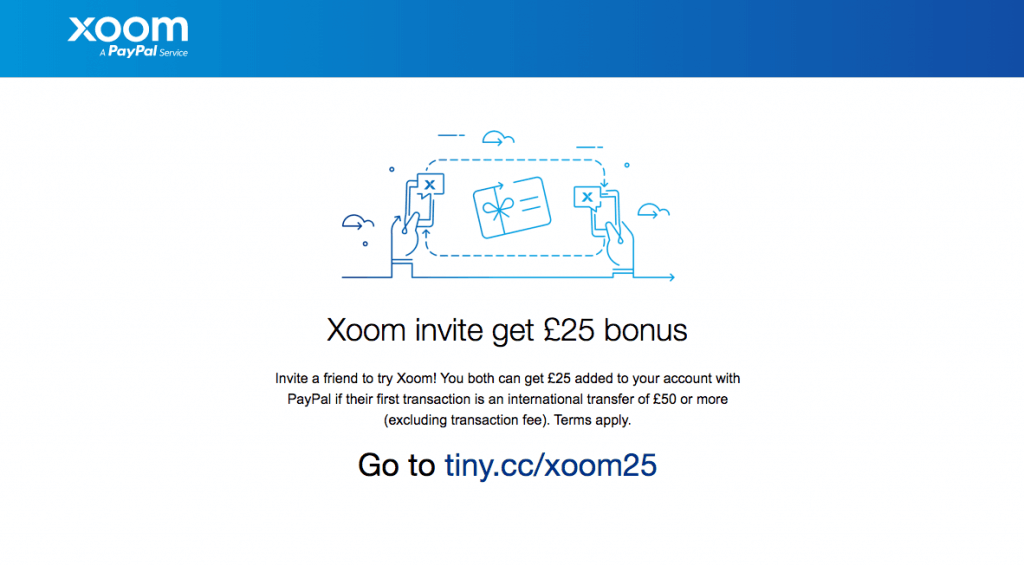 Want to try Xoom, a PayPal Service for sending money abroad? We'll both get £25 added to our PayPal accounts if you sign up with this link and your first transaction is an international transfer of £50 or more (transaction fee excluded).
Xoom reward FAQ – refer a friend
Once the Invitee money transfer recipient has received the money, the Inviter and Invitee will receive an email from us if the invite is a Valid Invite. It typically takes less than four (4) working days to send from the date of the remittance completion.
To receive your Reward, you must have a PayPal Account. On the Confirmation Date or within 30 calendar days from the Confirmation Date, that is linked to your Xoom account. You can link your PayPal Account to your Xoom account by logging into your Xoom account with PayPal or by other methods PayPal makes available. Once Xoom confirms the transaction and your PayPal Account is linked to your Xoom account, you should receive the Reward in your PayPal Account on the same day. Rewards may be delayed in issuing due to fraud or compliance reviews.
---
Xoom is a service by Paypal. It's a competitor of other money transfer services such as Transfergo, Transferwise, Worldremit, Azimo…
You can get free money with Transfergo, they offer a £10 bonus for £50 or more sent.
---