Beer52 free trial code, promo code £12 off: 8 beers + snack + magazine + delivery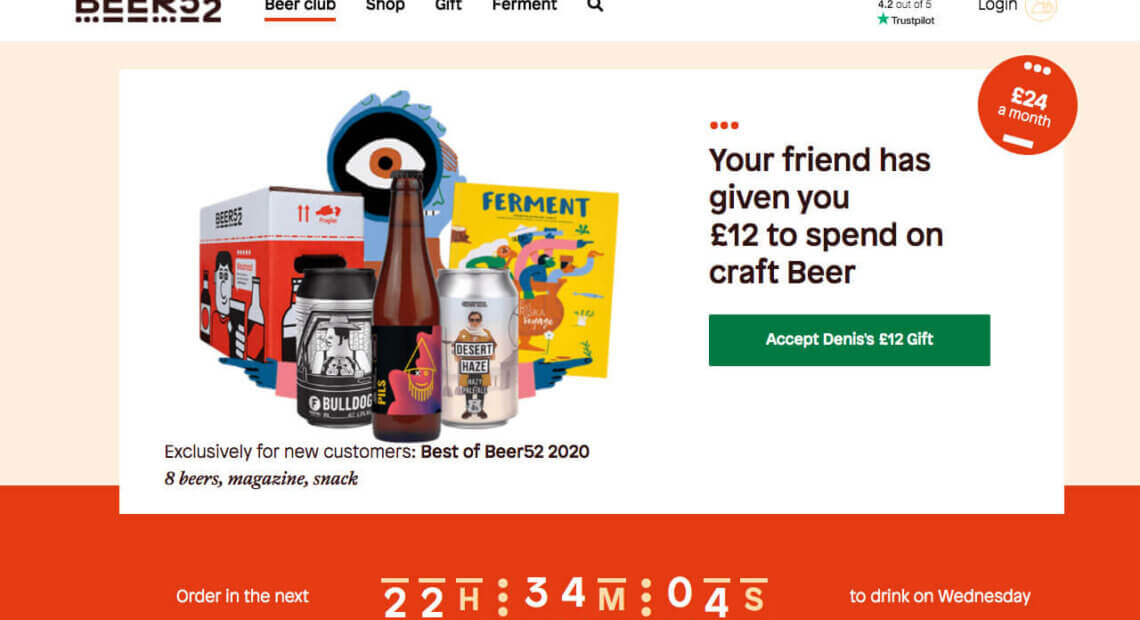 Beer52 promo codes – £12 OFF with this refer a friend invitation + free delivery. Beer 52 is the UK's largest craft beer discovery club. They send you a tasty selection of craft beers every month.
---
Get your trial of a beer case for £12 with this Beer 52 referral code July 2022
How do I get my Beer 52 £12 discount?
1) Claim your discount: Click this Beer 52 refer a friend invitation to get £12 OFF + FREE delivery on your first box.
2) Receive your beer the next + a magazine and a snack
3) Enjoy your trial case. Cancel anytime
New UK customers only. One per household. This offer is part of a monthly subscription (£24/m for 8 beers, magazine, snack), pause or cancel anytime by contacting customer support. 18+ only. See full T&C on the website. Beers may vary. Offers end January 1st 2021. Drink responsibly.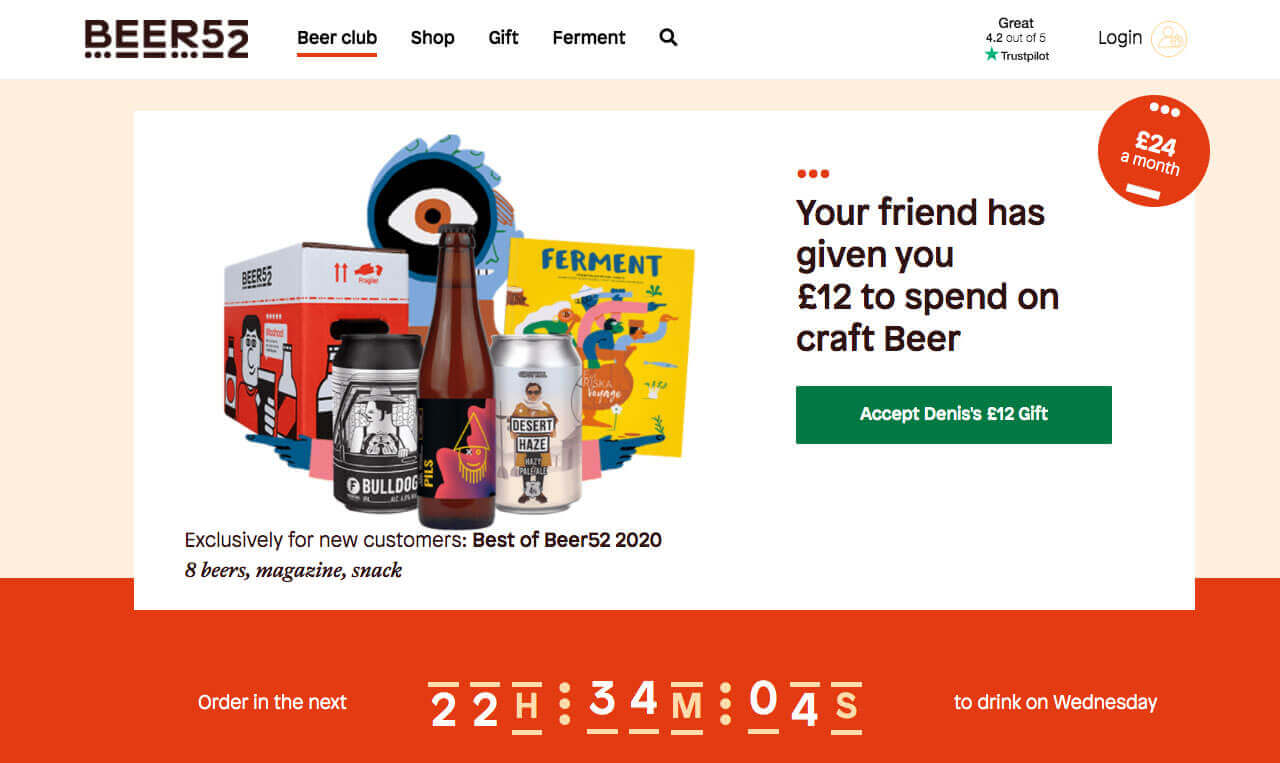 Want to join me in the UK's No.1 Craft Beer Club? Get started at @Beer52HQ with 50% OFF – 8 craft beers, magazine and snack for only £12: https://www.beer52.com/join/W5SJXZ?ss=twit
---
Beer 52 review
They wouldn't be the prospering club it is today without word of mouth, which is why they love it when their customers get spreading the word of their craft ale love. They have a 4.2 score on Trustpilot.
My Beer 52 review
I wanted to get some nice beer to have my friend over for dinner on Thursday so I ordered my first box with a discount on Monday night. It arrived super fast (London location). The magazine is colourful even I don't really care about that. The snack is nice, a bit small, especially to share but still, I appreciated it.
Is Beer 52 worth the price?
Beer 52 is obviously more for people who really like beer, not the occasional lager drinker.
To give you a point of comparison, my local beer shop has massive fridges with beers from all over the world. Price varies a lot and they do an offer for a box of 3 at £10. And that's to pick up, not to deliver to your doorstep.
So 8 beers (+ a magazine and a snack) for £24 with delivery is definitely not bad at all.
What other people say about Beer52
"Excellent choice of beers and really enjoyed the whole experience"
"I have used a few similar online models and i can safely say these are by far the best. There is not a single beer I have had where the quality isn't noticeable"
"Also fantastic customer service – Steph was brilliant helping my via email"
"Great bunch of folks and easy to adjust membership levels to suit. I was going to cancel as we don't drink that much beer but after chatting to one of their lovely sales team Lo, I decided to opt for a quarterly box of beer. It will be very inexpensive and a nice treat every three months! Thanks folks!"
"You can get 50% discount on Beer Club Membership at Beer52 with a referral invite to save some money. I might not use the service every month but it's possible to pause for a month."
---
Beer 52 Other discount code and promo offers
Get £10 when you join the newsletter. That's not as nice as the Beer52 refer a friend offer above.
Sometimes you will find some beer 52 Groupon code such as:
£10 discount code when you spend £35. Coupon code BEER52AFTEN – expired
Free delivery over £50
---
How to cancel ?
We can cancel Beer52 accounts via phonecall (0131 285 2684), via email (support@beer52.com), and via social media DMs (@Beer52HQ) and we're here Monday to Friday, 9am to 5pm!
---
If you like beer and enjoy this Beer52 referral code offer, you might also like cocktails (cocktails delivered to you through your letter-box – 10% discount on your first). And why not cook nice dinners with another great trial offer for Hello Fresh UK. (food subscription service where you pick recipes and receive all the ingredients to cook healthy meals – £20 OFF)