Love Home Swap referral invitation 25% off your membership – 2022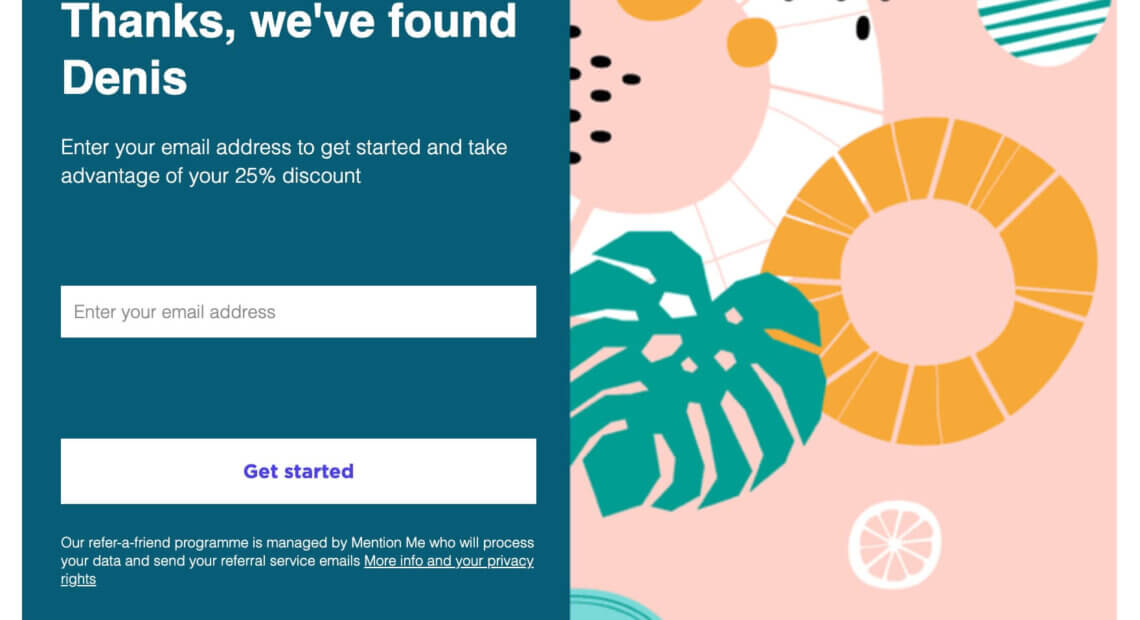 Love Home Swap referral code for a 25% discount on your first year, pretty good deal! Use this Love Home Swap referral invitation to register today.
Love Home Swap referral discount – May 2022
How to get a Love Home Swap discount on my membership?
Enter your email address to get started and claim your Love Home Swap referral discount of 25%.
Alternatively, you can look up my name, Denis Bouquet, at the registration step to enjoy that love home swap discount code.
You will start your Love Home Swap free trial. Then, after 14 days, your membership will be charged with a 25% discount.
"Mention Me" manages the Love Home Swap referral program. TheLove Home Swap refer a friend terms and conditions specify the following:
The Referred friend is offered 25% off on the first year of membership when they place their first order.
In order to qualify for the reward, the referred friend must be a new customer to Love Home Swap and over the age of 18.
---
Love Home Swap membership: two ways to swap
What is Love Home Swap?

Free Classic Swap (recommended)
Classic Swap are trips where members swap their homes directly. You go to theirs, and they come to yours.
You can conduct Classic Swaps at the same time, or they can happen non-simultaneously, at different times of the year. The details of when these trips will take place are set in the trip discussion before the swap is agreed upon by both members.
There is no charge for Classic Swaps (other than your annual membership fee). Moreover, you can arrange as many trips as you want.
Source: https://lovehomeswap.happyfox.com/kb/article/81-what-is-a-classic-swap/
Love home swap points
Swap points are the virtual currency of Love Home Swap. Be aware, using points has a small transaction fee (starting from £49) based on the number of nights you stay.
Points Swaps are trips paid for using Points (platform's virtual 'currency')
Source: https://lovehomeswap.happyfox.com/kb/article/77-what-is-a-points-swap/
---
Love Home Swap Reviews 2022
Excellent score – https://uk.trustpilot.com/review/www.lovehomeswap.com
HomeForExchange.com became Love Home swap a few years back (https://twitter.com/homeforexchange)
You can use this platform as long term house swap. Amongst the users, you will see older people / retired people. They love to travel and only look for longer terms, a month minimum.
I personally look more for holiday home exchange as short terms, a long weekend, or a bit more than a week. This holiday house swap allows you to save a lot on accommodation for expensive cities such as Paris, London, Madrid, NYC, etc…
I do love home swap London to wherever I can. For instance, I home swap London to Paris, swap London to Barcelona, etc. Furthermore, I will be honest, if I go to Porto for instance, it might be worth to sublet my place if I can and pay an Airbnb.
Love Home Swap vs Home Exchange
The same users often use both platforms. The Home exchange membership is a bit more expensive (£175 per year at the time of writing). However, they have no additional cost with points. This said, with Love Home Swap you can buy/borrow points to use, but read well how it works as you will have to give them back.
—
Happy home swapping, enjoy your home swap holidays or remote working, lifestyle.