HelloFresh trial UK, invite £46 OFF your first box – refer a friend offer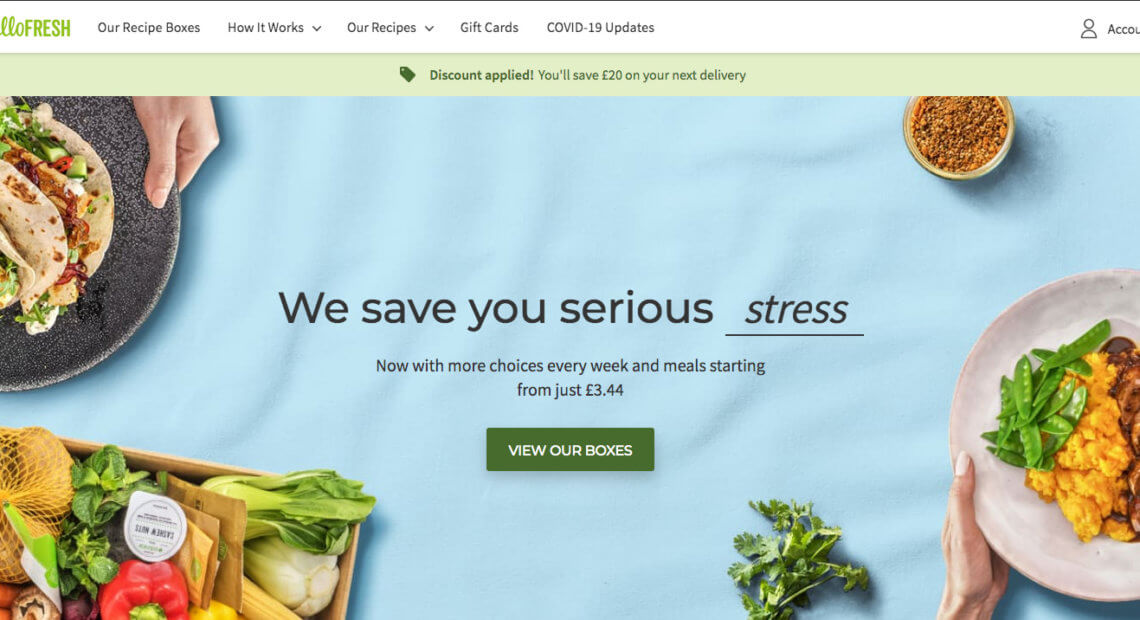 Get a £46 discount at Hello Fresh on your first order. Use this invitation link to apply your Hello Fresh promo code UK. Recipe boxes delivered to your door. Cook seasonal with fresh ingredients.
Article last updated: July 2022


Increase from £20 to £46 off across your first 3 boxes – 2022 offer!

---
How to get a £46 discount at HelloFresh UK with a referral invite code – July 2022
Firstly, go to hellofresh.co.uk using this referral invite link to get your £46 discount (open in a new browser so you are sure to see the "discount applied" just under the navigation)

Then chose your HelloFresh plan and at the address step, your referral offer should appear in the "apply promo code" box.

The plan for 3 meals x2 people will cost you £9.99 including delivery.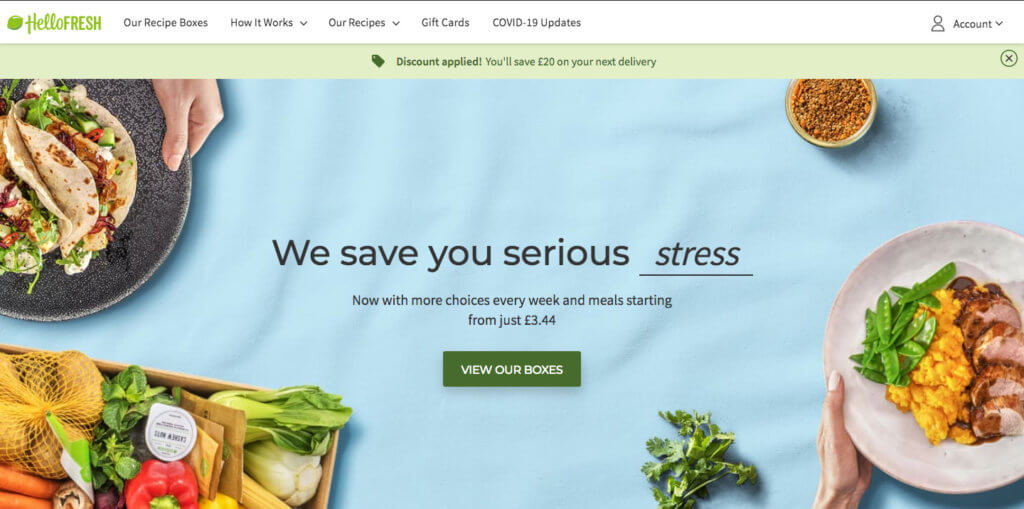 Then you will see a message "Discount applied! You'll save on your next delivery"
Claim this £20 promotion towards your first box of fresh ingredients and delicious recipes. Start your cooking adventure today and try your first box now.
Other HelloFresh discount code and promo offers
Another offer (less interesting than a refer a friend introductory code) is to get 30% off your first orders with Newsletter Sign-ups at HelloFresh (no code required)
Some companies also offer deals to their employee.
---
HelloFresh review UK
The reviews are usually very positive, delivery on time, large portions.
Noted as "very good if you fancy a change from your normal diet" and for people who don't know how to cook. People really enjoy this for convenience.
HelloFresh UK cancellation
You can cancel anytime but you have to do it from the desktop version "You can only cancel via a PC or laptop".
You can easily skip a week (or several!) when you need to. Just be sure to do so by our cutoff: 11:59 on Tuesday, the week prior to your delivery.
Personal review
I am a 30yo guy, living in London.

My first box arrived at 8.10 am, well-packed. I cooked the "Prawn and Chickpea Bulgur Salad" first. The end result was not as nice as on the image (my own presentation skills to blame) but it was really tasty actually! Out of that first meal, I was content and full!
However, I think one of the ingredients, the "Garlic Clove" was missing (but I had some in my cupboard anyway).

Do I have to follow the instructions?
I read quickly the steps, but usually, I add everything in my wok, it's still very tasty at the end.

Can I still use HelloFresh as a single person? (meal plans come for 2,3 or 4 people)
I live alone so I am not planning on ordering Hello Fresh every week, I snoozed a few weeks already. It's great when you invite someone for lunch or dinner. And if I am alone, I just save the second portion – reheating it later or for the next day at lunchtime.

How to get the HelloFresh £20 discount?
I entered the coupon code and it was applied to my total, enter it when you see "apply promo code". Your first 3 meals (x2 people) at £9.99 with delivery included that's a great discount so definitely worth the try!

Is HelloFresh really worth it?
The great thing for me is you are happier than if you just did a delivery takeaway with your food ready as you are doing the cooking. So you will enjoy it much more because you cooked it yourself. A highlight of the day! And eating well is the beginning of happiness.

What to think about the price?
Price-wise it's cheaper than doing takeaways as you have 3 meals for 2 in the smallest plan. This said if you go to the supermarket you can find cheaper products, obviously. But for the service they provide of putting all ingredients together + home delivery + giving you various choices every week + the recipe printed to follow = they need their margin, it's understandable.

Do I need a HelloFresh delivery every week?
This depends on you. I think I would do it from time to time, it's very convenient as you have all the ingredients (except water, olive oil, salt, and pepper) so it can be nice not to go grocery shopping.

Use my referral link for a £20 discount code on your HelloFresh trial in UK
---
What food will you get with HelloFresh UK
They aim to get as close to the source of our supply as possible, to ensure freshness while minimizing extra food miles. Each plan comes with a selection of boxes.
You have 3 plans from 2 to 4 people 3 to 5 times a week. All boxes allow you to choose from 18 new recipes, every week.
Family box: easy to cook meals that'll have both parents and kids
Rapid box: everything you need to cook quick, delicious recipes from box to plate in just 20 minutes
Classic box: most popular where you can also have a preference for the 3 meal selection
---
HelloFresh Rewards
What is HelloFresh Rewards?
HelloFresh Rewards is a new loyalty rewards for new customers. You can get 3 rewards on your 4th, 6th and 8th box. To unlock all 3 rewards you need to order 8 boxes within 12 weeks of signing up. All your delivery during that time will automatically counts towards the Fresh Rewards challenge.
What rewards do you get?
Your first reward will be a free dessert. The second will be an £8 voucher to enjoy restaurants quality dinner or a bit of delicious street food.
Finally, your third reward will be £4 to spend on extras. This includes a choice of indulgent sides, cheeses and much more.
Say hello to Fresh Rewards. Cook your way to delicious treats

hellofresh.co.uk/FreshRewards
---
What about lunches? Discover MealPal and get a discount code for cheap lunches. Or Gusto and get 50% off your first box + 30% on all your first month with this Gusto promo code.
Share your HelloFresh UK invite code in the comments and happy cooking! :)