Vinted referral code UK – Vinted app refer a friend invitation 2022
Vinted got more and more popular, it's cheaper than second hands shops, and it's great to avoid trashing things and make a bit of money (or a lot depending on what you own). Avoid fast fashion, spot on some excellent deals. Join Vinted today with this Vinted referral invitation and start selling!
Vinted referral UK – Create your account today – refer a friend invitation 2022
You can use this Vinted friend invitation link to register and start selling on Vinted today.
Start listing as soon as you create your account, a few nice photos, a title, a short description and that's it! List 3-4 items, so buyers can bundle up.
At the moment, the Vinted friend-referral feature is inactive

https://www.vinted.co.uk/help/392/318-inviting-your-friends-to-vinted
Related: Check Thrift+ for UK second-hand items and get £10 off on your first order at thrift.plus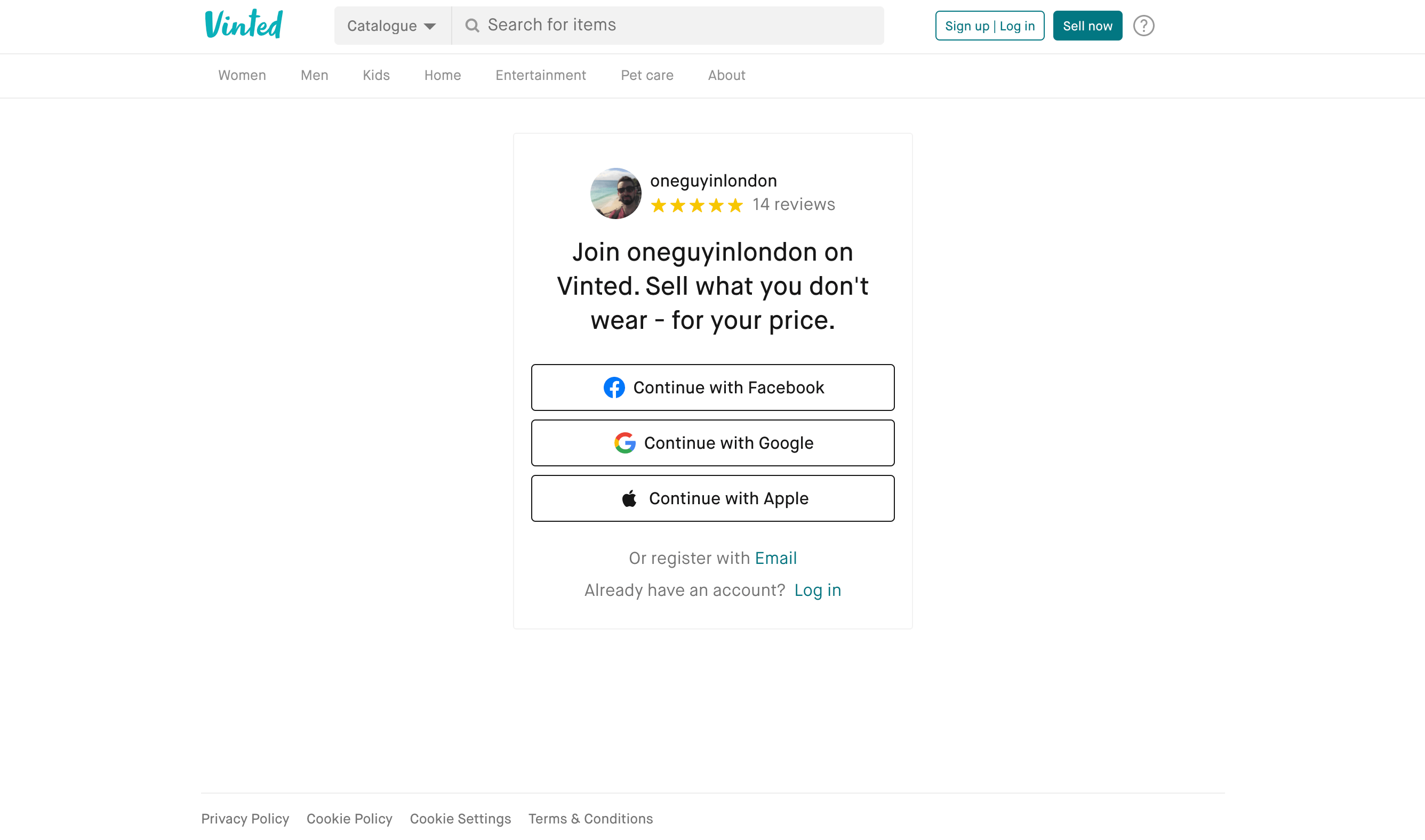 The vinted refer a friend program allows you to invite friends to the platform and reward you for each friend that joins and sells on Vinted.
I use Vinted to make money selling clothes I don't wear anymore. – come and join in! https://www.vinted.co.uk/invite/oneguyinlondon
Advice to sell on Vinted
Vinted is one of the best website and app to sell your clothes online in the UK.
1- take good photos of good quality, and choose a nice plain background for all your photos.
2- For your clothing items, iron or steam them before taking your photos, they will look much nicer and you have more chances to sell them
3- Try to do the best packing you can and maybe drop a little message in it or to the buyer with a friendly message.
Once buyers pay you, you have to send your items.
Once the buyers receive their items, you can then access your money.
It's mostly for clothing but as mentioned you can also sell home items, books (check we buy books if you have lots to get ride of + £5 bonus), kids toys, video games (if you have many, check SellTo – Where to sell video games without hassle)
Vinted review UK as a buyer
I recently had an offer to get free Vinted shipping on my first order. It's a good offer as people list items from £1. You can find thousands of items or that price. I looked at what could be interesting. I was looking by most recently added. But some items go fast. I added a few in my favourite and one got sold minutes after (was a lovely piece of decoration looking very antique and beautiful).
On a Sunday afternoon, I browsed many pages and finally, I saw a storage box exactly the same as mine here in my kinda square furniture which will make the space a bit less messy and improve the look of my bedroom, I don't think they do this model anymore (pretty old) so it's really nice for me. They sell some on Amazon but they are by pack of 4 for £20+ so it's a good little bargain for me.
Vinted review as a seller UK
I sold clothes but also some small objects and home decoration things.
Be careful about the shipping options. Remove anything that is not suitable for you. By default, I allowed all the options and someone purchased an item using InPost. The item got sold, and the shipping label was created. Then, I realized I needed to drop it in an InPost locker. And the closest to where I live is 23-minute walk… (or 15 min by bus + walking) what a pain for a £3 item. Luckily I walked there at lunch while chatting with a friend, so that made the journey nice. A scan of the label unlocked a locker, I put my parcel in it and closed the locker, put my email to receive the tracking, easy. Since then, I removed that shipment method from my listing.
Everything with Evri is easy, I just package, print the label, and drop them in my local Tesco. Yodel is even easier, no need to print, I go to the corner shop with my items packed and they stick the shipping label.
Royal Mail can be more expensive for the buyer and sadly you have to queue. Sometimes the fees the buyers pay are more so you get an extra little margin but be careful as it could be the opposite and if instead of a large letter you send a small parcel it's not good for you!
What I like is you can use your money to buy more things or take it out to your bank account. The app and website work well. Your adverts don't expire but I feel like occasionally it's good to do a refresh.
Vinted VS eBay
If you are planning to sell within the UK, Vinted is much better than eBay, with no seller fee (the buyer pays the platform fee), and the postage label is always paid by the buyer too. That's a massive plus.
eBay pays quicker (the next day after the buyer pays the order) and there is the option to do auctions. You can also sell to International and you can list all types of items on eBay. Vinted doesn't have all the categories.
Happy Vinted selling. Feel free to share your own Vinted referral code in the comments.