ClassPass referral offer 2021: ClassPass UK free trial one free month
Get your ClassPass UK free trial thanks to a referral invitation. As the gyms re-open in the UK you can get a free month with ClassPass. It's 25 credits you get to try them, register, and then book any classes. Start your trial month today to enjoy this nice discount!
Article last updated: June 17, 2021
---
ClassPass UK referral code, get 25 free credits for one month free trial
To start, click this referral invitation to start your ClassPass UK free trial membership for one month.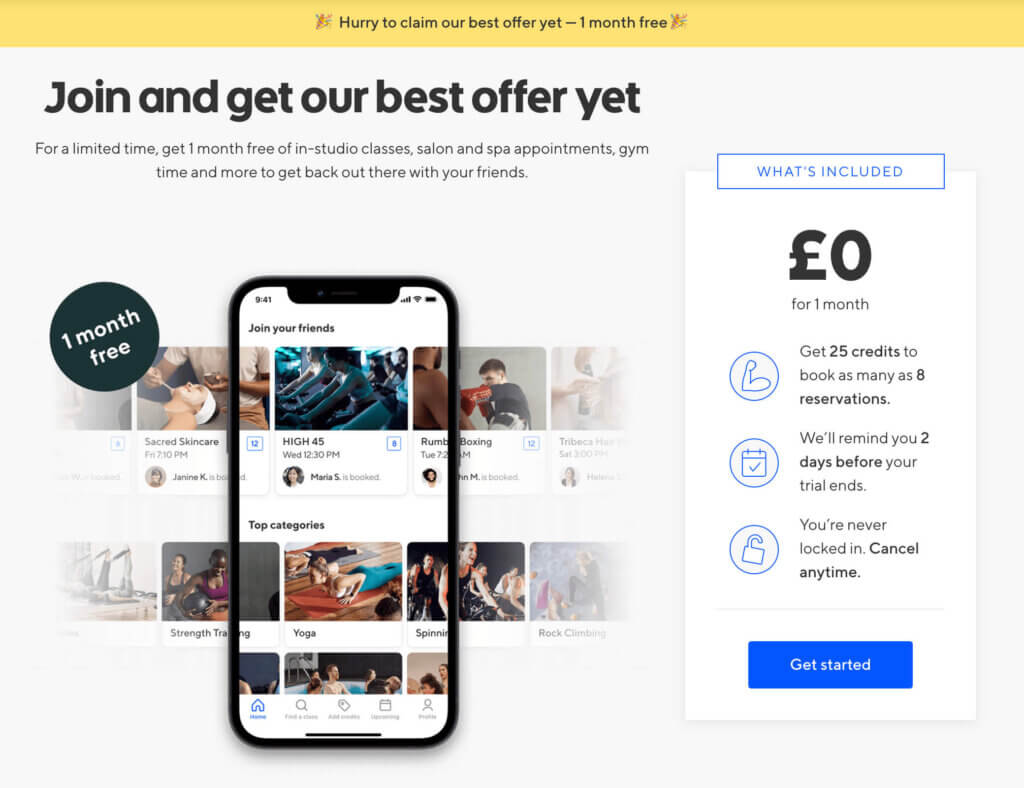 The ClassPass refer a friend terms and conditions specify the offer is for new users only. However, previous ClassPass member can not enjoy the free month promotion.
Source: https://blog.classpass.com/refer-friend-may-2021-uk/
£0 for 1 month
Get 25 credits to book as many as 8 reservations. We will remind you 2 days before your trial ends. You are never locked in. Cancel anytime.
---
What can you get with my ClassPass free membership?
As a ClassPass member you can also access all the ClassPass video for free https://classpass.com/videos/partners?partners=internal_29
I personally like those, it started during the first lockdown when everyone else started to create live classes. The great thing about sport online work out sessions and you can play them when you want. Keep your fitness up and enjoy hundreds of classes made by ClassPass.
You can also book virtual classes from other categories and work out at home with or without your camera.
ClassPass FAQ
How can I enjoy a ClassPass free trial?
Register for the first time with a ClassPass refer a friend invitation.

Is ClassPass worth it?
I guess it depends on what you use, some ClassPass services (care and beauty services) or even some workout classes can be a bit expensive. The greatness of the app is you can vary experiences without any commitment.

What is the ClassPass UK pricing?
The ClassPass membership cost in the UK varied a bit in the past. At the date of May 2021, here is the addon credits list:
2-credit pack £4.00 £3.00
10-credit pack £20.00 £15.00
25-credit pack £50.00 £37.50
50-credit pack £100.00 £75.00
75-credit pack £150.00 £105.00
Are ClassPass London more expensive?
ClassPass London prices are determined by the studio or gyms, it's a collaboration between the app and the studios. Some London activities can be more expensive than outside of the city.
ClassPass: how many credits per class?
Once again, this depends on the studio where you do the fitness class.
How can I use my ClassPass credits in 2021?
Use your ClassPass credits to book in-person fitness, wellness or livestream classes. Some classes are part of ClassPass on demand and some can be seen at any time.

What happens if I don't use all my credits during the month?
Some of your ClassPass credits will rollover to your next month.
Is there some ClassPass near me?
Check the website and enter your postcode to see the studios in your area. They are present in Bristol, Brighton, Birmingham, Edinburgh, London, and developing. Moreover, in Europe, they landed in Madrid, Berlin, Amsterdam, Paris, etc…

Other classpass discount code – UK
Get unlimited access to on-demand workouts from the best brands around the world.
Related: Hussle also let you book gyms around the UK, check this Hussle referral code offer for a GBP voucher
---
Enjoy your one month free trial and ClassPass membership!