Get your Fat Llama discount code, join the modern marketplace to buy or rent items. You can lend and sell products to people in your area. Use better stuff without buying them. Join the collaboration movement today and save £20 with this Fat Llama referral invitation.
---
Fat Llama referral code, how to get a £20 discount – invite a friend 2020
Create your Fat Llama account with this referral link and get your discount of £20 off your first rental or purchase.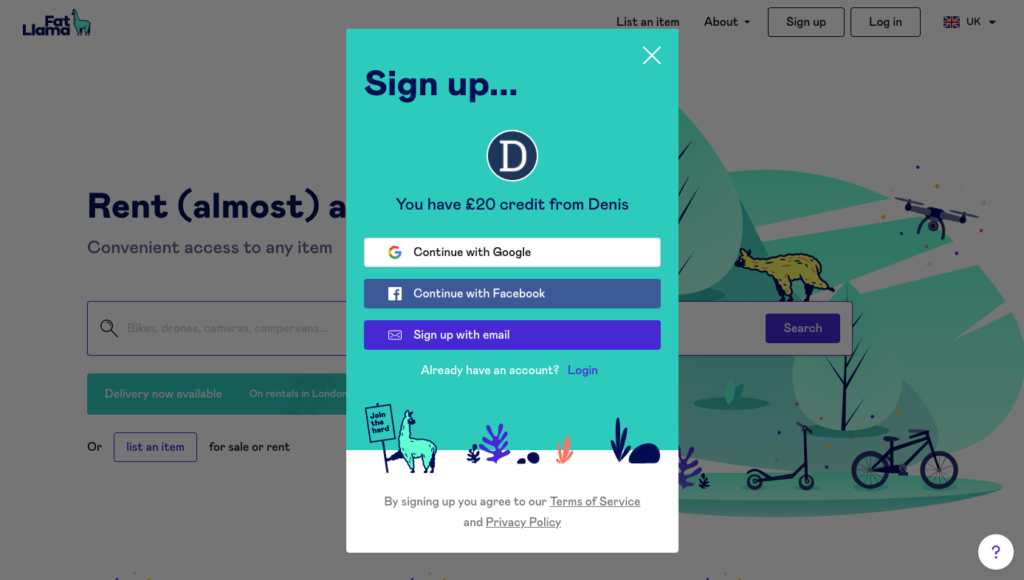 Who are they?
Fat Llama started in London in 2015 with the idea of "believing in getting people to work together to make the world a more efficient place for everyone"
How borrowing works at Fat Llama
Find, book, play, return.
How lending works at Fat Llama
List, approve, lend, earn
Moreover, all items covered by a guarantee (https://fatllama.com/guarantee)
With Fat Llama refer a friend, get £20 to spend on your first rental or purchase.
Fat Llama review
Firstly, read the lender terms to make sure you are covered by the guarantee. Look at https://apps.apple.com/us/app/timestamp-camera-basic/id840110184
It like other platforms such as Gumtree for sale but the rent part is interesting when you only need an item for a short period of time.
Great for the environment.
"Save the world
Renting items also benefits the environment. By opting to borrow, not buy, you're putting the brakes on unnecessary mass-manufacturing and carbon-intensive distribution systems. It is a responsible choice."
Sign up, you have £20 credit with this referral link
---
In the same idea of renting in your area, you can get £10 credit at Task Rabbit for your first task (cleaning, moving, help at home to install something, etc).
Do you want to do more for the environment? Buy eco-friendly and ethical at Wearth London. It's also a marketplace to shop and live more consciously.
---
Fat Llama "we were unable to process your item this time" when listing an item
I had the Fat Llama error message on the app "we were unable to process your item this time". Posting through the desktop website works… and I could edit the item in the app but I still haven't found it doesn't in the mobile app (iOS and Android). I thought it was the location setting not being authorized but still no luck at the moment.