Kapten referral code £10 off – code DENBOU37 – Taxi app London UK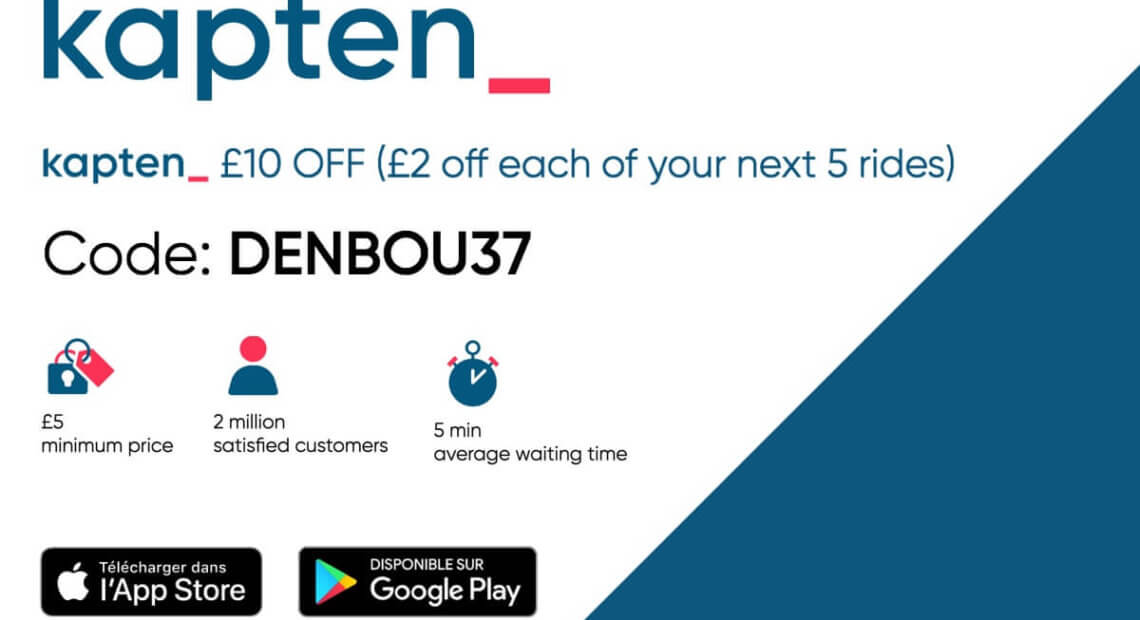 Kapten, Uber's French competitor, arrives in London. Get the app and cumulate those promo codes and one referral code to enjoy the best prices on your taxi rides in London.
Kapten is now part of FreeNow since July 16th, get £10 off on your first ride with Free Now
Kapten, London's newest ride-hailing app for door-to-door transport has just landed – Download the app https://www.kapten.com/uk/
Register and add the code during registration or once registered, go to "Coupons and Credits" in the app and add DENBOU37 – £10 off (£2 off each of your next 5 rides)
Kapten referral code DENBOU37 – £10 credits
Try out Kapten with the code DENBOU37 , or directly on kapten.app/DENBOU37 : get rewards off your 5 first rides!
This is for new users only, the discount of £10 is working as £2 off discount for your next 5 rides with the app. Valid for 1 month.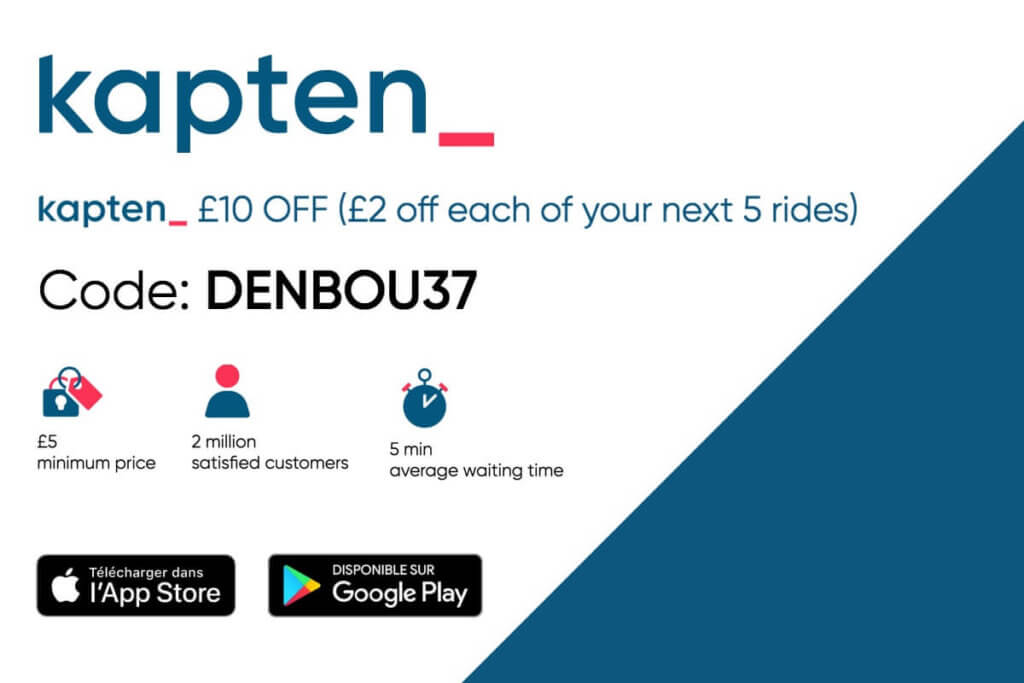 Kapten promo code for your rides
Use the promo code HILONDON for 50% off all rides for one week on all ride up to £10. All users allowed. Offer expires 28/05/2018 at 11.59am.
Update February 27th
Use the code LYT1M4QL to get 300 loyalty points*.

---
If you are in Spain or South America, check Cabify (the refer a friend bonus gives you a discount on your first rides too).
---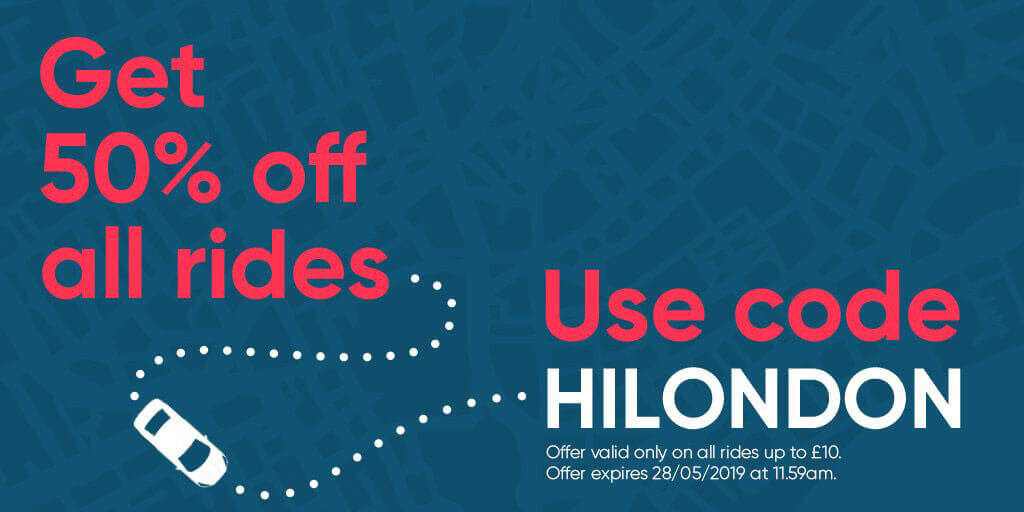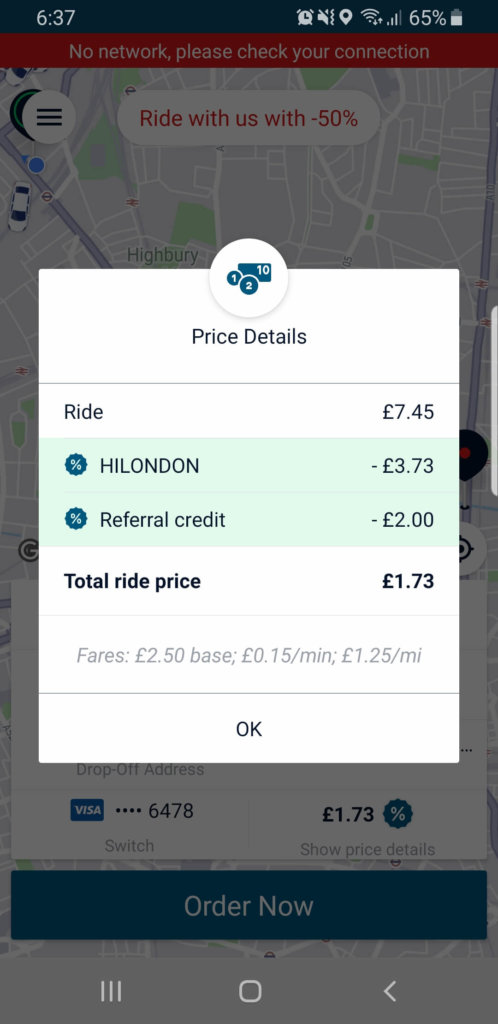 How Kapten app works
A minimum price (except discount)

£5.00
Fixed price ride
Your ride's price is accessible before ordering
Cancellation
Free (within 2 min)
£5.00 (after 2 min)
Wait
up to 2 min
after 2 min

Free
£0.25 / min
Request without destination
Base price: £2.50
+ Distance: £1.25 / mi
+ Time: £0.15 / min

Kapten FAQ
Can I accumulate promotional codes?
Yes, it is possible to accumulate promotional codes only if the conditions of the respective offers allow it. These always appear on campaign media.
How to refer a friend
You can refer friends to get discounts on your rides. With your loyalty raises the rewards of your referral code.
The referrer earns credits at the end of each ride completed by the referred friend. The validity period of the credit is determined by the referrer's loyalty status :
– RED referrer: your referred friend has 30 days following the day the referral code was added on his/her account to complete his/her first ride, and get both parties their total credit.
---
More travel great referral offer:
– the bonus for new Airbnb members, get 25 GBP discount on your first stay with an Airbnb referral invite
– TransferGo get 10 GBP bonus for £50 sent in at other currency with a referral invite
---
What is the Loyalty Program?
With Kapten, we reward your loyalty with our unique loyalty program. The principle is simple: the more you ride the more you benefit from exclusive advantages!
Source: EasyTravelAdvice
Article last updated January 4, 2020