Brickell Men's Natural Skincare & Grooming Kit – 17 samples (worth £65) only pay £5.50 for P&P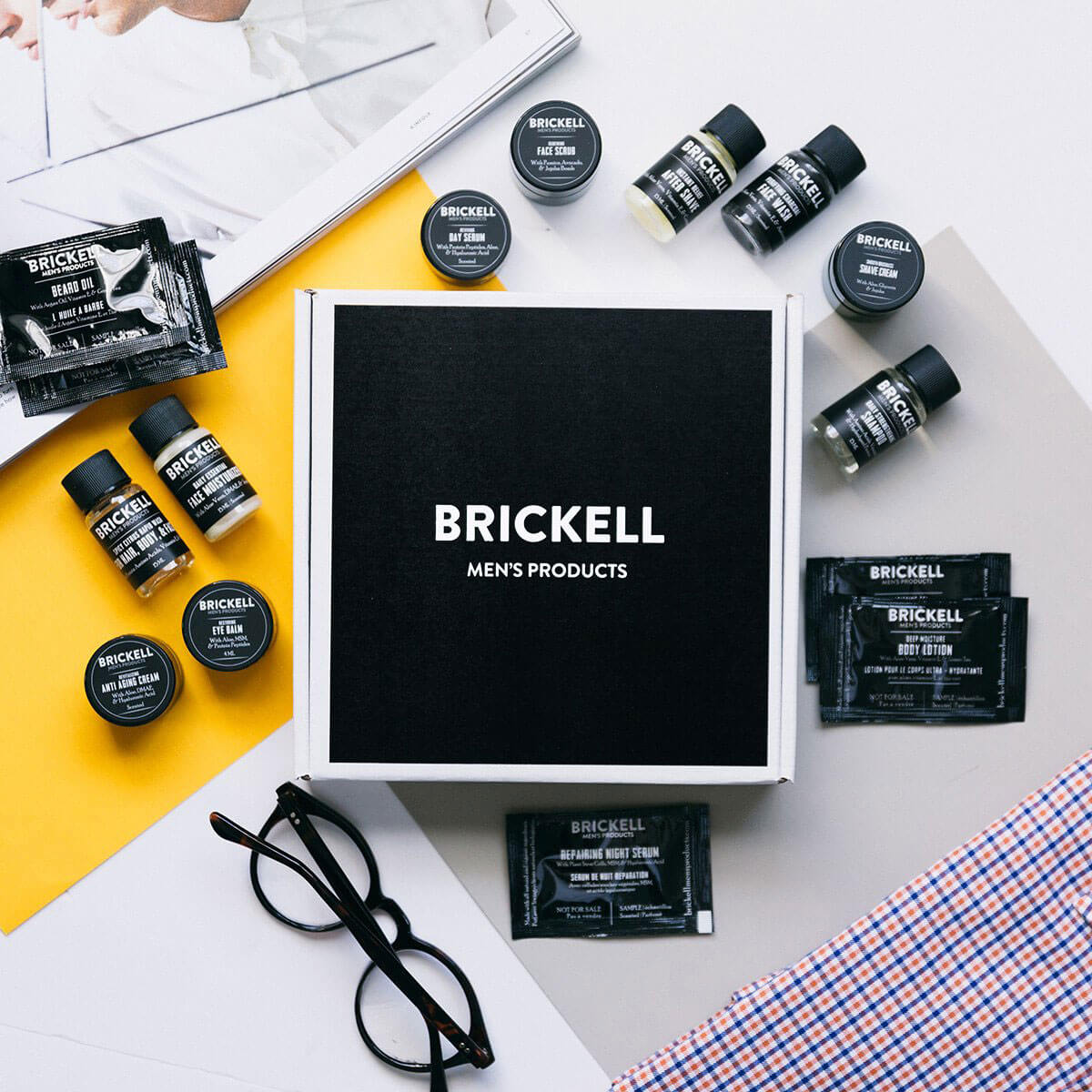 Brickell men's give you a trial deal of 17 premium products of natural skincare + a £10 coupon for a total of £5.50 (shipping fees only). That's £65 worth of product for £5.50 (UK shipping cost). This is not a subscription. Just a trial pack, you have no future obligation to purchase their products. 
Brickell men's products trial deal
"The Kit Includes 17 of our best sellers and a £10 coupon towards your first purchase."
Get your pack using this unique Brickwell invite code.
It's a limited offer so get yours before it ends.
Terms and conditions: "There is a strict one per household Sample Kit limit. If you'd like to gift a kit and have already purchased one yourself, please contact our support team. 
Duplicate Sample Kit orders will be automatically cancelled and will not be included in your order. Sample Kit purchase is a one time purchase. You have no future obligation to purchase our products."

They rely on you to love their natural and organic products to buy them afterwards. This means no string attached with this sample pack order. What a good deal for postage fees only. Receive it in 3 to 5 days.
Coupon 2019: Use the code "FIRSTPURCHASE" at checkout for £10 off your first purchase.
Code SAMPLEKIT30 for 30% off your first order.
---
Brickell promo code
42% off your order code FIRST42
*Code FIRST42 is only valid on orders of $20 or more. Offer expires 8/11/19 at 11:59pm GMT. Cannot be combined with other discounts. Discount code only valid for first follow up purchase after Sample Kit purchase.
The Brickell kit includes:
Skincare Essentials
Daily Essential Face Moisturizer (Trial Bottle)
Daily Defense Face Moisturizer w/ SPF(Packet) *
*subject to availability
Purifying Charcoal Face Wash (Trial Bottle)
Clarifying Gel Face Wash (Trial Bottle)
Purifying Charcoal Face Mask (Trial Jar)
Balancing Toner (Trial Jar)
Shave & Beard Essentials
Smooth Brushless Shave Cream (Trial Jar)
Instant Relief Aftershave (Trial Bottle)
Renewing Face Scrub (Trial Jar)
Beard Oil (Packet)*
*subject to availability
Men's Anti-Aging Essentials
Revitalizing Anti-Aging Cream (Trial Jar)
Restoring Eye Cream (Trial Jar)
Repairing Night Serum (Trial Jar)
Reviving Day Serum (Trial Jar)
Men's Hair Care & Body Essentials
Daily Strengthening Shampoo (Trial Bottle)
Revitalizing Scalp and Hair Conditioner(Trial Jar)
All in One Wash (Trial Bottle)
Deep Moisture Body Lotion (Packet)*
*subject to availability
Brickwell men's products, who are they?
We make high performing, natural skincare & grooming products for men.
Every day, men from around the world use our products to look and feel better. We use the highest quality, natural & organic ingredients to offer the most effective men's skincare and grooming products available – We Guarantee It.