Weezy referral code for 50% off – refer a friend offer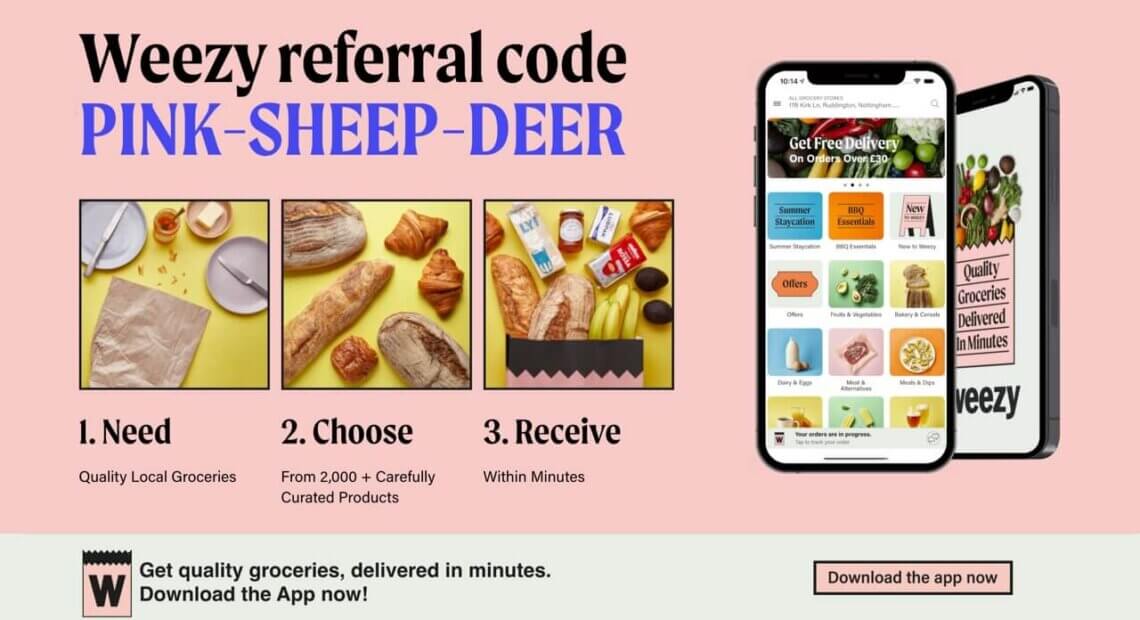 Weezy is the new grocery delivery in the UK (London, Manchester, Brighton, and more). They are growing with the aim to open even more fulfillment centers by the end of 2021. So get your Weezy referral code today before doing your first order for a 50% discount.
— The content below is now outdated. Weezy has been bought by Getir.
Weezy referral code discount – London, Manchester, Brighton
Download the app and create an account
At checkout, click the "Add a Promo/Referral Code"
Enter the discount code PINK-SHEEP-DEER
A discount of up to £10 (maximum 50%) will be deducted from your total basket value (discount code excludes spirits, tobacco, or vape products).
Download the app on the Apple Store or on Google Play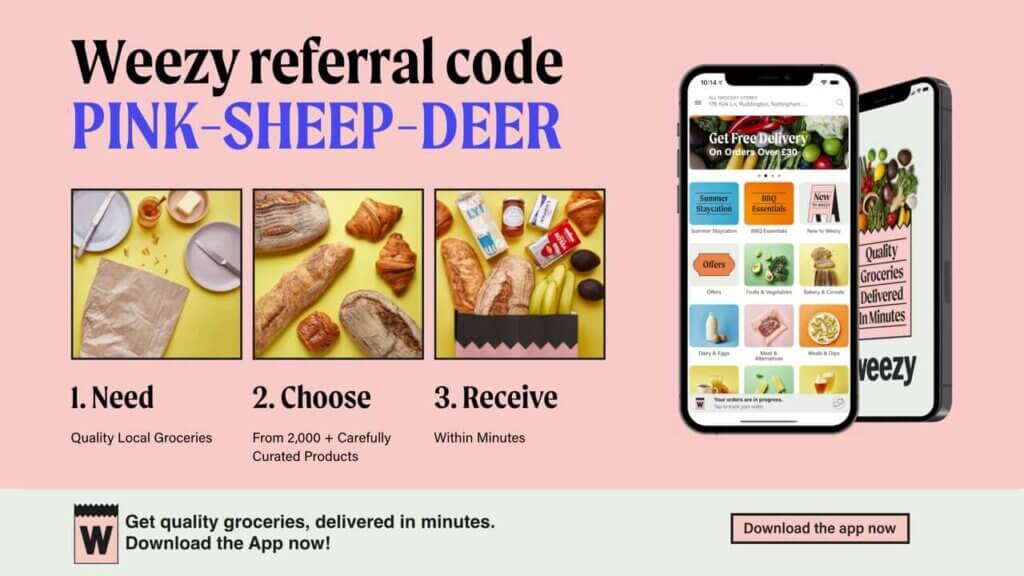 —
Source: https://weezy.zendesk.com/hc/en-gb/articles/360019699399-How-do-referrals-work-at-Weezy-
---
Weezy other discount code and coupons 2022
They started the Refer and Earn by offering £10 off, but now it's a percentage off. Now the best offer is 50% off. A discount of up to £10 (maximum 50%) will be deducted from their total basket value
You might have seen some code Weezy for your first two orders code.
Weezy discount code exclusion
Discounts are not available on spirits, tobacco, or vape products.
You can use only 1 promo code per order so you have to decide at that point if you want to use your credit from referrals or another promotion that we might have available.
Weezy aim to deliver within 15 mins!
---
Weezy Review 2022
So far they have been super well received by customers, the commodity is awesome. Instead of going to the shop all the time or having a big Ocado delivery forcing you to be home during your allocated slot. The reviews on Google Play and Apple Store say it all.
What I love about them is they try to source from local suppliers. This means local bakers, butchers, and grocers. They say "For things that we can't get locally, we partner with larger suppliers who to complete our range"
---
Lucky you! One of your friends has sorted 50% off your first grocery order with Weezy. Use the coupon code: PINK-SHEEP-DEER. Weezy app: onelink.to/weezyshop
Weezy FAQ
What is Weezy?
"Weezy is the first On-demand Supermarket in the UK. Have your favourite groceries and essentials delivered to your doorstep, in 15 minutes."
Weezy how does it work?
You create an account, add to your basket what you need, and get it delivered to your address in 15 minutes.
When can I use the app, what are the opening hours?
Monday 9am – 10pm
Tuesday 9am – 10pm
Wednesday 9am – 10pm
Thursday 9am – 10pm
Friday 9am – 11pm*
Saturday 9am – 11pm*
Sunday 9am – 10pm
*Deliveries to some Wandsworth addresses will stop at 10 pm on Friday and Saturday nights.
Source: https://intercom.help/weezy/en/articles/5385466-what-are-your-opening-hours
What packaging does Weezy use?
Big paper bags and most fruit and veg arrive in smaller paper bags.
Where is Weezy available in the UK?
At the moment only in large cities in the UK: London, Manchester, Brighton, Bristol, Hove, Salford. However, more locations are coming up.
What London boroughs are on Weezy?
Most of central London: Islington, Bermondsey, Fulham, Wimbledon, Balham, Wembley, Westminster, Hackney, Notting Hill, Hammersmith, Clapham. You can check
What are the Weezy alternative and competitors?
Gorillas and Getir are the main competitors in the UK as they deliver in minutes. Much faster than Deliveroo or Amazon Fresh delivery for later in the same day.
Weezy vs Gorillas
It looks like the Weezy selection is a bit larger than the Gorillas "2000+ carefully curated products". They both have their riders bringing you your order delivered on electric vehicles in minutes. Weezy says 15min and Gorillas 10min.
Gorillas' opening hours are a bit later than Weezy. Gorillas allow tipping the drivers, but Weezy doesn't have the option in their mobile app yet (soon)
In terms of referral bonus, Weezy gives you 50% off and the Gorillas referral a £5/£10 discount on your next app order. Both apps are available on Android and iOS.
Weezy how to refer a friend?
Tap on the Refer & Earn section in the app, then send your unique referral code to your friends.
---
If you want something, Weezy it! Hope you enjoyed this Weezy referral code article.