Azimo coupon code £5 off when you transfer £50+ until 31st October 2021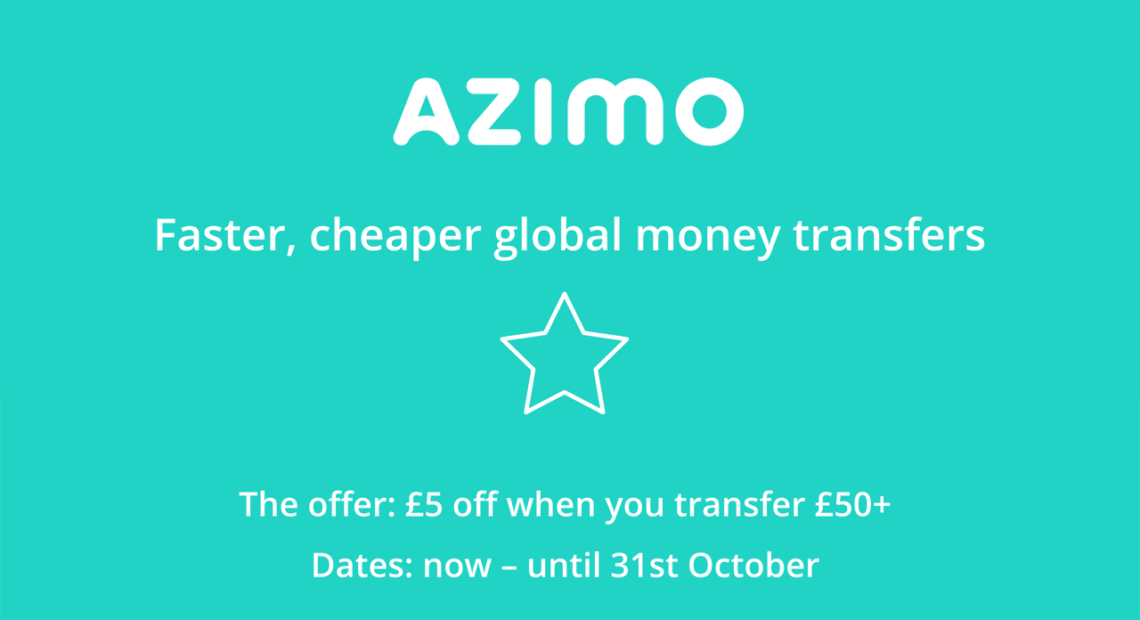 The Azimo offer: £5 off when you transfer £50+
Dates: now – until 31st October
---
Discount code for 5 GBP off at Azimo valid until31st October 2021
Coupon Code: AZIMO50
Payout countries: COL, BRA, PHL, THA, POL, PAK, MAR, CHN, BGD, CAN, LKA, ROU, DOM, JOR, COD, ECU, KEN, NPL, SGP, HND, TUR, AZE, SLE, BOL, PAN, ARM, SRB, TJK, ZAF, MDA, FIN, CHE
Terms and conditions: New customers only. Swift payments are excluded.

This voucher for Azimo is valid on transfer over 50 GBP.
Azimo is the faster, cheaper way to send money abroad. Instant or one-hour money transfers to 80+ countries, and your first two transfers are fee-free. Enter the code AZIMO50 for a discount.
Azimo coupon code FAQ
Is azimo legit? Azimo is secure?
A lot of new users might wonder if Azimo is safe. Short answer, yes it is. They areregulatedby the Financial Conduct Authority (FCA) in the UK.
Azimo, how to send money?
Sending money is easy, here is how to send money through Azimo:
Start by creating an account. Then, choose a country, delivery method and enter recipient's name.
Finally, choose an amount and pay securely with your debit/credit card or with bank transfer. Check all transfer details and confirm payment.
Who owns Azimo? Where is Azimo based?
Azimo is a regulated financial institution authorised and regulated as an Electronic Money Institution by the Financial Conduct Authority (FCA) in the UK and as a Payments Institution by the De Nederlandsche Bank (DNB) in the Netherlands/Europe.
Source: https://support.azimo.com/hc/en-us/articles/360001252867-Is-Azimo-a-bank-
Is azimo better than transferwise?
For certain countries it clearly is, it's always good to compare as one service can be better than the other for certain currency only, or at a certain period of time due to offers, etc.
Enjoy this Azimo code coupon.