Gorillas referral code discount for £10 – UK grocery app for delivery in 10 minutes, new in London
Gorillas referral code for 10 GBP. Gorillas are the new delivery service in London 10 minutes away from your home. No minimum order, just £1.80 for delivery. The Gorillas grocery delivery app delivers fresh groceries and local brands to your door in 10 minutes. Try them today with a 5 GBP friend coupon code.
Article last updated: August 15, 2021
---
June 24th, 2021: bonus increase from 5 GBP to 10 GBP – same Gorillas code DB670399
Gorillas code discount for £10 off your first grocery delivery order with this Gorillas referral code – UK
Click this Gorillas refer a friend invitation, get the Gorillas app to get your £10
Or enter the Gorillas coupon code DB670399 or PL196683 in the app in the "Coupons" tab. "Please enter your promo code below." And then click "Apply promo code"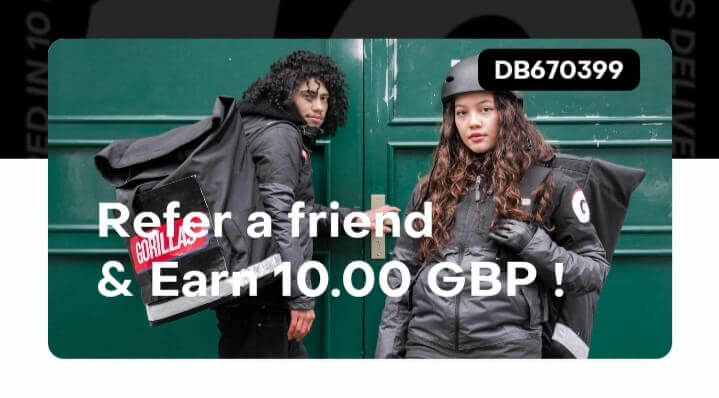 Gorillas app London coupon code
Do you have friends in our delivery areas? Refer a friend within the app + you BOTH will receive £5 in your wallet! Happy days!
Shop local, minimise waste. Carbon neutral delivery with their e-bikes.
Other Gorillas UK grocery discount code and coupon
At the moment there is only coupon for new users. Once you used an introductory offer you can't reuse the same coupon or another Gorillas grocery delivery coupon code. Sometimes you can get a drink, I saw offers for a free latte or an alcoholic drink with every alcohol order. The latest is a free pack of "Proper Chips Barbecue" with each order. Those changes regularly on the app and are limited in stock.
It's probably also location-based. But a £10 off discount with the coupon above is better than a free pack of chips.
---
Gorillas app FAQ
What is it in two words?
Gorillas is a grocery app.
What is Gorillas delivery – UK?
The concept, Gorillas deliver fresh groceries and local brands to your door in 10 minutes.
Where does Gorillas is available in the UK?
Gorillas landed in London in 2021, they are "live across London" for now. Stay tuned for more areas opening-up.
Where does the Gorillas app comes from?
The german delivery startup Gorillas started in Berlin.
Where can I get the Gorillas app?
From the App Store and Google Play, search for Gorillas
Who are the competitors of this new app?
Turkish rapid delivery firm Getir announced its arrival in the UK in January, offering a range of groceries to customers in London zones 1 and 2.
---
Related: Avoid food waste with Oddbox, get £10 to try them with a first box
---
Gorillas app review – UK
We are familiar with delivery those days… it's another one but for "the next level grocery shopping".
Each area is different. For instance, in my area, I have access to brands such as Chestnut Bakery, HG Walter Butchers, Hackney Gelato, and London Fields Brewery.
This is a service meant to be used to get only what you want when you need it. I see this as super useful during the quarantine time. People arriving in London and having to self-isolate can get food without using Amazon fresh or next-day delivery. You get it in a few minutes. It's quicker than Uber Eats or Deliveroo.
Also, they promote themselves as a sustainable employer saying all their riders are employed on full-time contracts. So that's better than the weekend Uber guy.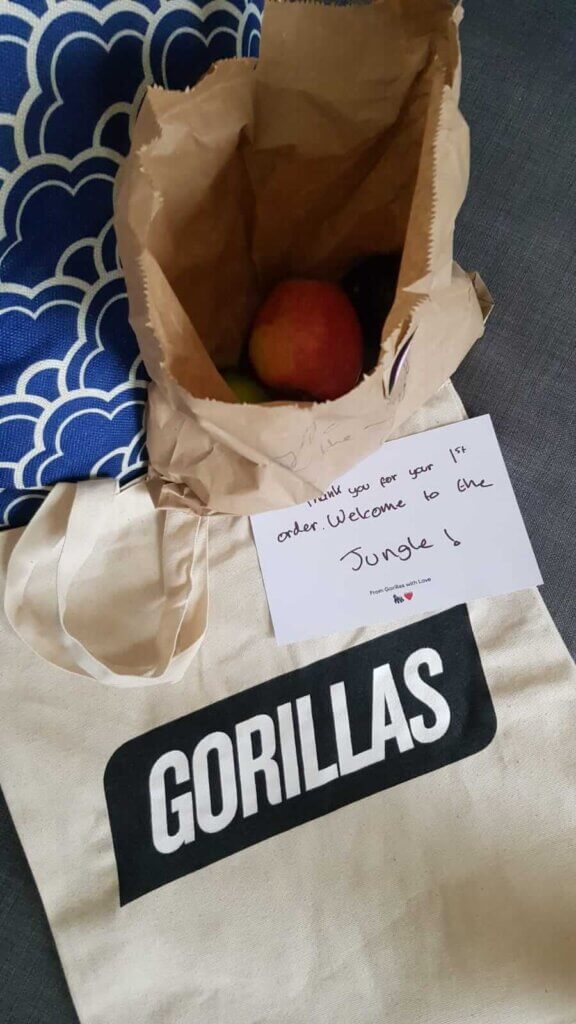 Gorillas Groceries in 10 Min – UK review update (London experience, May 2021)
I ordered with Gorillas grocery in London 3 times now. The riders were all great so far. Delivered in 8min, then 7 minutes, and 12 minutes. Obviously, this depends on the user location. On my home screen, it says 12 minutes. To be honest, I am very impressed by the delivery speed. I love they always add a little banana to your order, it's a fun touch. Also, they draw on the bag containing your groceries (or they write something). Some talented people there as I had a smiley gorilla drawn on the bag. Some good marketing tricks to make people talk about them and the app for sure. However, I noticed not all but a few products are more expensive than my local supermarket on the app. But they also things you won't find in your local store. I enjoyed some nice craft beers and the Hackney gelato with friends the other day. I will keep using them, it's so handy when you are not close to a shop and busy, the delivery cost of £1.80 is super low compared to other services.
Feel free to share your own Gorillas referral code in the comments!