Deliveroo referral code UK 2021, promo code £10 discount across your first 4 orders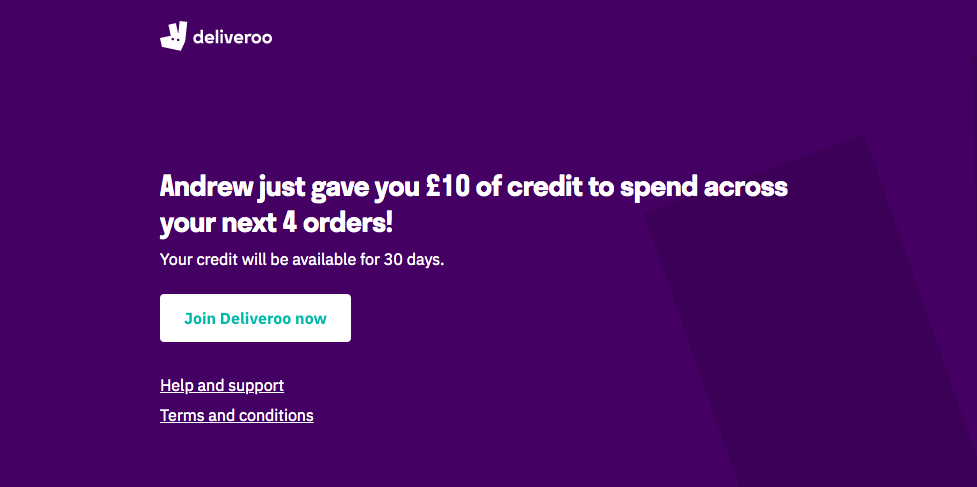 Deliveroo is a famous food delivery service. I never took the time to publish a Deliveroo referral code in the UK until now. The Deliveroo refer a friend offer gives you £10 off across your first 4 orders.
Article last update: May 2021
---
Deliveroo referral code UK – £10 off your first orders – new customers 2021
Join Deliveroo and get £10 off across your first 4 orders.
Open this Deliveroo referral invitation link to register and get your Deliveroo credit now (https://roo.it/denisb-nuv7)
Deliveroo refer a friend terms and conditions – UK
The Deliveroo Referral Program Terms tells us this promo offer is for new users only, aged 18 or over. Deliveroo credits expire after 30 days if unused.
See the full terms updated on 2 December 2020 at https://deliveroo.co.uk/legal#referral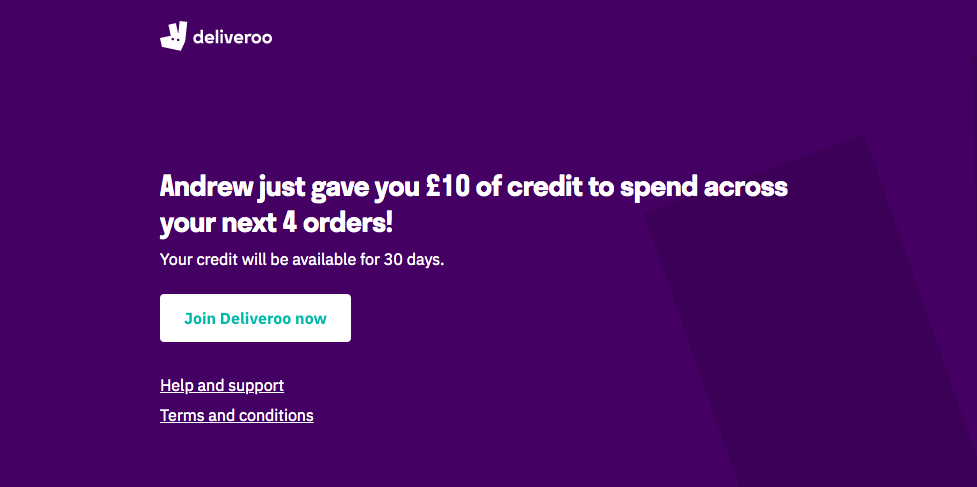 ---
Other Deliveroo promo code and discount offers
This "refer a friend" gives you a Deliveroo promo code for £10 off in 2020. Moreover, it is the best first use code you can get. Uber EAT also gives you £10 but to use at once on your first order over £15.
In addition to this, you usually have free delivery on selected takeaways – no code needed
They will often publish offers such as "Enjoy 20% off selected orders over £15 with Tasty Thursdays". Or "Grab a £5 Burger King voucher". You don't need a code once again as long as you respect the terms of the promotional offer.
Deliveroo offer students the same deal of £10 off discount
---
Deliveroo's competitors in London
Deliveroo is a competitor of Uber Eat. For takeaways during lunchtime, you can also check Mealpal, Nez or even Ritual but those are London specific apps. They allow users to collect takeaway from restaurants, skipping the queue and saving money with great discounts, loyalty points and temporary offers.
Also, why not cook good recipe, receive all the ingredient at home, healthy meal you will be proud of eating. Start your Gousto trial with 50% off your first box and 30% off during your first month. Super flexible, skip a week, upgrade or downgrade, or cancel anytime.
More and more services are available, Oddbox core idea is to reduce unsold food (size, shape, cosmetic defects, or too many). You can try Oddbox with a discount code of £10 (read the Oddbox review in this article).
---
Enjoy your Deliveroo meals! Feel free to share your own Deliveroo referral code in the comments.