Foodspring referral code discount £15 off your first order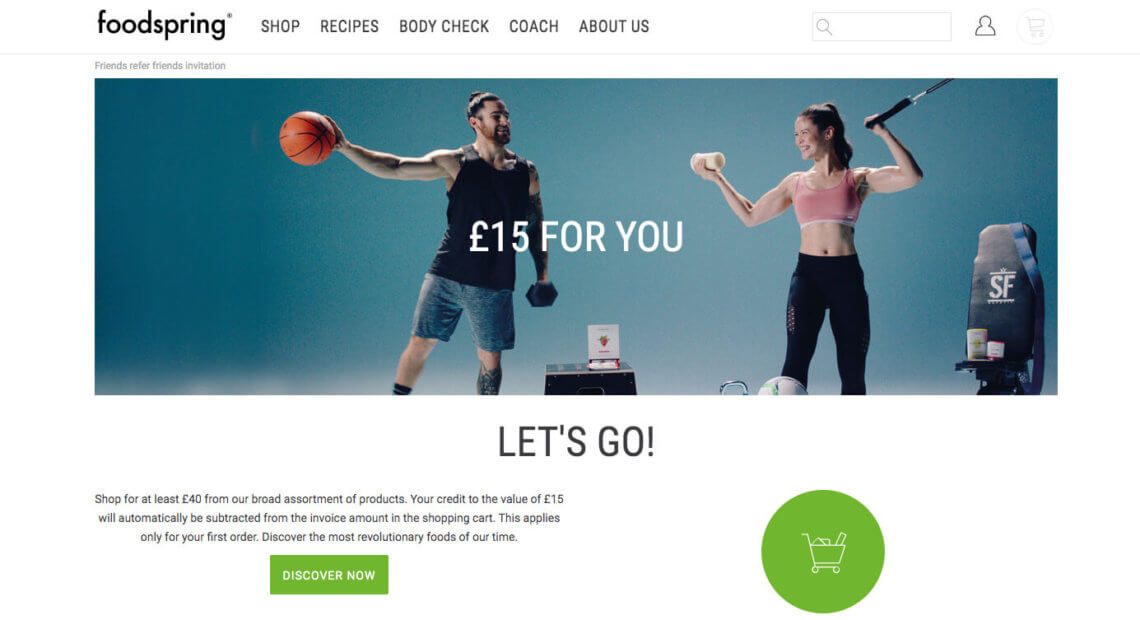 Get your Foodspring discount code (referral code) for the first order. The "finest fitness food" made in Germany. With this Foodspring refer a friend invite, £15 will automatically be subtracted from your order total amount.
Foodspring discount invite, £15 bonus with Food spring refer a friend offer
Food spring referral code invite link for a 15 off your first order at foodspring.co.uk (min £40, new users only)
Stay in the same browser window to order. If you don't reach this £40 minimum order you can get 10% off + a cashback (read below).
Shop for at least £40 from our broad assortment of products. Your credit to the value of £15 will automatically be subtracted from the invoice amount in the shopping cart. This applies only for your first order. Discover the most revolutionary foods of our time.
Free shipping for orders over £50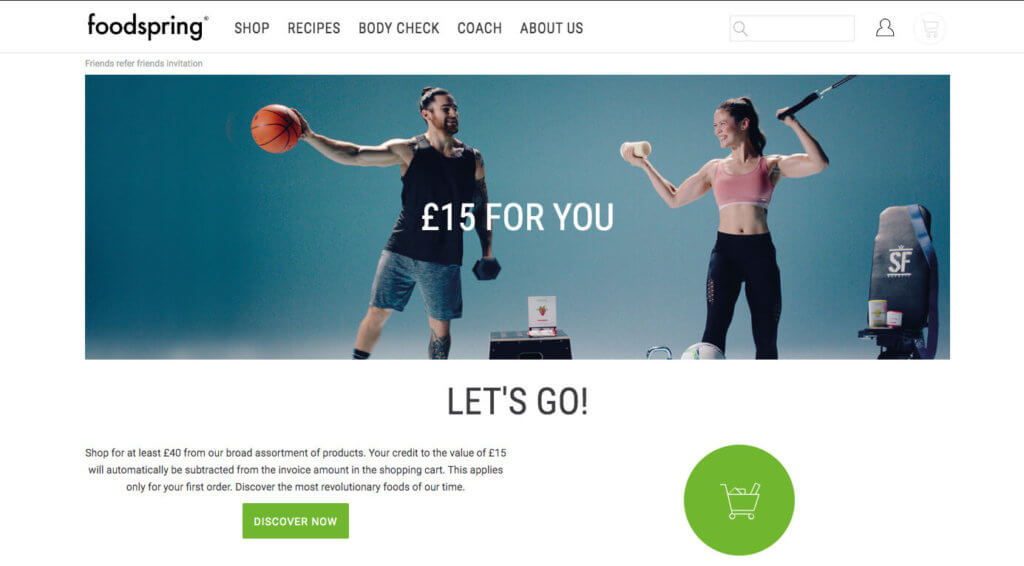 Foodspring referral code / invite a friend rules
Invite your friends and get them £15 off their first order. As a thank you, we also give you a £15 discount for every friend that ordered through your invitation. Sounds like a deal? Then start inviting friends now!
There is a minimum order value of £40 the first time your friend orders via the foodspring.co.uk Online Shop.
Other Foodspring discount code and coupon
10% off your first order when you sign up the newsletter. + Add a cashback to this discount code.
Take advantage of free 20%* on your next order. But only for 3 days!
Your voucher for reordering:
AD-20MD
Get a cashback on this order (and many others)
What is so good about Foodspring?
They offer a range of proteins, supplements, snacks & bars, muesli & porridge, drinks and smart cooking.
You can shop by objective (building muscles, heating healthy, growing resistance, etc). Or you can shop depending on when you want to use the products, before a workout, after, or in the morning, snacks, etc.
You also have access to a list of products based on their properties: vegan, organic, low-carb, low sugar, paleo, lactose-free, soy-free.
Resources on the website free of use
You can do a body check, this will tells you what products are "good" for you to use. After a short questionnaire, they send you a link by email to access your results.
Moreover, you will find articles in the coach section to learn more about nutrition.
---
For more protein shop you can also check TheProteinWorks (£10 off), MyProtein (free next day delivery bonus)
There are also healthy snacks options such as Graze Shop, or Tribe.