Azimo referral code discount £10 off first transfer with AZIMOD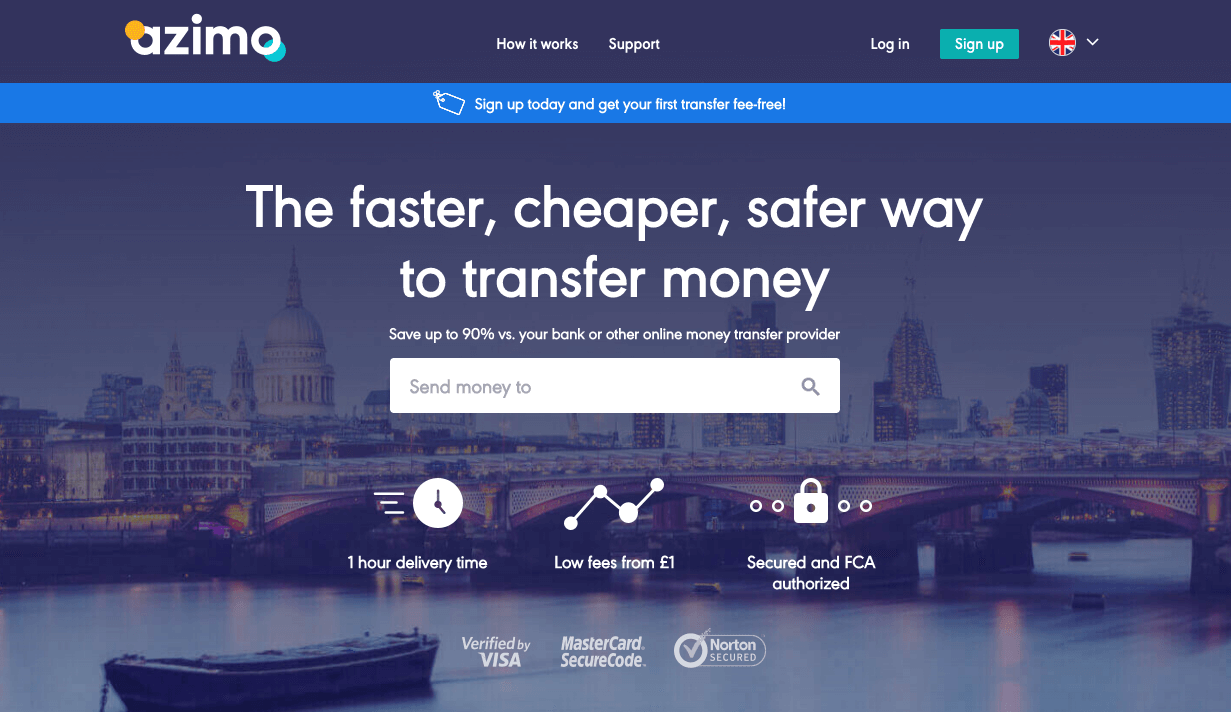 Azimo is great to transfer money at a real rate and avoiding change office/bank or cash machine fees. Use the referral code discount and get 10 GBP off your first Azimo transfer or 25 GBP if you send to a business.
Azimo referral code discount AZIMOD
Azimo is the better way to transfer money. Use my invite and get 10 GBP off your first transfer. The code is valid for a £100 minimum first transfer (into another currency).
Code discount Azimo £10 off on your first transfer, min £100
To start, go to the website using this link, click register, in the "Create an account" page, tick the box  "I have an invite code" and enter the code AZIMOD. Then continue your registration to make your first transfer with the discount applied in the same browser window.
—
Register and you will get £10 off on your first transfer (£25 if you send to business) and your first two transfers will be free (£0.99 after)
Depending on the country you send the money to, you can collect the money in cash or transfer it directly to a bank account. Because no one like to pay fees or have a low rate exchange. Furthermore, Azimo rates are sometimes better than the official rate found on xe.com.
---
Azimo refer a friend invite – no expiry date
Azimo business
If you are a business and transfer more than £250 you will get £25 back using the same code as above.
---
Azimo Review
I started using Azimo in South America in Argentina, I was doing Azimo cash pick up as in this country paying by card often requires to carry an ID, travellers and locals in general pay in cash only. So I paid with my card online and went to pick up cash in a small boutique for my monthly expenses. It really depends on the city and country, this cash pick up service is not available everywhere.
I also used Azimo transfer to pay my rent while in Brazil. Big saver compared to any classic bank.
The mobile app review
Faster than the website you can download it on your smartphone and will receive a notification at each step of your transfer. Tracking is made easy inside the app. Also, you will receive an email once the transfer has been received by the recipient.
The service background, can we trust them?
The headquarters are in London, United Kingdom. They are active since 2012 and regulated by the Financial Conduct Authority (FCA) and HMRC (Her Majesty's Revenue and Customs).
As per FCA regulations, clients' funds are held in segregated accounts and are therefore kept completely separate from Azimo's own business accounts. This means that your money is safe should the company have any financial difficulties.
Moreover, they have excellent customer reviews on Trustpilot, with a 96% satisfaction rate among the 4800+ customers who have given their feedback.
Payment options
It takes a few minutes to open an account
Pay-in options
Credit card
Debit card
Bank Account
Pay-out options
Cash pick up
Bank account
Airtime top-up
Mobile wallet
Azimo vs Transferwise
Depending on the country the rate can be more attractive on one platform than the other. For instance, back to my experience in Argentina, the rate was so much better with Azimo than Transferwise. However, in Brazil, I could pay my rent using Azimo (UK to BR account) but the other way is not possible at the moment, so the landlord use Transferwise to send me my deposit back.
I would say transfer speed is equal between both providers.
I think it's good to keep an eye on both.
Last updated: June 2nd 2019.
---