Nexo referral code, sign-up bonus of $25 in BTC – refer a friend promo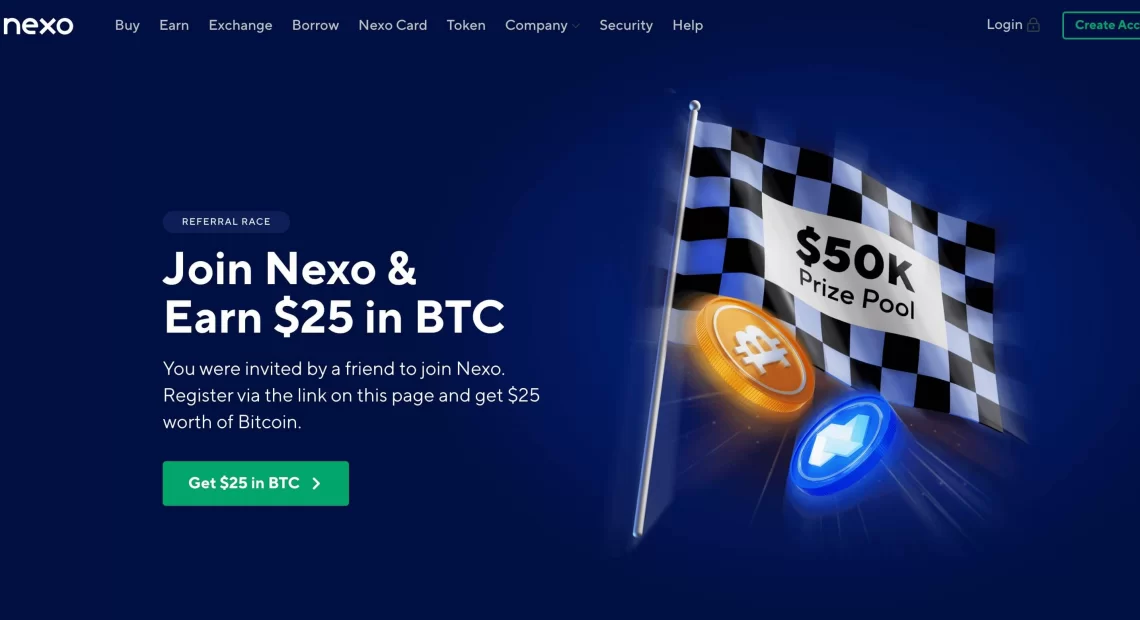 Nexo referral code, get $25 in BTC top up at least $100 in supported assets and keep said amount in your wallet for at least 30 days. This is what makes you eligible for the $25 in BTC.
---
Nexo.io referral code, $25 in BTC sign-up bonus July 2022
How to get my Nexo referral bonus when I register to nexo.io?
Use this Nexo referral invitation to sign-up, add at least $100 and keep that minimum amount for 30 days.
Keep in mind that once a friend tops up, you will both get your rewards within 24 hours after the 30-day period is over.
How to claim your $25 Reward – Nexo.io
Create Your Account
Verify Your Identity: quickly go through our hassle-free KYC process.
Top Up $100 or More in Assets
Finally, get $25 in BTC
Referral Promo – Nexo refer a friend terms and conditions:
the invitee must sign up directly after opening your unique link. Referrals are not captured if the invited person signs up using via the Nexo app and not your link.
If your friend fails to complete the referral instructions within 90 days of signing up, you won't receive the reward.
Your invitee needs to pass Identity Verification and hold the equivalent of $100 or more in any of the supported assets for at least 30 days.
The portfolio of your referred friend has to remain above $100 at the end of the 30-day period for the bonus to be awarded.
The balance of $100 should be sent from an external wallet. Participants who received internal transfers from other Nexo wallets will not be eligible for the Referral Program.
Join Nexo and get $25 in BTC! With Nexo you can earn up to 20% APR on crypto and stablecoins, borrow against or exchange cryptocurrencies and much more. Sign up here: https://nexo.io/ref/xgcfpcz2ve?src=web-link via @NexoFinance
Crypto.com vs Nexo
Nexo.io is a big competitor of Crypto.com, they have the same sign-up bonus. You can also get a $25 reward with a crypto.com referral invitation.
What made me look and discover the Nexo is the drop in the interest rate of Crypto.com. They now limit the good rate at the first $30k or equivalent in other currency. With Nexo, you can get up to 12% interest.
Unlike crypto.com, Nexo has some money backed up by insurance. Which is a little plus for users very suspicious about the crypto world.
Nexo.io review 2022
This is my personal Nexo.io review. Opening an account was superfast and easy. I passed the KYC process in 10 minutes or so, and I was ready to start straight away. The interest rate is what drove me to join. They have a card with cashback in Nexo token. Everything you can read about rate is a "up to" this means you need to have the platinum rate in order to have 2% cashback on card transactions for instance. And to get that maximum loyalty level, you need to have 10% of your portfolio in Nexo token. This is not very clear. They promote the best rate but you have to understand the rule.
Also, to get those rate you sometimes have to lock your money for a period of time (from 3 months to 12 months depending on the current offer and currency/token).
On the positive side, I love that the rewards are paid daily. You can have a virtual card and order a physical card if you have more than $500 worth of portfolio balance. I had a little story there before to order a card they ask you for one address of the country of your passport. This is a bit stupid, as you can own a passport different from the country you live in. That was my case, I contacted Nexo customer service via email and they told me I have to use an address from my country, and then I can ship the card anywhere in the world. They said it can take to 4 weeks and then


Other crypto platforms: Luna gets you $10 in BTC
Get a physical Nexo card without the platinum – Tip
You could order the card when you have $500 of portfolio and move only $50 in Nexo token, this should meet the conditions of a minimum of $500 portfolio balance and 10% of your portfolio in Nexo token.
Otherwise, you could add your virtual card to a system like Curve (get 5 GBP bonus at curve with a referral in this article). The Curve card is a physical card for all your bank cards. You can add as many as you want (AMEX excluded) and select in the app which card you want to use, "go back in time" if you charged the wrong card by mistake. It also adds purchase insurance to all your transactions.
Nexo crypto interest
Earn daily interest on your crypto and EURx, GBPx and USDx
Unique daily payout
$375 million insurance on all custodial assets
Enjoy Nexo to "unlock your crypto power" and feel free to share your own refer a friend invitation in the comments.