Classpass referral code to try ClassPass for free with a £40 discount on your first month. Committing is hard — so don't. Work out at any gym, try any workout and do it all with one app.
New article with updated terms and conditions
---
ClassPass referral code – refer a friend 2020
Get £40 for your first month with this ClassPass invite code. Enjoy it while it last, they probably will reduce this very soon.
Enjoy the full £40 discount on 50 credits trial membership (pay only £25 on your first month = 6 to 12 classes).
Or get a £35 membership with 25 credits 100% free (3-6 classes for one month).
10 credits max rollover per month. You can buy more credits in the app if you wish.
Access to hundreds of studios with:
Yoga, Barre, HIIT, Bootcamp, Martial arts, Rowing, Running, Cycling, Pilates, Dance, Boxing, Outdoors, Sports.
In the UK, ClassPass is available in London, Manchester, Brighton, Bristol and Edinburgh.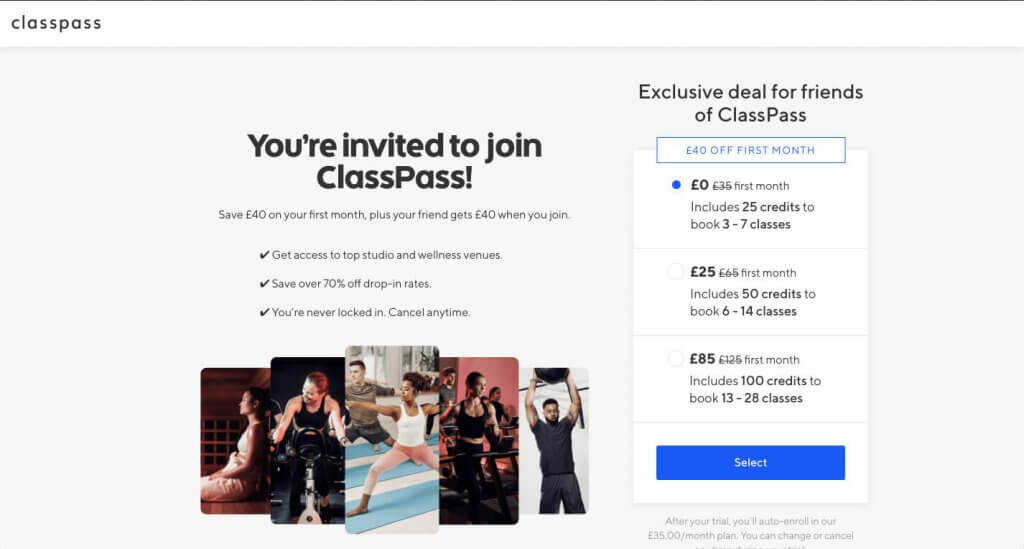 ClassPass refer a friend terms and conditions:
To be eligible to participate in the Refer a Friend Program, friends must be new to ClassPass (can't already have an active or inactive ClassPass account), must be at least 18 years old and otherwise qualify to be a ClassPass subscriber and must purchase a ClassPass Subscription directly through the referral link within 3 months of the referral.
Source: Full terms
Join me on ClassPass and you'll get £40! ClassPass is the perfect way to keep your workout routine flexible and try everything from yoga and barre to cycling and boxing! http://class.ps/nUsCI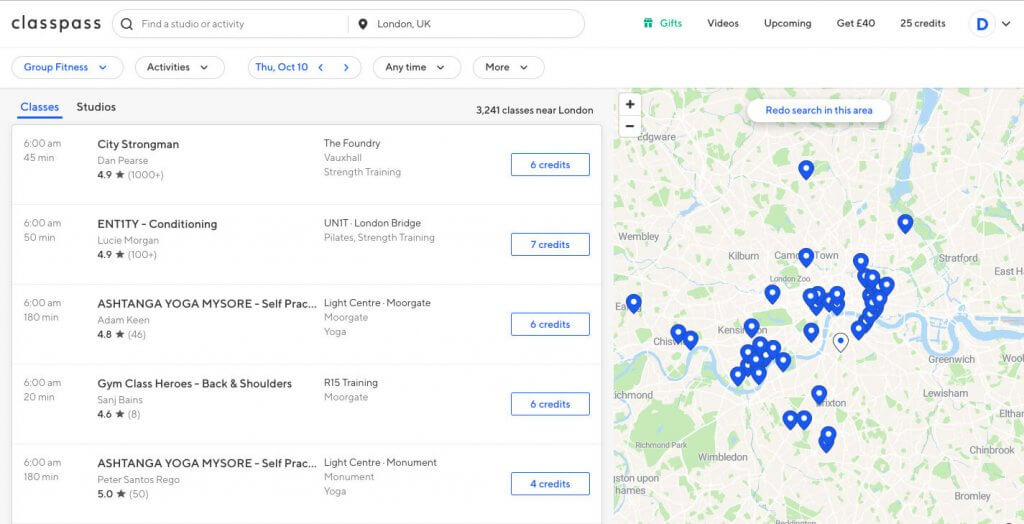 ClassPass is available in 50 cities.
Get access to free in-app video classes.
Up to 10 credits rollover for your net month.
Membership from £15 a month
How it works – free ClassPass trial
Your trial includes 25 credits to book any classes you choose. Classes have different credit values that change based on a variety of factors like time of day, popularity, how often you've visited and more. Use your monthly credits however you'd like.

Trial begins at the moment of purchase and ends one month later. During the trial, cancellation is effective immediately; classes cannot be taken or reserved after cancel request. After trial, your membership will automatically renew to the £35 per month plan plus applicable tax until you cancel. Class cancellation fees apply. You can change your auto-enrollment plan or cancel at any time. The exact number of classes per month depends on the credit value of the classes you choose.
ClassPass benefits
Use your membership in 2,500 cities worldwide
Get class recommendations and access class reviews
Invite your friends to work out and get rewarded
Stream workouts from home — free
Book classes anywhere with one monthly fee – no class packs required. Plus, one app, flexible plans and dynamic pricing make managing (and maximizing) your schedule easy.
Free in-app videos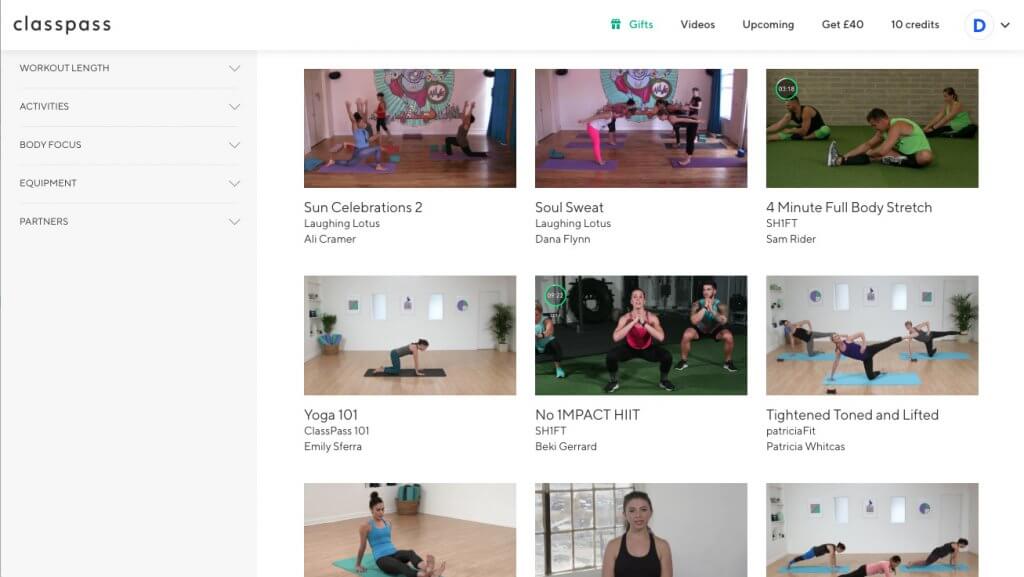 Month to Month
Your membership will automatically renew according to the offer terms above until you cancel – which you can do in your account on our website.
For more healthy deal, you can get some healthy snacks and protein at TheProteinWorks (promo code), buy gym clothes at MyProtein (6 months free delivery code), or look at Hussle for flexible gym membership.
ClassPass review – November 2019
I have been using it for a few months only. I kept the "cheap" membership as I also use Hussle to access gyms (previously PayAsUGym). In my case, ClassPass allows me to do workouts I can't do in a classic gym such as Bikram yoga (I did the intro month, but then £150 per month for Fierce Grace is too much, I can treat myself with a little session for 7 credits every now and then), some boxing HIIT, I still want to go to Crossfit in the very near future too.
It's easy, I don't book too much in advance in case my plans change. I tell I book with ClassPass when I arrive at a studio, they ask my name and that's it. And I love the fact I can discover new gyms and classes.
Happy gym everyone!